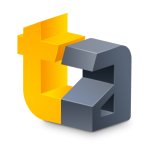 I know we say this ever year, but we keep doing that because it continues to be true: 2018 was an incredible year for iOS gaming. So many amazing games came out this year that just scrolling through our Game of the Week posts is a ridiculous walk down memory lane that even had us saying, "Wait, that game came out this year?" While the trend this year in the post-Flappy Bird world we live in continues to trend towards ad-based microgames, we still saw more great premium games hit the App Store than we even had the bandwidth to review. 2019, by all accounts, should be even better.
That is, if TouchArcade still exists. It's pretty wild that whenever you hear about mobile games in the news, it's often as part of the same sentence about how they're breaking records with more players, more profits, and more people getting involved in an industry that's somehow still exploding. Unfortunately, after ten years of hard work there just doesn't seem to be a business model that works for third party editorial to survive in the booming economy of mobile games. Last year we posted about our dwindling Patreon support, and supplemented that by kicking off encouraging our community to do their Amazon shopping through toucharcade.com/amazon. That more or less stopped the bleeding, as we made a considerable amount from the App Store affiliate program, where Apple paid us a very small cut of all the games that were purchased through TouchArcade links.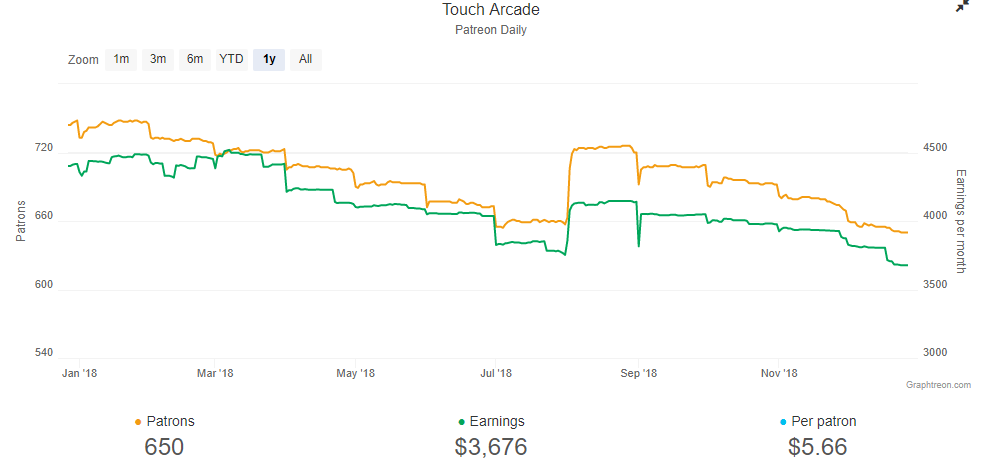 Well, not only has our Patreon support continued to decline throughout 2018, but Apple also killed that affiliate program. We don't post about our Patreon very often anymore, but if you've felt you've derived any value from TouchArcade's continued existence through 2018, please consider supporting us. We're at the point where we have a very short runway left to operate, which is a real weird thing to say as the top third party editorial outlet covering an industry that breaks record profits year over year. There's a number of ways you can help us survive:
There's no sense in mincing words, we need your help to keep doing what we're doing. Apple has monopolized App Store curation, and without sites like TouchArcade you're basically left with Apple telling you what to download via their featuring process. If you even remotely value third party curation of the App Store, please consider supporting us. Even a dollar helps.
Anyway, with that massive bummer of a reality check out of the way, please dig in to our top 100 mobile games released this year. We've broken these out into super vague genres to try and make viewing the list a bit more manageable, but you're also very, very safe just downloading at random. These are all incredible titles:
---
Action
Barbearian, $8.99 – [Review] – [Game of the Week] – [Forum Thread] – I'm just the type of person that could love Barbearian all because of its punny title. I mean, you're a barbarian dressed in a bear suit, and the game is called Barbearian. That's gold. However, thankfully the game comes through with more than enough substance and frantic hack 'n slash action that seems to never quit. Its focus on having huge hordes of enemies all onscreen at once gives an epic feel to the battles, and your Barbearian's arsenal of awesome attacks makes splatting each and every last one of them an absolute joy. – JN
Battleheart 2, $3.99 – [Review] – [Game of the Week] – [Forum Thread] – The original Battleheart became a defining mobile game following its release in 2011 with its groundbreaking line-drawing combat. Its spinoff Battleheart Legacy took that concept into 3D and added systems on top of systems to create an endlessly replayable RPG machine. This year the long-awaited proper sequel Battleheart 2 blended the two games into one giant ultimate Battleheart experience, with a more guided and structured campaign than the original but still enough RPG systems for you to experiment and play around with practically any character build you could ever dream up. – JN
Fortnite, Free – [First Impressions] – [Game of the Week] – [Forum Thread] – Fortnite did a lot of things in 2018 and it will likely continue to do a ton more in 2019 but the arrival of the iOS version was a huge deal. It is the biggest game in the world and Epic Games brought the Battle royale to iOS earlier in the year that basically had people begging for invites to try it out. Since then, Epic has improved the iOS version a ton and even added 60fps support. It is crazy how they manage to rollout major updates almost each week across all platforms including mobile with cross platform play and progression. 2018 was definitely the year everyone jumped off the Battle Bus on iOS. -MM
Grimvalor, $5.99 – [Review] – [Game of the Week] – [Forum Thread] – Touch Foo's Swordigo is one of the most beloved Metroidvania-style action platformers on mobile, so when the folks that created it beefed up their team and opened a new studio to create a spiritual successor with improved graphics and inspiration from the Dark Souls series, well, only good things could come from that. But Grimvalor is more than good, it's absolutely spectacular. With its ingenious combat system and controls that work flawlessly on the touchscreen, I could hack and slash my way through the hordes of evil Grimvalor enemies until the end of time. And that's just what I'm going to do. – JN
Never Stop Sneakin', $2.99 – [Review] – [Forum Thread] – Never Stop Sneakin' is in terms of story and presentation a parody of Metal Gear Solid, but it's best to set that game aside if you really want to enjoy what this game has to offer. This isn't a hardcore stealth game with a huge inventory of items and carefully-laid traps. No, this is a compelling arcade action game with light stealth elements. The sneakier you are, the better your score will be, but you also need to be fast. In other words? Never, ever stop sneaking. -SM
Paladins Strike, Free – [Soft Launch] – [Forum Thread] – The unbelievable success of Honor of Kings in Asian territories has all sorts of different developers chasing after the king of mobile MOBAS. Paladins Strike is another really fun take on a similar formula, and plays double duty of providing loads of fan service to folks who like the PC/console game Paladins as all the characters are the same. It's also neat playing a MOBA with a bit more modern/sci-fi theme to it, as the genre is typically overrun by fantasy characters and settings. -EH
PUBG MOBILE, Free – [Game of the Week] – [Forum Thread] – While Fortnite was the first to properly legitmise the Battle Royale phenomenon on iOS, PUBG Mobile from Tencent has actually been slowly inching above Fortnite in a lot of ways. PUBG as a brand was very strong on PC and then Xbox. It is now also on PS4 but the mobile version is still the most polished of the lot. Tencent created a new version for iOS and Android from the ground up and it shows with how well optimised it is across even lower end devices. Fortnite might be the more popular game overall but on iOS, PUBG Mobile is better to play. -MM
Sneak Ops, Free – [Review] – [Forum Thread] – We're huge fans of games with daily modes, and Sneak Ops takes that whole "new level every day gimmick but applies it to a stealth-based sneaking game. Imagine something like Metal Gear distilled to its essence, that you can play with one finger, with a new level to try to beat every single day. It's got ad-based checkpoint unlocks, so you really never need to pay anything while playing (or view too many ads, for that matter). -EH
Tesla vs Lovecraft, $8.99 – [Review] – [Forum Thread] – The reputation developer 10tons has built in the world of mobile is something else. They've released a ton of great games over the years but have come to be known for their excellent top-down shooters. And for my money their most recent one, Tesla vs. Lovecraft, is the best of the bunch. You play as Nikola Tesla who is inexplicably involved in a feud with H.P. Lovecraft. Mr. Lovecraft unleashes his hordes of ugly monsters against you, and you use your engineering genius to build an arsenal of crazy weapons to fight them off with. Yes the premise is absolutely silly, but that's what I love about it. Reason and logic are secondary when it means you can blast a ton of cool-looking monsters with some over-the-top weaponry. – JN
Thunderdogs, Free – [Announcement] – [Forum Thread] – A lot like Axe.io, Thunderdogs is another take on a .io style throw everyone into a huge multiplayer battle and hope for the best style of game with more depth than your typical .io game. This time around you're a dog flying a plane with a whole heap of different weapons and powerups you can get to survive as long as possible. -EH
Wonder Blade, Free – [First Impressions] – [Game of the Week] – [Forum Thread] – Traditional action games often have issues when it comes to controls on the touchscreen. When you're in the heat of battle it can be tricky to hit the proper buttons you need to when you can't actually FEEL those buttons. I don't know what special sauce Wonder Blade is using, but it has absolutely no problems in this department. You can pull off some of the most elaborate and satisfying combos ever using just some simple virtual button presses, and Wonder Blade does a phenomenal job of making you feel like the bad ass you know you can be. Coupled with art and animation that feels like you're playing an actual cartoon as well as an attention to detail that's rarely seen in mobile releases, and Wonder Blade is easily among the very best mobile games of 2018. – JN
World of Warships Blitz 3D War, Free – [Review] – [Forum Thread] – Wargaming has taken over the world with its tank games, with World of Tanks Blitz being wildly popular on mobile. World of Warships Blitz plays fairly similar, but you're piloting giant battleships instead of tanks. If you're really big into World of Tanks Blitz you probably are already fully aware of this, but if not, you're going to love these massive ship battles just as much. -EH
Adventure
Bendy and the Ink Machine, $6.99 – [Game of the Week] – [Forum Thread] – Despite launching so late in the year (just last week!), Bendy and the Ink Machine has now captured the imagination and scared the pants off of the mobile gaming world in much the same way it did when it originally launched on desktop in early 2017. You play as a former animator and creator of the titular Bendy cartoon who is lured back to your old animation studio by your ex-partner, who has gone all sorts of crazy and more or less brought the cast of cartoon characters to life through freakish science experiments. Blending survival horror and escape room puzzling, Bendy and the Ink Machine is like a creepy thrill ride from start to finish. – JN
Bring You Home, $2.99 – [News] – [Forum Thread] – Alike Studio has built quite the reputation for itself with games like Tiny Thief and Love You To Bits, but whereas both of those games were more traditional puzzle/adventure games their 2018 release Bring You Home mixes things up in a super clever way. Rather than control the main character directly, you'll actually piece together the environments themselves from a variety of options in the hopes of setting up each scenario in a way so that your hero can make his way through each level on his own. It's really ingenious, and as with anything else Alike Studio has ever done, Bring You Home is bursting at the seams with charm and personality. – JN
CHUCHEL, $4.99 – [News] – [Forum Thread] – When Amanita Design released Chuchel on PC platforms earlier this year, I had to resist straight up buying it because I love their games. Machinarium and Botanicula are superb but I also enjoyed both of them way more on iOS than I did on other platforms. I managed to hold off and Chuchel is an absolute joy on iOS. It has great humour that blends perfectly with the signature Amanita Design charm through multiple puzzles. It also has cherries. You play as Chuchel trying to get those precious cherries back. -MM
Cube Escape: Paradox, Free – [News] – [Forum Thread] – The folks at Rusty Lake Studio have brought some of the best escape/adventure games to the mobile platform with both their Cube Escape and the titular Rusty Lake series of games, but for their latest release Cube Escape: Paradox they pulled off something I've never seen before in the mobile space. They created an entire live-action short film that features its own little story of sorts as well as several locations and puzzles that you'll see in the actual Cube Escape: Paradox game. The quality of the film is astounding, and there's so many little easter eggs to discover from both the film and the game that it offers up a level of enjoyment unlike anything else I've ever experienced in a mobile game before. – JN
Donut County, $4.99 – [Review] – [Game of the Week] – [Forum Thread] – It's usually the most interesting and unique mechanics that get copied, and that's exactly what happened with the novel "swallowing hole" gameplay of Donut County before it had a chance to officially release. However, there's really nothing like the original, and swallowing up a world full of objects using a moveable hole turned out to be one of the most fun and satisfying gameplay mechanics of recent memory. That said, what really pushes Donut County into the category of all-time greats is its personality and heart, conveyed by the charming storyline and characters that inhabit the game's colorful world. – JN
Florence, $2.99 – [Review] – [Game of the Week] – [Forum Thread] – Video games are frequently redefining the word "game" and finding new ways to tell stories using this interactive medium. Florence is one of those experiences. Chronicling the rise and fall of a long-term relationship, Florence is filled with moments that will punch anyone who has ever ridden the rollercoaster of love right in the gut. Besides its fantastic art and storytelling, Florence's "mini-games" are actually instrumental in making those moments hit home for the player, rather than just being tacked on so it can be called a game. It's a brief experience but an impactful one that'll stick with you well past the time you've finished playing. – JN
Gone Home, $4.99 – [News] – [Forum Thread] – Fullbright's Gone Home is something I've owned and played on everything. It is a short but great adventure that takes place within the confines of your house. Annapurna Interactive published some of my favourite games in 2018 on all platforms and I'm glad they worked with Fullbright to bring Gone Home to iOS. If you grew up in the 90s, there's loads to love here. This version has the audio commentary option as well if you'd like to know what the team behind the game thinks of each part of the game. -MM
Life is Strange: Before Storm, Free – [News] – [Forum Thread] – I love Life is Strange and when a new entry was announced featuring another developer, I was a bit skeptical. Thankfully, my fears were unfounded as Before the Storm managed nailing everything I loved about the original and delivering an unforgettable experience. The soundtrack deserves a special mention. Before the Storm has some fantastic interactive setpiece moments that I don't want to spoil with an interesting Backtalk mechanic. If you enjoy great interactive adventure games, you need to get this. -MM
Read Only Memories: Type-M, Free – [Review] – [Forum Thread] – Read Only Memories: Type-M brings the excellent cyberpunk adventure from MidBoss, inspired by the cult classic Snatcher, to mobile in a new version. It plays like an old style point and click adventure game with modern conveniences but has various things that make it feel modern when it comes to visuals, music, and gameplay. It even incldues an iMessage sticker pack. 2 Mello's score is worth listening to on its own as well. -MM
Arcade
Alto's Odyssey, $7.99 – [Review] – [Game of the Week] – [Forum Thread] – After Alto's Adventure jumped and flipped its way into the hearts of millions back in 2015, fans wondered what a sequel to the game might bring. As it turned out, the original Alto didn't need a complete overhaul, and its follow-up Alto's Odyssey brought a few new mechanics to the mix as well as some absolutely stunning new environments to yet again jump and flip through to your heart's content. It's hard to believe a game could be more gorgeous than Alto's Adventure, but Odyssey somehow made that possible. – JN
AXE.IO, Free – [Review] – [Forum Thread] – 2018 seemed to be the pinnacle of the ".io style" game, which is to say, a huge game that just has instant multiplayer which throws you into some form of arena with loads of other characters. Axe.io has players taking down dragons in a giant arena. The game didn't seem to really hit the same level of popularity of other .io games, which might be because it was slightly more complicated… Which in our opinion is a real good thing. -EH
Bacon – The Game, Free – [Announcement] – [Forum Thread] – It's no secret we're fans of really weird games around here, and Bacon The Game definitely checks all the boxes of the absurd junk we like. In Bacon, you're flipping bacon from a frying pan on to all sorts of ridiculous things. I'm reluctant to mention too many, as you'll be saying, "Wait, what?" a bunch while playing. It's not as easy as it sounds though, as the bacon is especially squishy, and the bacon physics are … well, you've got to try it. -EH
Black Paradox, $3.99 – [Game of the Week] – [Forum Thread] – The side-scrolling shoot 'em up is one of the most enduring genres in all of video games, and in recent times developers have taken that classic framework and spiced it up with modern trappings. Black Paradox does this by way of randomly generated levels and an arsenal of some of the absolute most bonkers weaponry you've ever seen. However, it calls back to the classics of the genre with its set-piece boss battles, structured story-driven campaign, and it's totally tubular use of hyper '80s references. If you always wanted to love the side-scrolling shooters of the arcade era but could never warm up to the rote memorization they often required to be successful, Black Paradox is the answer to that problem. – JN
Dizzy Knight, Free – [Preview] – [Forum Thread] – Did you ever find yourself playing A Link to the Past and thinking, "You know, I bet you could make an entire game out of the sword spinning mechanic?" No? Neither did we, but holy cow does it work well. You fight endless waves of monsters, battle bosses, and all sorts of other crazy things, all just by swirling your sword around in circles. It's dumb how well this works. -EH
Don't Trip!, Free – [Game of the Week] – [Forum Thread] – If you're on the hunt for a super wacky game to pull out of your pocket at a bar (or anywhere else), Don't Trip needs to be on your iPhone. You hold your fingers on the screen, then rotate your actual phone to create more space for you to walk. It sounds weird, is hard to describe, and even the tutorial is a bit confusing but once you understand the game it is a ton of fun- Particularly once the knife-wielding Roombas come into play. -EH
Part Time UFO, $3.99 – [Review] – [Forum Thread] – Yeesh, what kind of world do we live in where even the UFOs need to get part-time jobs? HAL Lab doesn't usually make games on non-Nintendo platforms, so Part Time UFO is a rare treat. It packs in all the charm you would expect of the legendary developer behind Kirby's Dreamland, using a simple gameplay hook to create a variety of interesting and funny experiences. Yes, that was a pun, and no, we aren't apologizing. -SM
Super Fowlst, Free – [Game of the Week] – [Forum Thread] – Effectively the weird mutant child of Flappy Bird and Downwell, Super Fowlst is one of those games that is impossible to put down. You play as a chicken who is falling down a hole and flaps around killing enemies and collecting loot, surviving as long as you can. It sounds like a dumb premise, but it's so, so good. -EH
Trick Shot 2, $2.99 – [Announcement] – [Forum Thread] – Trick Shot 2 builds an entire game around those YouTube videos you see where people throw a ball that bounces off a bunch of things before landing … wherever it's supposed to go. In Trick Shot 2 you've got to figure out exactly where to aim to make it to the goal across all sorts of different ridiculous obstacles- Everything from bananas to gravity fields. -EH
Wall Kickers, Free – [Review] – [Forum Thread] – Kumobius is another one of those developers who I honestly don't believe is capable of making a bad game. Wall Kickers is a basic formula in that you're really just kicking from wall to wall to climb as high as you can, chasing your best score. It sounds super basic, but when you add whatever Kumobius magic there is into the mix, it's super hard to put down. – EH
Platforming
Dandara Trials of Fear Edition, $3.99 – [Review] – [Forum Thread] – While originally conceived as a mobile title with its unique touchscreen movement control scheme, eventually Dandara hooked up with publisher Raw Fury to bring the game to all platforms and incredibly launch them all simultaneously at the exact same price point. As fantastic as a Metroidvania-style platforming experience as Dandara is on any platform you choose to play it on, in our opinion it feels most at home on mobile. Dandara plays with gravity in ways that there never really is a traditional up or down, and wrapping your head around the twists and turns of the envrionments is one of the best parts about the game. – JN
Oddmar, $4.99 – [Review] – [Game of the Week] – [Forum Thread] – While mobile is home to many high quality ports, it's much less frequent to see a big budget title developed specifically for mobile. At least not a free to play game, that is. Well Oddmar is one such unicorn, and you'd be forgiven for thinking it was a 20 or 30 dollar title on platforms like Nintendo Switch or Steam. Absolutely gorgeous art and animations make it feel like you're playing a cartoon, and with charming characters and fully voice-acted cutscenes you actually find yourself caring what happens when you're not running and jumping through the game's impressive environments. – JN
see/saw, $2.99 – [Game of the Week] – [Forum Thread] – When it comes to platformers on mobile, they typically fall into two categories: Traditional platformers with virtual buttons or auto-runners with simplified controls that work well on touchscreen. Developer Philipp Stollenmayer wondered if he could boil down free-movement platforming to a simple two-button control scheme, and the result is the excellent See/Saw. You simply run back and forth by touching either side of the screen, and let the physics and your momentum (and some well-placed springboards) do all the aerial stuff for you. It's a lot trickier than it sounds though, and the challenges in See/Saw call to mind the classic platforming tests of the cult Flash hit N+. – JN
Slime Pizza, Free – [Review] – [Forum Thread] – Slime Pizza is a very typical Nitrome game in that it has great pixel art, a generous free to play system, good music, and a basic gameplay mechanic (in this case, flinging yourself around as a slime) that they expand into all sorts of different weird ways. After your spaceship crashes, it's up to you to collect all the slices of pizza (don't worry, the story/premise are kind of irrelevant) through some surprisingly difficult puzzle platforming levels. If you remember the old flash game Slime Factory 2, this is a spinoff of sorts of that. -EH
Spike City, Free – [Game of the Week] – [Forum Thread] – You can pretty much put any and all of Nitrome's games on any "best of" list, but one in particular that they launched this year that really grabbed me was Spike City. It's something of a vertical platformer where your character has the unique ability of driving his head into a surface and staying there until you let go. You'll use this to navigate your way through tons of challenges, all wrapped up in the colorful art style and high production values you'd expect from a Nitrome game. For whatever reason this one seemed to fly under the radar since its launch in May, but it's definitely one you should be checking out if you haven't already. – JN
Spitkiss, $1.99 – [Preview] – [Forum Thread] – Spitkiss is one of those weirdo indie games that won loads of awards when it was still in development, so you know it's got to be good once it's finally out. It's a single-screen puzzler that feels oddly reminiscent of a Donut Games title where you're flinging your spit around levels to complete each of them. Also, one of the features of the game is "Organic progression and pee challenges." We need more of that on the App Store. -EH
Super Cat Tales 2, Free – [Game of the Week] – [Forum Thread] – Super Cat Tales 2 is in large part more of the same, but when a game is as good as the first Super Cat Tales, that's in no way a bad thing. And whatever nitpicks you could find with the first entry have been thoughtfully massaged away in this sequel. With plenty of cool cats to use, excellent touch controls, and the most dangerous, colorful locales this side of the Mushroom Kingdom, this is one mobile platformer that's hard to beat. Meow. – SM
Super Fancy Pants Adventure, $4.99 – [Review] – [Forum Thread] – One of my all-time favorite platforming games is Fancy Pants Adventures, which started out humbly as a Flash game more than a decade ago and eventually made its way to the iOS platform way back in the spring of 2012. That version has long been defunct, so it brought me great joy to see them release the latest entry in the series, Super Fancy Pants Adventure, on the App Store at the beginning of this year. It brings with it more levels, improved visuals, and a cool new ink pen mechanic that let's you glide and wall ride all over the place. For a stick figure game there's a ton of personality in Super Fancy Pants Adventure, and more platforming challenges than you can shake a stick at. – JN
Suzy Cube, $3.99 – [Review] – [Game of the Week] – [Forum Thread] – While 2D side-scrolling platformers are plentiful on the App Store, full-blown 3D platformers are a rarer sight, and even among the ones that are released most don't get the details right. Suzy Cube is a years-long passion project of doing a mobile 3D platformer right, and it nails it in every way. The controls are simple and accessible, and the camera's movement has been thoughtfully engineered so as to never mess up your view so you can just concentrate on your 3D platforming. After playing many mobile 3D platformers that missed the mark, Suzy Cube is like a breath of fresh air and it's filled with well-designed challenges and tons of charm. – JN
Teslagrad, $6.99 – [News] – [Forum Thread] – A beloved indie hit for years on both consoles and PC, it only makes sense that Teslagrad would also make its way to mobile. This puzzle platformer has a huge focus on solving puzzles related to electromagnetism, and because of that it actually translates extremely well to a virtual button control scheme as you're typically sussing out the solution to a puzzle rather than engaging in fast-paced antics. Beyond its extremely brain-twisting puzzles, Teslagrad also features a compelling storyline with some of the most beautiful character animations I've seen. The entire game has a tremendous atmosphere that really sets it apart from your typical physics puzzler on mobile. – JN
Puzzle
Crossgrams, Free – [Game of the Week] – [Forum Thread] – If you want a word game that will absolutely break your brain, look no further than Crossgrams. It's a hybrid of a crossword puzzle and anagrams, with all of the letters already revealed at the start of the game. You need to slide them into place, which is easy on small puzzles and absurdly difficult on big ones. IAP packs buy additional levels, but you could probably just play the daily mode for free for eternity, provided you're up to the challenge of the hyper-difficult daily puzzles. -EH
Crush the Castle: Siege Master, Free – [News] – [Forum Thread] – Long before Angry Birds took the world by storm, a popular Flash game called Crush the Castle was doing the whole physics destruction thing. It never reached the type of popularity those birds saw, but fans of the game noted that its unique trebuchet-launching mechanic was a lot more fun than slingshotting. Now all these years later and developer Armor Games has created a true sequel to Crush the Castle, and not only does it bring the series into the modern era with 3D visuals but the game itself works in three dimensions which means the structures you're trying to topple can fall towards and away from you, not just left or right. This added wrinkle, along with tons of levels to complete, makes this old relic feel completely fresh again. – JN
Evergarden, $4.99 – [Review] – [Forum Thread] – Evergarden is a perfect example of one of those puzzle games that's super difficult to describe but you immediately understand once you play a bit of the tutorial. Effectively it's a plant-based match four, where you're combining different flowers to then cultivate other flowers. It sounds simple, but like any good puzzle game, they throw loads of wrenches into the mix both through different obstacles and by changing the size of the hexgrid that each level takes place on. The developers revealed in an interview that the game is a homage to their late mother, and holy moly did they nail this tribute. -EH
Fidel Dungeon Rescue, $4.99 – [Forum Thread] – You'd be forgiven for admitting you'd never heard of Fidel Dungeon Rescue, but prior to its extremely low-key mobile launch this year it was also very stealthily building up a fan base and earning critical acclaim from the gaming world with its desktop launch last year. This challenging puzzler has you guiding an adorable doggo through a dungeon, carefully planning your route one move at a time. One of the coolest parts of Fidel Dungeon Rescue is that it doesn't try to explain pretty much anything to the player, and instead leaves you to find things out on your own. That might sound harsh but the game is built around a rewind mechanic that encourages experimentation, and as you work your way through the game many new mechanics and tricks are brought to light. It's extremely satisfying and is a great game to pull out of your pocket and chew on for a few minutes or a few hours at a time, making it a perfect fit on mobile. – JN
holedown, $3.99 – [Announcement] – [Forum Thread] – The App Store has become home to a weird amount of these "launch balls at blocks with numbers on them that count down with each hit until they're cleared" games, whatever the actual genre name is for them, for whatever reason. Holedown is the latest really good one of those, that comes with the added benefit of actually being a game that costs money so you're not constantly inundated with ads and other garbage while you play. It's also really hard to put down, as a really cleverly designed upgrade loop keeps you constantly playing until you've maxed everything out. I randomly got so sucked into this game that I actually needed the battery saver mode featured in the menus to keep my iPhone from dying. -EH
Homo Machina, $2.99 – [Review] – [Forum Thread] – You may not know 20th century German physician Fritz Kahn by name, but you've no doubt seen his work at some point before. He was the one that pioneered those clever infographics that showcased the human body as a factory with tiny people running it on the inside. Those infographics are iconic, and Homo Machina takes those classic illustrations and turns them into an interactive puzzle adventure. The developers actually worked with Kahn's family to ensure their work was authentic to his own, and there is so much detail and charm bursting at every seam of Homo Machina that it's hard to play this game and not have a huge grin on your face. – JN
Layton: Curious Village in HD, $9.99 – [News] – [Forum Thread] – The Professor Layton series of puzzle adventures always seemed like a great match for mobile, so it's wonderful to finally see the games come. This is the first title in the series, and it's quite a good one. All the head-scratching puzzles, annoying villagers, and weird story elements are here, all wrapped up in a shiny HD package. -SM
Pivotol, $1.99 – [Review] – [Forum Thread] – Radiangames got their start releasing awesome premium games on the App Store, but like many other developers shifted gears to free to play games recently. Pivotol is one of those, and it's surprising how developers are still coming up with cool matching mechanics to try. In the case of Pivotol, you're rotating groups of four blocks to create matches and it's wild how much this breaks your brain and how you think of forming matches- Even if you've played a ton of puzzle games that might look similar. We also dig the Lumines vibe, but the neat matching mechanic is the star of the show for sure. -EH
PIXEL PUZZLE COLLECTION, Free – [Review] – [Forum Thread] – If there's one thing that gets my motor humming, it's a good old Picross puzzle. I know, I know, maybe not the most exciting thing in the world, but it's one of my favorite puzzle genres. Basically you use numbered clues that border a gridded playing field to determine which squares on the grid need to be filled in, similar to Sudoku, and once the puzzle is complete that grid with its filled in squares should resemble a picture. One way to improve on that formula is to include all sorts of well-loved classic video game characters and music, and that's exactly what Konami's Pixel Puzzle Collection does. Not only is it one of the better Picross games on the App Store, but it's totally free with no IAP and only occasional ads to deal with. – JN
The Room: Old Sins, $4.99 – [Review] – [Game of the Week] – [Forum Thread] – You probably already have played an entry in Fireproof Games' The Room series by now. If you haven't, I don't know what you're doing but you need to fix that immediately. The Room: Old Sins is the fourth and newest entry in the franchise. While it isn't a numbered entry, this puzzle box experience is definitely worth your time with creative puzzles that are built for touch and great audio design to complement the gorgeous visuals. -MM
supertype, $1.99 – [Game of the Week] – [Forum Thread] – The App Store is stuffed with word games and physics puzzlers, but I've never seen a physics puzzler that's literally made out of a word game. That's Supertype, and it tasks you with beating all sorts of physics challenges by typing a word and letting them fall into the playfield, with each letter's unique shape playing a part in completing the goal. The best part is that in many instances there is no just one way to solve a level, leaving you to experiement by choosing whatever words you like or even gibberish words to see which one can get the job done. – JN
Tiny Bubbles, $3.99 – [Game of the Week] – [Forum Thread] – It really surprised us that 2018 seemed to be the year of matching games that somehow still manage to feel new despite color matching being one of the most overdone mechanics on the App Store. It is straight up absurd how much content Tiny Bubbles has packed into this premium match three, with additional gameplay elements being added every few levels that don't seem to ever stop. A physics engine powers the whole thing, and the fluid dynamics of the bubbles makes interacting with the game itself feel like something you just want to touch and fiddle with because it all seems so real. -EH
Twinfold, $3.99 – [Review] – [Forum Thread] – If you thought there wasn't any room left in innovation of the genre of "It's like Threes but," well, Kenny Sun proved us all wrong. Twinfold takes that familiar block sliding and combining mechanic but applies it to a dungeon crawling roguelike. It sounds like the craziest combination imaginable but it seriously blew us away how well it works- Particularly with the variety of gameplay as you choose between different abilities when you level up. Twinfold is a must-play. -EH
Valleys Between, $2.99 – [Review] – [Forum Thread] – This is yet another premium puzzler that came out in 2018 that had it been released in 2011 or 2012 would've blown everyone's minds instead of just getting lost in the shuffle. It takes place on a hex grid, and the idea is to combine existing tiles in the back of the board which then expands down the bottom of the screen. Dirt grows into grass, grass grows into trees, and when you combine trees it creates new land. Combine a clever mechanic with an absolutely beautiful art style and you've got a real winner. -EH
Where Shadows Slumber, $2.99 – [Review] – [Forum Thread] – Where Shadows Slumber combines inspiration from two fabulous sources: Helsing's Fire and Monument Valley. The out of the box experience is absolutely fantastic, but the puzzles do get a bit same-y over the course of the game. When powering through this game to review, this got a little tiring, but after revisiting it and playing it at a more normal pace we found it to be quite enjoyable. -EH
Zero/Sum, Free – [Review] – [Forum Thread] – With what might be one of the weirdest premises for a puzzle game, Zero/Sum has you solving math puzzles to … cure cancer. The numerical puzzles will have your brain in knots, and honestly, would've been enough, but Zero/Sum also has this ridiculously elaborate 80's action movie inspired story with real human actors doing the cinematics? That's the exact kind of overkill I can get behind. -EH
7 Billion Humans, $4.99 – [Review] – [Forum Thread] – Human Resource Machine brought us puzzles that stealthily taught players the basics of programming, and 7 Billion Humans expands on that formula in basically every way imaginable. This game was reviewed incredibly well on every other platform it was released on, and in our opinion plays even better on a touch screen. Prepare to have your brain twisted in every direction, as if you're not used to the logic that goes into computer programming you'll be thinking in new ways you might not have before. -EH
Racing
Absolute Drift, $2.99 – [News] – [Forum Thread] – With its minimalist visual style, Absolute Drift takes some complex but easy to use drifting mechanics and guides you through a gauntlet of different challenges as you master the art of getting sideways. The challenges feel difficult without being frustrating, and once you've learned the ins and outs of the game's physics you can lock "into the zone" and truly zen out as its subtitle suggests. – JN
Asphalt 9: Legends, Free – [Guide] – [Forum Thread] – While the series may have started off as a Gameloft-y heavily "inspired" version of Burnout, in recent years it has felt like the Asphalt series has really come into its own. Like Asphalt 8, Legends is absolutely packed with unlocks and other things to work towards, and a new control scheme added this year makes this ultra-mobile racer even more friendly to play on touchscreen devices. Freemium shenanigans are more or less limiting to speeding up your progress by unlocking things quicker, so as long as you aren't a completionist who absolutely must have everything in a video game, you'll have loads of fun in Asphalt 9 without spending any money. (And, hey, if you are a completionist, and have deep pockets, Gameloft will totally take your money.) -EH
Disc Drivin' 2, Free – [Review] – [Forum Thread] – I know I've said it before, but the original Disc Drivin' was the Unofficial Official Game of TouchArcade for a number of years. It's unique turn-based disc racing was a perfect fit for mobile and I don't even want to know how many hours of my life I've spent playing that game. This year brought a long-awaited sequel which mixed up the formula in some interesting ways. Tracks were now much more dynamic with smooth curves and different elevations, and instead of giving your disc just ONE good flick when taking your turn now you could give it TWO. That's a major change, but it turned out to be a great one, and along with tons of other new features and quality of life improvements, Disc Drivin' 2 once again had me borderline obsessed all throughout 2018. – JN
Motorsport Manager Mobile 3, $1.99 – [Review] – [Forum Thread] – The Motorsport Manager series has earned quite a reputation on mobile. The first game in the series actually began life as a mobile game and tasked you with managing pretty much every aspect of a professional racing team, all except the actual racing itself. The original game made its way to desktop a couple of years later, and new entries on mobile have continued to offer that highly strategic management simulation people enjoyed so much but with added features and improvements. Now the third entry in the series is the pinnacle of that and offers a racing experience that's completely unique from the multitude of traditional racing titles on the App Store. – JN
PAKO 2, $1.99 – [Game of the Week] – [Forum Thread] – If you've ever found yourself playing a Grand Theft Auto game just to cause a bunch of havoc and then see how long you can outrun the cops for (and who among us hasn't?), then the folks at Tree Men Games have gone and made an entire game out of doing just that. Pako 2 takes the endless outrunning concept and adds a dash of Crazy Taxi to the mix as you're constantly picking up your cohorts from a crime job and zipping them to a safe house somewhere on the map while also avoiding the long arm of the law. It's basically a constant rush of fun, and despite its origins on desktop Pako 2 feels even more at home as a mobile game. – JN
Rhythm
Cytus II, $1.99 – [Review] – [Forum Thread] – If you thought 2018 would be the year that Rayark releases a bad rhythm game, well, you'd be wrong. Cytus II has all the trimmings of a fabulous rhythm game with a wide array of songs to tap along to, but where this series really stands out is the odd inclusion of a surprisingly cool sci-fi narrative set in the future where the online and real world have sort of blended together. It serves as an interesting intermission to the rhythm gameplay and does a lot to keep you engaged throughout the game. But, if the story doesn't do it for you, the rhythm components can totally stand on their own. -EH
ELOH, $2.99 – [Review] – [Forum Thread] – By now I imagine everyone has played one of those laser puzzles where you place angled mirrors around a level to bounce a laser to an end goal. From the folks who brought us the fantastic Old Man's Journey, ELOH takes that basic idea and turns it into a rhythm game. You'll place various "spirits" on a board in order to bounce the musical wave lengths to individual goals, and you'll need to pay attention to the angles of those wave lengths and how they bounce off of the spirits to figure out where to place each one. The best part about ELOH is its personality. Each spirit has an expression and unique sound, so that once you have a board of them all place together it makes an awesome little tune. It's almost hypnotic as you play and chill out to the beat, and with no time limit pressures or anything like that, ELOH is the perfect game to curl up with and get lost for a while. – JN
Thumper: Pocket Edition, $4.99 – [News] – [Forum Thread] – When it comes to games that release on other platforms, there are many games I'd love to play on iOS but understand when ports don't or can't happen. I never thoought Thumper would make the jump to iOS but here we are. I played a ton of this on Switch but having it on iPhone with single handed control options is great. This also happens to be a complete port of the console game (without VR obviously) at a fraction of the price. If you enjoy music games, you need this. -MM
Role Playing
Avernum 3: Ruined World HD, $9.99 – [News] – [Forum Thread] – For more than two decades, Spiderweb Software has been sating the hunger of gamers everywhere who craved classic, old-school style, hardcore RPGs. Lucky for us they have also been very good about bringing those experiences to the iPad over the years, where they've translated extremely well to the device's large touchscreen. That's as true as ever with their latest iPad release Avernum 3: Ruined World, which is a remake of a remake of one of Spiderweb's earliest titles and continues the story of the first two games which have also graced the iPad. If you crave an RPG with serious meat on its bones, Avernum 3 and its predecessors should satisfy nicely. – JN
Dragalia Lost, Free – [Review] – [Forum Thread] – Dragalia Lost is something that surprised most people. Nintendo and Cygames partnered to bring out a mobile exclusive action RPG and the end result is one that is full of charm. It reminds me of 3DS and DS RPGs in a lot of ways with its characters, combat, and art style. What actually got me to continue playing it was the excellent soundtrack from DAOKO. Nintendo has been great at content updates and events on a regular basis making it hard to not play. I hope 2019 sees this expand to more countries because that is basically the biggest problem right now. -MM
Evoland 2, $0.99 – [Review] – [Game of the Week] – [Forum Thread] – The original Evoland was an ingenious trip through the history of RPGs as you began with a basic 8-bit game and as you progressed the game evolved with new technologies and visuals. It was clever, but felt more like a gimmick than a substantial game. Enter Evoland 2. The sequel takes all the potential of the original game's concept and fleshes it out into a full-fledged and compelling experience, and also dips its toes into classic genres beyond just RPGs. The result is something that'll tickle your nostalgia bone to no end but also feels like a fully realized experience, and the evolution gimmick is actually weaved into the game itself in a meaningful and interesting way. – JN
FINALFANTASY XV POCKET EDITION, Free – [Review] – [Game of the Week] – [Forum Thread] – In late 2016 console gamers were treated to Final Fantasy XV, the latest mainline entry in the long-running series of RPGs. This one brought a more realistic setting, an open-world style of gameplay, and a more action-oriented real-time combat system. It was quite well-received, and despite how powerful our mobile devices have become over the years, I don't think anyone was ever expecting this one to come to mobile. Well… it did! And despite a more hardware friendly graphical style and some streamlining here and there, Final Fantasy XV Pocket Edition is the full game that's on consoles and PC with almost zero concessions. It's remarkable, and for our money is even more enjoyable in bite-sized chunks on our mobile devices. – JN
Monster Hunter Stories, $19.99 – [Review] – [Game of the Week] – [Forum Thread] Monster Hunter Stories is a very interesting release on iOS for a variety of reasons. For one, it was published by Nintendo on the 3DS in the West and it was only available on the 3DS family of systems until the mobile port in Japan. This spinoff title in the Monster Hunter franchise is like a blend of Pokemon with Monster Hunter and the mobile version is the best way to experience it. It already looked gorgeous and played great on 3DS (it really puts the mainline Pokemon entries to shame when it comes to visuals and performance) but it is so much better on mobile with high resolution visuals. If you enjoy Monster Hunter and turn based RPGs, you need to get this. -MM
Old School RuneScape, Free – [Review] – [Forum Thread] – Originally released back in 2001, RuneScape is one of the oldest old school MMORPGs still around. It's been updated over the years, but recently Jagex forked the game into RuneScape and a "old school" version that is as the game existed back in 2007. Old School RuneScape has absurd amounts of depth to it, but the truly radical part about the mobile port is it's completely cross platform. You can be playing on your PC, log out, log in on your iPhone, log out, then log in on your Android tablet and all your friends, progress, and everything else is all right there. It may be an old school game, but this sort of thing feels like the future. – EH
Pokémon Quest, Free – [Guide] – [Forum Thread] – Pokemon Quest is a weird game, but it feels like we're inching closer and closer to having an actual real-deal classic Pokemon game on the App Store. This time around we've got voxel graphics with gameplay that feels a bit like an idle RPG, which makes it feel like it makes way more sense to play on mobile than its sister release on the Nintendo Switch. If you go into Pokemon Quest looking for a great idle RPG, you'll have a good time. If you're looking for a "full" Pokemon experience, you're better off sticking to the classics on other platforms. -EH
Siralim 3 (Monster Taming RPG), $4.99 – [News] – [Forum Thread] – The Siralim games are some of the deepest RPGs on the App Store, and for the first two entries in the series I just couldn't wrap my head around them. I appreciated them for what they offered, but it just didn't seem like it was for me. When Siralim 3 launched this year, I sat down to once again give it a shot, and for whatever reason things just clicked and it became one of my most played games of the year. There is basically an endless amount of stuff to do, from diving into dungeons and fighting enemies and collecting loot and capturing monsters… the list just never ends. Siralim 3 does a good job at structuring a lot of that stuff to get you on your way, but in reality this is the type of game you could play until the end of time if you wanted. – JN
Six Ages: Ride Like the Wind, $9.99 – [Review] – [Forum Thread] – King of Dragon Pass was one of those games that you could put on your iPad and play for eternity and Six Ages: Ride Like the Wind is a spiritual successor that's no different. You'll be managing a clan through the dawn of man, where you'll need to deal with dinosaurs, make diplomatic decisions, improve your farms, and many other elements that all are go into balancing your survival. If you like games with depth, don't miss this one. -EH
Squids Odyssey, $3.99 – [Announcement] – [Forum Thread] – Squids Odyssey is more or less a modern remake of a set of ultra-classic iOS Squids games. They're turn-based strategic battlers where you fight using a stretch back and swing mechanic. That sort of thing has been done a bunch on the App Store in the last decade, but Squids was one of the original and still totally stands up all these years later. -EH
Stardew Valley, $4.99 – [Review] – [Game of the Week] – [Forum Thread] – Stardew Valley on Steam seemed like something I would love but as with most games on Steam, I end up dropping them in the hopes of a portable release. I eventually ended up owning Stardew on everything but the most played versions are definitely the iOS and Switch versions right now. ConcernedApe took the best of Harvest Moon, Animal Crossing, and Terraria to creat something special. If you do end up buying it, say goodbye to your free time because this is one of the rare games of the generation material for sure. -MM
Teen Titans Go! Figure, $3.99 – [Review] – [Game of the Week] – [Forum Thread] – The original Teeny Titans brought one of the best takes on a Pokemon-style RPG to the App Store when it launched a couple of years ago, and was easily among our favorite games of 2016. With the sequel, formally called Teen Titans GO! Figure, the developers have upped the ante on the already fantastic predecessor. There are new figures to collect and battle with, and you can even customize their color schemes for fun. The game world is also three times as large with two full brand new cities to play through, and a recent update brought the highly-requested feature of online battling to the mix. – JN
VALKYRIE PROFILE: LENNETH, $17.99 – [Review] – [Forum Thread] – Valkyrie Profile is one of those games that can cost quite a bit of money to procure on other platforms, so it's wonderful to see it get a more accessible release. Square Enix's mobile ports are kind of all over the place, but this ended up being quite faithful to the PSP version it was drawn from while making a couple of sensible changes to fit mobile gaming habits. It can be a little tricky to do some of the platforming with touch controls, but outside of that, this is a fantastic version of an awesome, highly-original game. -SM
Villagers & Heroes, Free – [News] – [Forum Thread] – Full-blown MMORPGs are a rare sight in the world of mobile, and the ones that have launched have generally been specific to the mobile platform. Much like Old School Runescape, Villagers and Heroes is a full MMORPG that can be played cross-platform between iOS, Android, and desktop. This one has more of an "old school WoW" vibe and there's no shortage of stuff to do in the games huge 3D world. As someone who could never get into an MMO myself, Villagers and Heroes was just the gateway drug to make me realize what I'd been missing all these years, and it works surprisingly well as a mobile experience. – JN
Sports
Alphaputt, $1.99 – [Out Now] – [Forum Thread] – Alphaputt is yet another awesome mini golf game on the App Store, with the unique twist that each hole is actually a letter and your overall course is a word. So, for instance, if you played the course "RAD," you'd play a hole on "R," "A," then "D." Each individual hole is filled with all kinds of obstacles, and utilizing those obstacles is vital to low scores. Some folks found how interactive the environments are to be a little annoying, so how much you enjoy Alphaputt likely depends on whether you prefer wacky golf over a more "realistic" setting. -EH
Golfing Around, Free – [Review] – [Forum Thread] – Colin Lane is well known for making wacky physics versions of sports games, but what's so interesting about Golfing Around is that it's not very wacky at all. In fact it's a really solid, if simplified, simulation of actual golf. Sometimes the wackiest thing is NOT being wacky! If "golfing simulation" sounds like a snorefest to you, well don't worry. Golfing Around keeps things light and fun, and has a control scheme that works perfectly on the touchscreen and in portrait orientation. It also utilizes some classic arcade-style mechanics, so you most certainly won't be falling asleep during this one. Best of all is its easy to use course creator which lets you create and share golf courses with the world, meaning nearly endless replay value. – JN
NBA 2K19, $7.99 – [NBA 2K19] – [Forum Thread] – Originally shown off at the iPad Pro reveal keynote as the absolute pinnacle of iOS gaming, NBA 2K19 is an actual premium basketball game on the App Store. It launched with all kinds of weird little issues which have slowly been update over time, making it a much better game then when it first was released. If you've got a brand new device and are looking something that pushes its limit, NBA 2K19 checks off those boxes. It's also pretty nice that it's not a freemium grind-fest like most mobile sports games these days. -EH
Pocket Run Pool, Free – [Review] – [Forum Thread] – The latest release from Zach "Cannot Make a Bad Game" Gage is yet another clever twist on a basic game concept that becomes impossible to put down. In this case, Pocket Run Pool is a pool game with a scoring mechanic that has you sinking numbered balls into constantly rotating score multipliers on each of the pockets. This score mechanic seems weirdly basic, but when you get involved in trying to maximize your score it almost turns the game of pool into a game of chess as you're planning ahead on which ball is going to go where. It's free to check out too, so, be sure to do that. -EH
Touchgrind BMX 2, Free – [Announcement] – [Forum Thread] – The original Touchgrind BMX is about as O.G. as it gets when it comes to classic iOS games, and the sequel takes everything that was good about using touch gestures to do stunts on a BMX bike and cranks it up to 11. Everything from better parks to play in to more bike customization, it's pretty wild just how much content is actually in this game. -EH
True Surf, Free – [Announcement] – [Forum Thread] – From the makers of True Skate is what apparently is the world's most authentic surfing game. I've never been surfing, so I can't vouch for the authenticity but what I can say is that it's a lot of fun using clever touch-based controls to pull off all sorts of ridiculous surf moves I'm fairly certain I'd never be able to pull off in a million years in real life. All sorts of classic surf spots are included, as well as tons of board options. -EH
Unicycle Hero, Free – [Announcement] – [Forum Thread] – If we had an award for the most ridiculous game of the year, Unicycle Hero would likely take the cake. This game blends all sorts of different track and field games with unicycles, which sounds dumb, but as far as games with weirdly janky physics models that somehow all come together to work incredibly well… This is it, chief. Just beware, this game is super difficult to put down. -EH
Strategy
Armello, Free – [Review] – [Forum Thread] – League of Geeks finally brought Armello to iOS earlier this year and I was pretty floored by how much fun I had playing it. In a lot of cases, board games and card games work best on touch and League of Geeks combined the feel of tabletop games with grand RPGs here. The port is very good and it is pretty generous as a free download with in app purchases available for unlocking more content. If you enjoy board games and have wanted something that brings tabletop RPGs to life and one that plays well on iOS, you need to try this as soon as possible. -MM
Brawl Stars, Free – [Guide] – [Forum Thread] – When Brawl Stars soft launched last year, it was the talk of the town among the TouchArcade community. In fact, it stayed soft launched for so long it seemed like everyone around here got a chance to play it so much they got tired of it and moved on to other games- Making the reasonable assumption that the game had just been cancelled by Supercell. It was eventually released globally late this year, and like most Supercell games, has staked a claim near the top of the App Store charts. Brawl Stars is best described as a mobile MOBA that has been stripped down to as close to a bare bones experience as possible to make it work both with simple touch controls and with short session times. Assuming you never played it during the soft launch, it's very much worth checking out now that it's officially released. -EH
Brew Town, Free – [Review] – [Forum Thread] – Brew Town is a bit of a mix between a clicker-style progress game and a … city builder, of sorts, except you're building the ultimate brewery to unleash the best craft beers into the world. While the gameplay is sold and the premise amused us, what really took this game to a whole new level is the absurdly detailed label creation engine, as everyone knows the most important part of releasing a beer is naming it and coming up with the label. If you're a craft beer nerd, you need this game. -EH
Cinco Paus, $9.99 – [Review] – [Game of the Week] – [Forum Thread] – You have to go back more than a year to when Cinco Paus hit the App Store quietly on Christmas Day 2017, but since it technically released after our Best of 2017 coverage was posted it qualifies for this year's running, and it most certainly deserves a spot on the list. Developer Michael Brough is known for making highly strategic roguelike games with incredible depth and emergent gameplay, and Cinco Paus fits that bill. The game has you negotiating through single-screen dungeon rooms collecting treasure and dealing with various types of enemies. The twist is your selection of five magical wands which do a variety of things, and can each only be used once per room. It'll take some careful planning as well as some good old fashioned luck to be successful, which is something we love about all of Brough's games. – JN
Element - RTS, $2.99 – [Announcement] – [Forum Thread] – While we love it when a full-blown AAA port of a bonafide Real Game hits the App Store, another thing we like just as much is when a developer takes a genre that's typically reserved for the PC and manages to release a mobile game that pushes almost all the same buttons without the immense time requirements or complication. Element does all that and more with a realtime space strategy game that is surprisingly complex while never feeling overwhelming. It's really cool how you can get so much done in such a short amount of time without ever getting annoyed with the game's controls as well. -EH
Kingdom Rush Vengeance TD Game, $4.99 – [Announcement] – [Forum Thread] – While it feels like a bit of a formality to include whatever the most recent Kingdom Rush game is in our "best of" list, the latest iteration is just as deserving as all the others. Ironhide really, really knows how to make a good tower defense game and there's a reason why the Kingdom Rush series is so legendary. Also, it's weirdly nice to just play a game like this that's premium that you can just play through. It's reminiscent of the good ol' days of the App Store, from start to finish. -EH
Meteorfall: Journey, $3.99 – [Review] – [Forum Thread] – In the ten years the App Store has been around, you'd think that every possible iteration of roguelike has been released, but that is definitely not the case. Meteorfall is a deck building roguelike dungeon crawler which might sound weird, but is executed unbelievably well. As you defeat enemies you'll gain more cards for your deck and need to thin out your crumbier cards. It's one of those games that seems almost too simple on its surface that has loads of depth which has only been improved through updates. Also, the art style is awesome, and the whole game could basically take place during an episode of Adventure Time and nothing would be out of place. -EH
MIYAMOTO, $2.99 – [Podcast] – [Forum Thread] – This was one of our bigger surprises of 2018, as when someone says "Miyamoto" we think Mario, not a shockingly well done solitaire-style board game with roguelike card mechanics and an art style that's out of this world. The attention to detail everywhere is absurd, from the opening menu where you have to actually open the game's faux board game box to play, to all sorts of other tiny pieces of visual flare which only add to the experience. -EH
Pocket City, $2.99 – [Review] – [Game of the Week] – [Forum Thread] – If you've always wanted a classic Sim City experience or basically a Sim City game on mobile that isn't full of microstransactions and the usual f2p meters, you will want Pocket City. It manages to take the best of Sim City and brings it to mobile with an interface that works great on touch without any of the usual f2p shenanigans. I love the aesthetic and consider this an essential on the App Store right now. It doesn't have the depth of something like Cities: Skylines on the Switch but it is a damn fine package overall and one that works great on both iPhone and iPad. -MM
Rebel Inc., $1.99 – [Announcement] – [Forum Thread] – From the creator of Plague, Inc, Rebel, Inc. is an … interesting game. This time around you're managing insurgents, winning the hearts and minds of people, and all sorts of other complicated tasks with an interface that's vaguely similar to Plague, Inc. I'd start on Plague, Inc and if you find yourself thinking it's too easy or you want something more complicated, move on to Rebel, Inc. -EH
Reigns: Game of Thrones, $3.99 – [Preview] – [Forum Thread] – Another year, another Reigns game! This time around it comes absolutely dripping in Game of Thrones fan service, set with the interesting premise of looking into Melisandre's flames which don't always tell the truth. You'll be doing Reigns-y swipes to make decisions playing as all sorts of different Game of Thrones characters and scenarios which would never happen in the show (or books) but are super fun. You don't really have to be a Game of Thrones fan to enjoy it, but it certainly helps. -EH
Tropico, $11.99 – [Release] – [Forum Thread] – If you're the kind of person who is into Real Games, you should basically just buy everything in Feral Interactive's App Store seller account. Tropico is a full-blown port of the island management game with controls completely built for touch that flawlessly allow you to rejigger every single tiny management element of the game from the way roads are laid out to your various manipulations of public opinion. This game is the exact kind of AAA title we wish we saw more of on the App Store, and while it's currently iPad only they're hard at work on a universal update slated for 2019. -EH
Vandals, $3.99 – [Review] – [Forum Thread] – Vandals was released in early 2018, and got quite a bit of criticism from being a bit too much like the Square Enix Go series, which they had been rapid-fire releasing. Well, since it seems like we're not getting Go games anymore, Vandals actually seems to take that torch and run with it in new ways that involve avoiding police and committing crimes. If you're tired of the Go games, Vandals won't win you over, but the addition of the sound mechanic makes it a great honorary sequel. -EH
---
If you'd like to check out lists from previous years, we've been putting together these best-of roundups since the beginning of TouchArcade. It's actually super interesting to go back and look at these, particularly as the platform has evolved over the years.
Here's our previous lists:
Have a happy New Year, everyone!