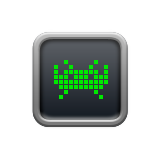 Each year before Christmas we've put up a buyer's guide listing the best iOS titles of the year. Looking back at the 2009 Buyer's Guide and the 2010 Buyer's Guide, we've come a long way. Below you'll find all of 5 star rated iOS titles, as well as the standout 4.5 star games.
If you just opened an iPhone, iPod touch, or iPad for Christmas, this is a great place to get started. To make this list a little easier to digest, we've broken these games into a few very vague categories. Oh, and if you also opened an iCade this Christmas, don't forget to check out our list of iCade supported games.
---
Casual
Tiny Wings, $1.99 - [Review] – [Forum Thread] – It's not every day that Angry Birds gets knocked to the #2 position on the top sales charts, but Tiny Wings did it. It comes packed with delightfully simple single button gameplay that even kids could enjoy along with increasingly difficult goals that even hardcore gamers will find challenging. Get this game, now.
Angry Birds Rio, Free - [Review] – [Forum Thread] – As easy as it is to groan at Angry Birds Rio getting a 5 star rating, it's a fantastic game. It obviously takes the original Angry Birds formula and builds on top of it with the Rio tie in, boss battles, and some spruced up interface elements. There's also a few extra layers of parallax scrolling that really make this version of Angry Birds look much better than the others as well.
Bumpy Road, $2.99 - [Review] – [Forum Thread] – It's not often that a game comes along in the App Store that makes you think, "Wow, why didn't someone think of this sooner?". Bumpy Road is just that kind of game. The control system to control the game world rather than the car is remarkably clever, and since its initial release it's even seen some update love from the developers.
Tiny Tower: Pixel Life Builder, Free - [Review] – [Forum Thread] – NimbleBit set some sky high expectations with Pocket Frogs [Free], their previous (and first) foray into the free to play world. I'd go as far as to say that Tiny Tower is even better, as it has completely taken over my household.
Temple Run, Free – [Review] – [Forum Thread] – Imangi Studios doesn't release games all that often, but when they do, they sure are good. Temple Run takes the endless runner formula, adds a third person chase viewpoint, some tilt mechanics, and heaps of power ups to cheat death. Additionally, Temple Run was voted the forum game of the week when it was first released.
Platformer
EDGE Extended, $2.99 - [Review] – [Forum Thread] – We thought the original Edge was incredible, and Extended somehow takes that same game formula, applies a substantial layer of awesome, then knocks it out of the park. Clever platforming mechanics combined with fantastic music really just create an experience that you can't miss.
Bring Me Sandwiches!!, Free - [Review] – [Forum Thread] – Adult Swim is batting 1000 lately with fabulous iOS games, and Bring Me Sandwiches!! keeps that tradition going strong. It's a cross between the collect-everything-you-see gameplay of Katamari Damacy with a platformer game. Additionally, tons of control schemes make the game great to play no matter what your control preference might be.
Sonic CD Classic, Free - [Review] – [Forum Thread] – Here we have the best installment of one of the greatest gaming franchises, which received both flawless review scores and game of the year awards when it was originally released ported with complete perfection to iOS. This is a game you flat out need to buy if you even vaguely consider yourself an iOS gamer. Not only because it's such an impeccable port of an important piece of gaming history, but because we need to vote with our wallets to tell Sega (and anyone else who might be watching) that this is the quality we demand out of retro games brought to the App Store.
Whale Trail, Free – [Review] – [Forum Thread] – Most games you can plot along a line graph with "gameplay" on one end and "presentation" on the other. The best games wind up somewhere in the middle, and Whale Trail definitely sits deep into the "presentation" side of things. Still, the game looks fantastic, and the incredibly vibrant graphics almost make you forget the gameplay is so simple.
Wind-up Knight, Free - [Review] – [Forum Thread] – Picture Super Mario Bros. Got a nice image in your head? Good. Now imagine Mario could never stop moving and would only change direction if he hit a wall. A little tougher. And what if absolutely everything could kill him in one hit, and there was no such thing as a checkpoint? That sounds like the sort of game that would have you cursing, spitting, and contemplating throwing your controller, and it also sounds a lot like Wind-up Knight.
Adventure
Superbrothers: Sword&Sworcery, $3.99 - [Review] – [Forum Thread] – This is the closest thing to what we'd call a "system seller" of a video game since the iPad was originally released. Sword & Sworcery is an absolutely incredible experience, a thought that has not only been shared by the gaming press, but also the mainstream media as well. If you have an iOS device and $5 to your name, there's no excuse not to spend it on this game. If you don't want to fork over a couple bucks more for the universal version, Sword & Sworcery Micro [$2.99] is just what the doctor ordered.
Machinarium, $1.99 - [Review] – [Forum Thread] – This game generated a heck of a lot of controversy when it was revealed that it'd only run on the iPad 2 only, which had us more than a little worried about its performance if it requires top-end hardware. It turns out, Machinarium runs fantastically, despite its Adobe Air-based innards. If you've got the hardware, don't miss this remarkably clever adventure.
Aquaria, $4.99 - [Review] – [Forum Thread] – Imagine if a Metroidvania went underwater with a fantastic touch-based control scheme. That's what Aquaria is in a nutshell, but you've got to appreciate its fine touches and vision even if its formula doesn't jive with you.
Retro
Forget-Me-Not - GameClub, Free - [Review] – [Forum Thread] – In our review we called Forget-Me-Not the "retrolicious lovechild of PAC-MAN and Rogue," and I'm really struggling with a better way to describe the game. An amazing scoring system combines with fantastic retro graphics that only bolster how much fun Forget-Me-Not is to play. If the thought of PAC-MAN combined with dungeon crawling at all piques your interest, stop what you're doing and download Forget-Me-Not immediately.
The Last Rocket, $1.99 – [Review] – [Forum Thread] – Retro-inspired games are fairly common on the App Store, but The Last Rocket is one of the best examples we've seen of a modern-day title that could have easily passed as an absolutely fabulous NES game. The Graphics and music are all delightfully 8-bit, but even without all these retro trimmings the gameplay could stand on its own.
Velocispider, $2.99 - [Review] – [Forum Thread] – This fantastic tilt-controlled shooter has sucked up entirely too much of our time. With nods to retro shooters like Space Invaders, awesome pixel art, and universal compatibility Velocispider is simply fantastic.
Another World - 20th, $3.99 - [Review] – [Forum Thread] – It's hard to find a game on the App Store with more history behind it than Another World. Touch-based controls (as well as an optional virtual D-pad) along with both original and remastered graphics make for an outstanding port of this classic adventure game.
Role Playing
Infinity Blade II, $6.99 - [Review] – [Forum Thread] – We put incredibly powerful devices in our pockets and on our laps daily, but rarely do we see games that utterly embrace this like Infinity Blade 2 has. It's a showcase piece; a technically and visually gifted game that consistently delivers eye-popping stuff. The gameplay is great, too.
Mage Gauntlet - GameClub, Free - [Review] – [Forum Thread] – Almost too many games lean on pixel art and chip tunes just because it's in style, but Mage Gauntlet draws inspiration from that era and allows it to permeate every aspect of the game. If you have any fond memories of Super Nintendo-era action RPGs, don't miss this game.
Pocket RPG: Epic Adventure, Free - [Review] – [Forum Thread] – Crescent Moon Games' latest is this awesome spin on entirely randomized Roguelike gameplay mixed with the action-packed style of a dual stick shooter. It's a combination that works incredibly well, and being entirely randomized, is infinitely replayable. If you don't feel like springing for the universal version, there's also a cheaper Pocket RPG iPhone Edition [99¢].
Strategy / Sim
King of Dragon Pass, $9.99 – [Review] – [Forum Thread] – No lie, I've spent more time playing this game than all the other games that we reviewed in September combined. If my exhaustive review wasn't clear enough, here's all you need to know: If you like simulation games, you needed King of Dragon Pass on your iPhone yesterday. I've still got my fingers crossed for an iPad version, but I'm more than happy managing my clan whenever I've got a few seconds to spare on my iPhone.
Great Little War Game, $1.99 - [Review] – [Forum Thread] – As mentioned in our review, this game is anything but little. Great Little War Game is a turn-based strategy game that we consider a must have for anyone even vaguely interested in the genre. The developers are remarkably active in our community, and thus far GLWG's updates have been fantastic, both in implementing new features as well as forum feedback.
Pocket Academy, $5.99 - [Review] – [Forum Thread] – It seems like ever since Game Dev Story [$1.99 we just can't get enough of Kairosoft simulations. This one in particular puts you in charge of a school, and while many of the mechanics might not be immediately apparent, once the game grabs you, it doesn't let go.
Tiny Heroes, Free - [Review] – [Forum Thread] – geoDefense and geoDefense Swarm cranked tower defense on the App Store up to 11, and, dare I say it, Tiny Heroes makes a great attempt to crank it to 12. Or, at least, 11 and a half. This fantasy-based tower defense title should not be missed by anyone who even vaguely fancies the genre.
Sid Meier's Pirates! for iPad, $4.99 - [Review] – [Forum Thread] – This pirate sim is a game with a ton of history behind it, and 2K Games did a marvelous job of porting it to the iPad. It has depth on top of depth, and will keep you busy for quite some time if it manages to suck you in. We've got our fingers crossed for more ports like this of incredible games that work phenomenally on the iPad.
Anomaly Warzone Earth, $1.99 / HD – [Review] – [Forum Thread] – Who knew that turning tower defense in reverse would make for such an incredible game? If you're even vaguely interested in anything to do to tower defense, Anomaly: Warzone Earth needs to be on your iOS device. The mechanics are solid, the atmosphere is cool, and it'll leave you wanting for a sequel.
Action / Shooter
Dead Spaceâ"¢, $4.99 - [Review] – [Forum Thread] – "Console quality" is a phrase that's thrown around a lot to describe portable games, and really, it's a fitting title for this iOS-exclusive version of Dead Space. We tend to prefer Dead Space for iPad [$9.99] over its iPhone counterpart, but both are fantastic games that should be a part of your collection.
Battleheart, $2.99 - [Review] – [Forum Thread] – This single player game perfectly combines everything that's good about complex party-based realtime battles found in MMO-style games with wonderfully simple and intuitive touch controls. Multiple character classes are included, as well as equipment upgrades. It's incredible just how much flexibility there is for tweaking your party and how you play the game. Battleheart is fantastic on the iPhone, but you can't miss it if you own an iPad.
THE KING OF FIGHTERS-i-, $2.99 - [Review] – [Forum Thread] – Back in the day of the arcade fighter arms wars, it was Street Fighter versus The King of Fighters with as fierce of a rivalry among gamers as arguing Nintendo vs. Sega. KoF has arrived on the App Store, and it's every bit as good as its Street Fighter, although it remains to be seen if they'll match the online play found in Volt.
Jetpack Joyride, Free - [Review] – [Forum Thread] – This is our favorite game of the month, as this endless power-up packed single-button flying game is responsible for sapping days of productivity across the entire TouchArcade staff. There are so many hooks to keep you playing that you can do "one more game" for hours through achievements, missions, unlockables, and all sorts of cosmetic customizations.
Bug Heroes, Free - [Review] – [Forum Thread] – Much like how Dungeon Raid took typical match three gameplay and made it awesome, Bug Heroes takes the dual stick shooter to the next level. The core of the game is based around the typical dual stick shooter formula, but multiple playable characters (each with strengths and weaknesses) as well as elements of both castle and tower defense make this a game that everyone needs to check out. Just keep in mind, it will be very difficult to go back to your basic survival-mode dual stick shooter after this.
Zombieville USA 2, $0.99 - [Review] – [Forum Thread] – Tightly-constructed, well-executed, charming, different and entertaining are all words we freely use when describing Zombieville 2. It's a near perfect iterative entry to the franchise, as it artfully hones in on and turns up the volume on the two best parts of the original: the shooting and upgrade models.
Grand Theft Auto III, $4.99 - [Review] – [Forum Thread] – Even though GTA 3 wasn't designed for virtual controls, you'll have a great time with it, even if all you do is drive around Liberty City listening to the fantastic in-game radio stations. (My favorite is the talk station.) As you become more accustomed with the splattering of virtual buttons all over the screen, you'll find hours upon hours of content to plow through. Having played GTA3 to completion many times in the past, I'm incredibly happy to be able to take it anywhere with me on my phone of all things.
Bug Princess, $4.99 - [Review] – [Forum Thread] – Aside from a few small quibbles, Bug Princess offers yet another stellar entry in CAVE's series of iOS shooters. It's probably the most straight forward and least complex out of them all, which makes it a great starting point for bullet hell newbies, but it does have its share of depth for those looking to master its strategies.
STREET FIGHTER IV VOLT, $4.99 - [Review] – [Forum Thread] – Capcom is following their time honored tradition of relentlessly re-releasing Street Fighter with Street Fighter IV Volt. This time around there are three new characters as well as online multiplayer.
Dark Meadow, $1.99 - [Review] – [Forum Thread] – Atmospheric horror is a game genre that never really seems to translates to portable devices very well, but Phosphor Games did a great job of it with Dark Meadow. Set in a creepy hospital, and utilizing the Unreal Engine, the game looks and sounds great. A repetitive combat system drags down this otherwise fantastic title.
Puzzle
Where's My Water?, $1.99 – [Review] – [Forum Thread] – This super-fun liquid-centric physics game puts you in the driver seat of helping an alligator take a shower. Sure, it's hard to come up with a more ridiculous premise, but maybe that's part of this game's charm. A wacky scrolling mechanic on some levels is the only thing we have to complain about, otherwise Where's My Water is fabulous.
Dungeon Raid, $0.99 - [Review] – [Forum Thread] – As mentioned in our review of the game, with the number of fish in the match three sea, it takes a lot to make one that's just as fun (if not more so) than the match three staples like Bejeweled 2 and other classics. Dungeon Raid accomplishes this by distilling the Puzzle Quest formula down to its basics, and providing match three gameplay that retains its simple nature while offering a shocking amount of depth via random equipment and character upgrades. Also, there's much more to matching than just high scoring, clearing each type of block has a purpose, and the order you clear them in can mean life or death. This game has stolen hours of my time, I can't recommend it enough.
Casey's Contraptions HD, $2.99 - [Review] – [Forum Thread] – There are tons of contraption-building games on the App Store, but few are as good as Casey's Contraptions. The theme of the game is gloriously whimsical, and you can spend hours delving through the clever and convoluted solutions your friends post via Game Center.
Gesundheit!, $1.99 - [Review] – [Forum Thread] – This stealth-centric sneeze-powered puzzle game comes with fantastic controls, some of the best hand-drawn art we've seen in action on the App Store, and details like shadows moving relative to your iOS device's gyroscope readings. We prefer the iPad version, but only because you'll want as much screen real estate as possible to enjoy this game's incredible art.
Wooords - GameClub, Free - [Review] – [Forum Thread] – Games where you search for words within a pre-defined set of letters have some serious roots, heck, this kind of puzzle was published in newspapers before video games even existed, and there's a zillion variations on the App Store. Words totally impressed us with its slick presentation that feels less like playing a word game and more like moving magnetic letters around on a refrigerator.
SPY mouse, Free - [Review] – [Forum Thread] – Firemint has managed to de-throne Angry Birds from the #1 position on the App Store with this line-drawing-powered stealth game. Collect cheese, evade cats, use various tricks, and even fight bosses. All the gameplay elements go together incredibly well, and Firemint even managed to remove a lot of things that have historically annoyed us about stealth games in the process.
SpellTower Classic, $2.99 - [Review] – [Forum Thread] – Word games can still be fun. Elegant, clever and fun, SpellTower a complete package, brought together by Gage's trademark use of cheerful colors, simple patterns and elegant typography.
iBlast Moki 2 - GameClub, Free / Universal HD – [Review] – [Forum Thread] – This game sets the standard of what gamers should expect of sequels. It's got familiar puzzle-centric physics mechanics of the original with tons of new features that add complexity and all kinds of new ways to solve puzzles. Additionally, a perfectly integrated solution system can show you how your friends completed a level if you get stuck.
Monsters Ate My Condo, $0.99 - [Review] – [Forum Thread] – Adult Swim and Pik Pok joined forces to bring us one of the craziest matching games we've ever seen on the App Store. The game requires matching similarly colored floors while appeasing nearby color-coded monsters, each with a more ridiculous super-power than the last. Also, you can score billions if you're good. Billions!
Scribblenauts Remix, $0.99 - [Review] – [Forum Thread] – Originally released on the Nintendo DS, Scribblenauts is a game that's so unique that you simply must play it. Remix combines the best elements from both of the DS games along with 10 iOS-exclusive levels. In addition, it's even universal and boasts complete iCloud save syncing support.
Bejeweled Blitz, Free - [Review] – [Forum Thread] – Popcap takes the glorious match-three mechanic of the classic puzzle franchise, pumps up the volume on the jewel and match bonuses, and then condenses it all down into frantic, one-minute bursts of eye-gasmic, point-laden play.
Sports
NBA JAM by EA SPORTSâ"¢, $4.99 - [Review] – [Forum Thread] – iOS gamers really couldn't ask for much more when it comes to EA's port of NBA Jam… Multiplayer was even added in an update! All of the massive dunks and secret modes are intact, making this a surprisingly faithful port. EA even recently updated the game's roster, bringing it in line with this NBA season.
Pocket HalfPipe, $1.99 - [Review] – [Forum Thread] – This incredibly awesome skateboarding game is highly reminiscent of the halfpipe in the classic NES series Skate or Die, but with much better graphics and crazy dual stick controls that allow you to pull off all kinds of moves. The game could easily be described as basic, but it's so much fun that we don't care. The tricks you'll be able to pull off after a bit of practice are cool, and stringing a massive chain together is hugely rewarding.
Fight Night Champion by EA Sportsâ"¢, $4.99 - [Review] – [Forum Thread] – A surprisingly competent boxing game that feels like an equal to its console counterpart instead of a typical watered-down mobile version. Great touch screen controls combine with different game modes to create a boxing experience that is among the best that the App Store has to offer.
Music
Groove Coaster, $2.99 - [Review] – [Forum Thread] – There have been a ton of rhythm games released on the App Store, but none have the amazing presentation of Groove Coaster that almost makes it less of a game and more of an experience– And this is one experience you really can't miss especially if you enjoyed its creator's other game, Space Invaders Infinity Gene.
Radballs, $0.99 – [Review] – [Forum Thread] – We fell in love with RadBalls inside of the first few seconds of the trailer, and by the time it was over we were ready to yield our first born to its creator. Oh, yeah, the game is fun as hell too. It's a music-centric matching game that even allows you to use your own tracks. Check it out.