There's a particular kind of game that I feel excels on mobile platforms more so than anywhere else. If you've got a quick arcade-style score chaser with a simple-to-understand core mechanic, a relatively high level of difficulty, and lots of silly things to unlock, you'll probably find a happy home for it on touch-based thingies that people keep on their person at all times. These are the kinds of games that people want to pick away at during the little pockets of downtime in their lives, while they may not necessarily be motivated to start up a dedicated gaming machine for such a brief affair. It's also the sort of game that Kumobius is really great at creating, and Wall Kickers (Free) is another fine example.
The basic idea here isn't too complicated. That wall-kicking business that people loved so much in the NES Batman or the many other games that used similar means of traversal sits at the core of Wall Kickers. You're at the bottom of some sort of structure, though what kind of structure it is specifically will vary as you unlock things. It doesn't really matter. It also doesn't really matter what character you're playing as, but if you need to know in order to set your imagination afire, I can confirm that you will start as a little monkey. You will soon be playing as a squirrel or a time surfer or a snail or some other thing, but it doesn't change anything in practice. Just collect them, it's fun.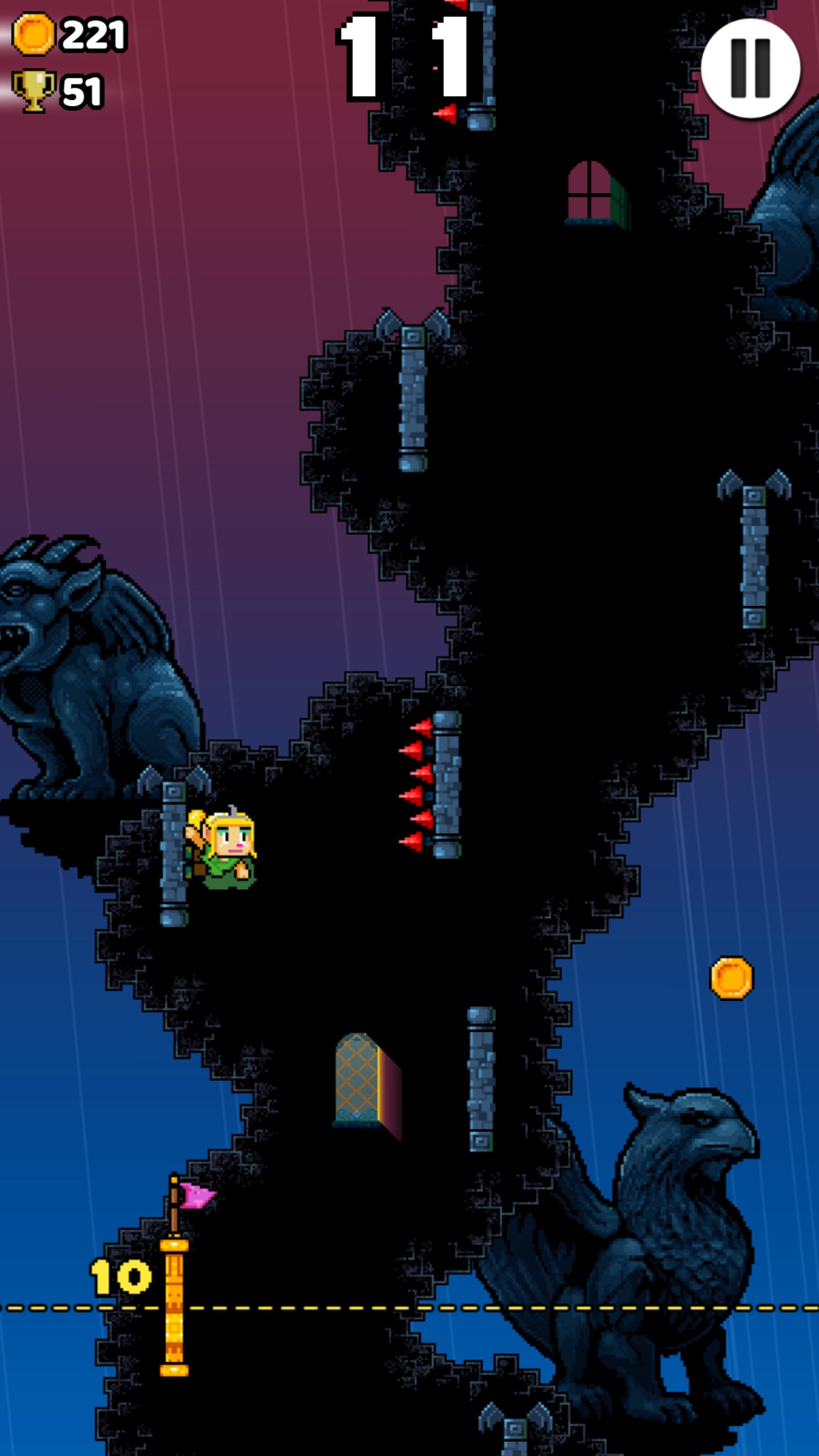 Okay, I went a little off-course there. So, you're playing as some sort of character climbing some sort of structure. But you can't really climb it, you know? Whatever you play as, they are not the climbing sort. No, they are the jumping sort, and they're rather good at it. They are also pretty good at adhering to walls, at least as well as can be expected. Sure, gravity will slowly work its cruel magic on them as they cling to the walls for dear life, but they can always jump to another perch. Indeed, they must. Not much of a game if they don't. You move up an eternally-scrolling vertical stage with precarious handholds scattered at convenient distances. If your character plants their feet on an actual horizontal surface, they'll automatically run.
But otherwise, you can only move by tapping the screen to jump. You'll kick off the wall and be on your way. Jump again, and you'll spit in the face of the laws of physics and kick off the freaking air back in the direction you just came from. The longer you hold your tap, the bigger your jump will be. That's everything you can do, and while you might think it would hard to pull much of an interesting game out of it, Kumobius has worked its usual magic with level designs and gimmicks to ensure you'll be playing Wall Kickers a lot longer than you originally planned to. Perhaps it would be more accurate to say that Kumobius has worked its magic with level chunk designs, though, as everything is sort of randomly jumbled in that way that ensures you'll never face exactly the same series of challenges, but you will run into a lot of familiar beats over time.
When you first start off, you'll mostly be doing simple single jumps between relatively large, hazard-free walls. This is fun in a very primal sort of way and I'm happy to report that while this set-up gets less common as you play, the developers didn't seem to forget the simple joy found in such movements and have made sure you'll occasionally see little sections like this even as things ramp up. Then the walls get smaller, and then you need to jump over and double-jump back to reach the other side of a wall. Then there are spikes, which you probably don't want to touch. Conveyor walls? Why not. Walls that flip around on a timer? Moving walls? Walls that send jolts of electricity out at regular intervals to barbecue you like the simple sack of meat that you are? Oh, you know all of that is in there.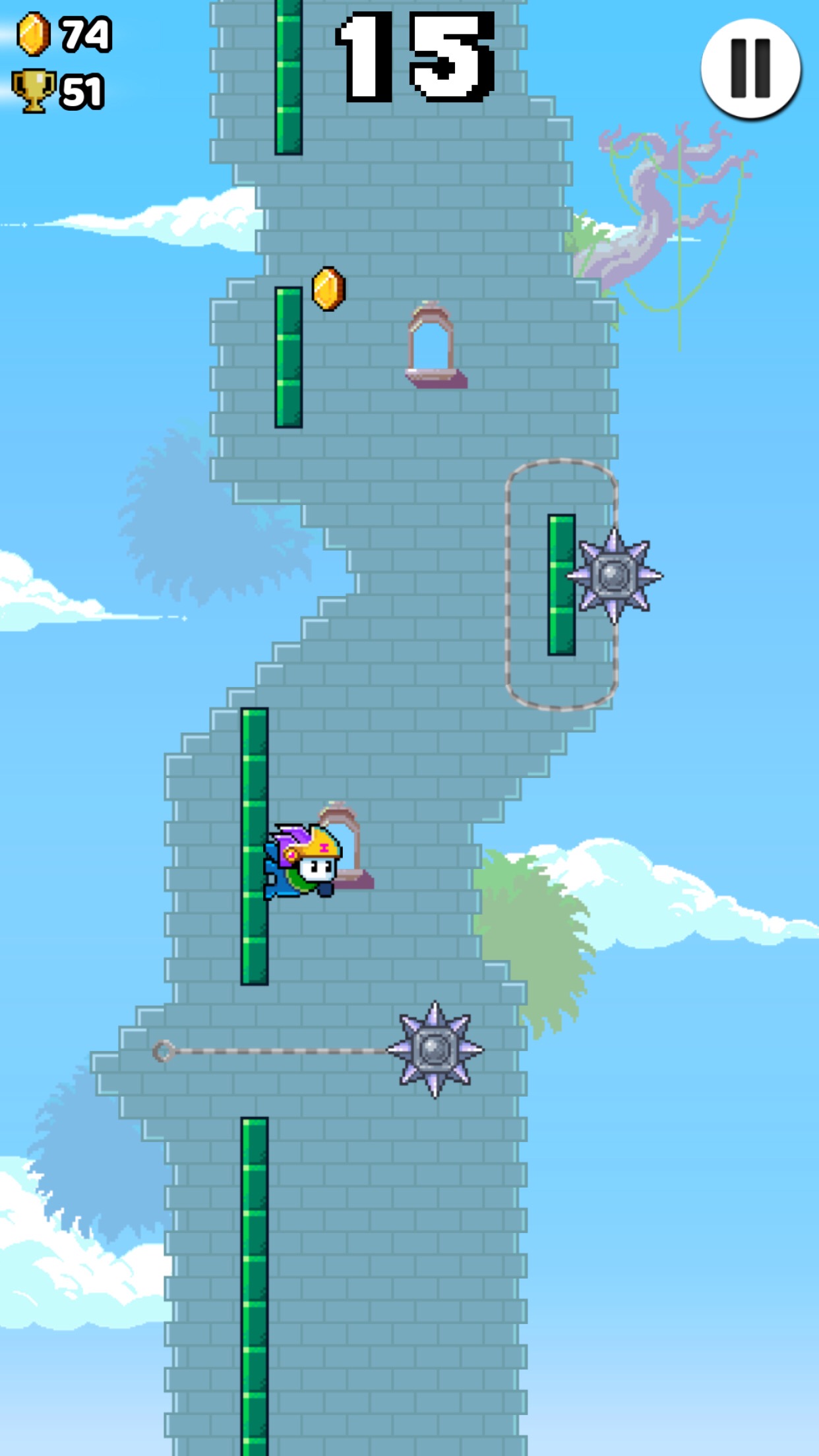 With that bag of tricks, the surprisingly nuanced jumping controls, and some excellent layouts, Wall Kickers has a nice bit of stickiness to it. Even better, you don't really start from scratch when you inevitably run out of chances and start again. Sure, your score is reset to zero, but you'll find the first few chunks of the level you're playing to be quite similar to the layout that killed you before, giving you a little chance at revenge while also solving the problem games like these tend to have with forcing you to repeat easy, dull bits to get back to the good stuff. That probably plays havoc with the score balancing, but it all evens out in the long run, I'm sure.
Coins! I forgot to mention the coins. See, the main point of Wall Kickers is, as near as I can tell, getting the highest possible score and slamming it in the faces of your friends via the Game Center support, but there's another familiar thing going on here, too. As you climb, you'll find little coins hanging out in various hard-to-reach places. Grab them whenever you can, because that's what you do with those things in our dimension. When you get one hundred of them, you can exchange them for a little bubble capsule that will spit out a new character or a new setting. It's all just cosmetics, but it's enjoyable to collect things. Plus, who wouldn't want to play as a sloth slowly scaling its way up a ninja tower, albeit sped up so as to look normal per the developer's trusted word on the matter?
Getting one hundred coins sure can take a while, however, and here's where the monetization comes in. Watching video ads will give you a good chunk of coins, and opening timed chests will also give you a whole bunch. You can also watch video ads to get a head start, or even to continue one (and only one) time per run. If you want, you can use coins for those things instead, but really, you're better off saving those for capsules. That said, if you see a character or backdrop that you really want to have now, you can just hand over some real money to buy it. All in all, it's very player-friendly and quite the soft sell on the whole. Nothing special there unless you've somehow avoided Crossy Road and all the games that built their monetization system around it since.
Now, I've been downplaying how important those characters and backgrounds are, but while they don't serve any actual mechanical purpose, you will want to get your hands on them all. The backdrops come with their own ambient sound effects and plenty of interesting little details, and each character has its own way of moving and shouting as it goes about its business. Each is so lovingly crafted that it's a treat to try out new combinations of characters and settings. Certainly, it's good fuel to keep you engaged for a while even if score-chasing isn't your thing. There are also a number of Game Center achievements to unlock, if that's still something you like to do.
What it all really comes back to is that Wall Kickers just feels good to play, something that will come as zero surprise to anyone who has played any previous games from Kumobius. It can fill short periods of time quite well, but you'll also find it up to the challenge of making you procrastinate on more important matters for longer sessions as well. The core mechanics ride the line between simplicity and depth the way any genuinely satisfying arcade experience needs to, and the difficulty scales up nicely. Throw in that usual Kumobius quality on the presentation, and you've got yourself a winner.