Ask and ye shall receive. You wanted more Pokémon games on mobile, and Nintendo delivered … sort of. The suspicion is that most people would really like what could be called core Pokémon games, the kind of RPGs that have lived more or less exclusively on Nintendo's handheld devices for years. While that still might happen at some point, Pokémon GO is still going strong, and now Pokémon Quest (Free) has entered the fray as well.
It's quite possible you've already played Pokémon Quest when it was made available on the Nintendo Switch first. It's also equally possible you're saying, "What the heck are you talking about?" or that you've seen it on the App Store but haven't yet deciphered what it's all about save that it has really blocky Pokémon in it. For those in the latter two groups, the game is a very simple action RPG where you form a team of three Pokémon and put them to use battling their way through increasingly difficult levels full of wild Pokémon on a previously uncharted island. The simplicity comes from the fact that your pocket monsters will execute their basic attacks all by themselves, so you only need to get involved when you want them to pull off their special moves. If you can't even be bothered to do that or simply want to grind out some levels while doing something else (maybe working, which you maybe should be doing right now), you can tap on one button and your team will fight completely automatically.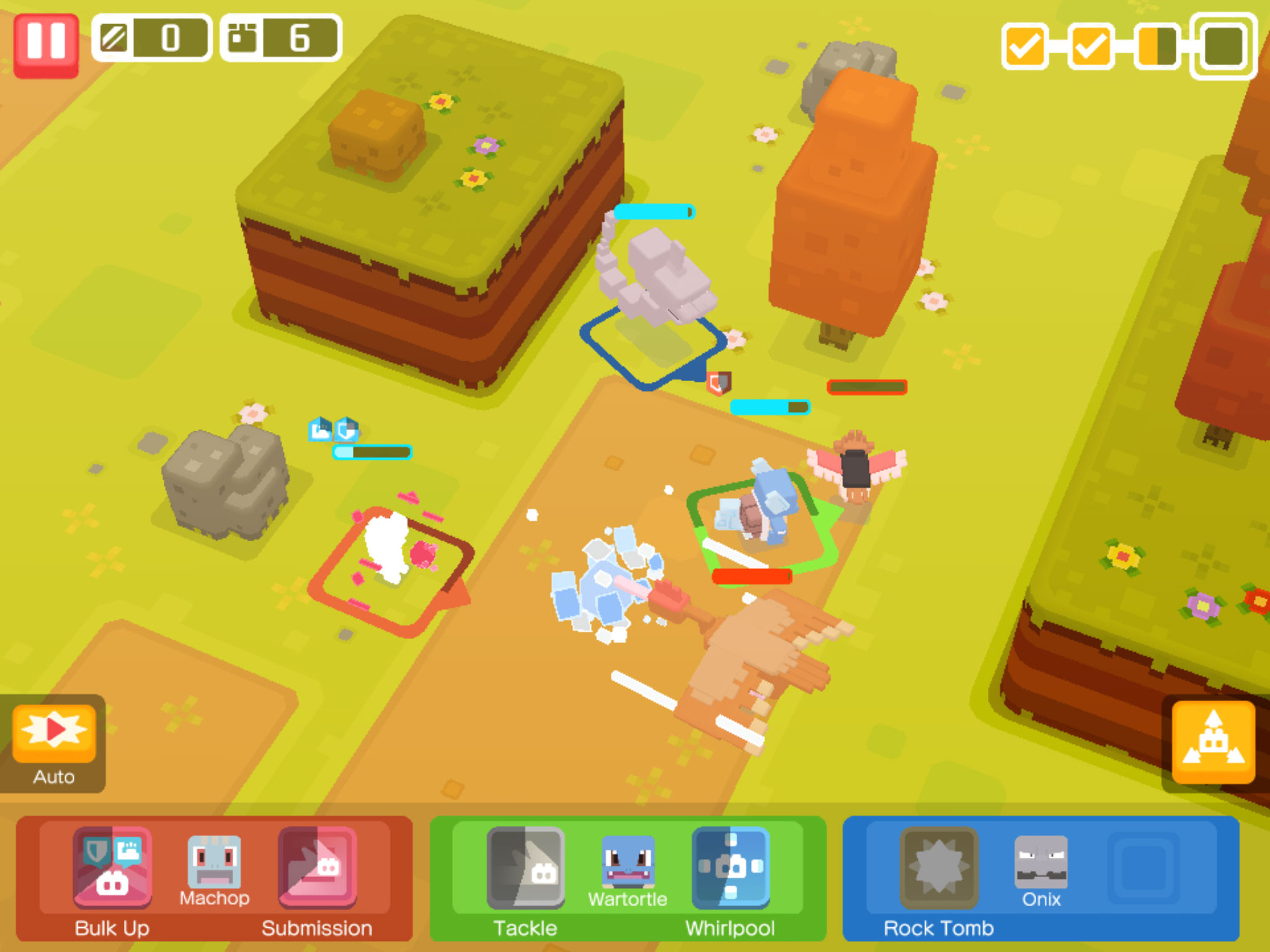 So now you've probably reached the point where you're saying, "What gives, TA? If this game is so basic, why do I even need a guide? What kind of shameless clickbait are you pulling here?" You'd be right, except that there are just enough differences between these and most Pokémon games to discuss in some detail, beginning with one of the most important topics in a franchise built around "Gotta Catch 'Em All" …
How to Get More Pokémon  in Pokémon Quest
Throwing balls at monsters? Battling other trainers? Yeah, maybe that works on the mainland, but on Tumblecube Island, it's your culinary skills that brings all the boys to the yard more Pokémon to the party.
We're not joking. The centerpiece of your base camp on the island is a large pot, into which you can place various ingredients you'll receive as loot drops (and other ways we'll discuss in just a sec). Throw five ingredients in there, let it cook while you are out running through some levels and voila, you've made something Pokémon will find delicious like you were some weird mashup of Ash and Bobby Flay. Easy, right?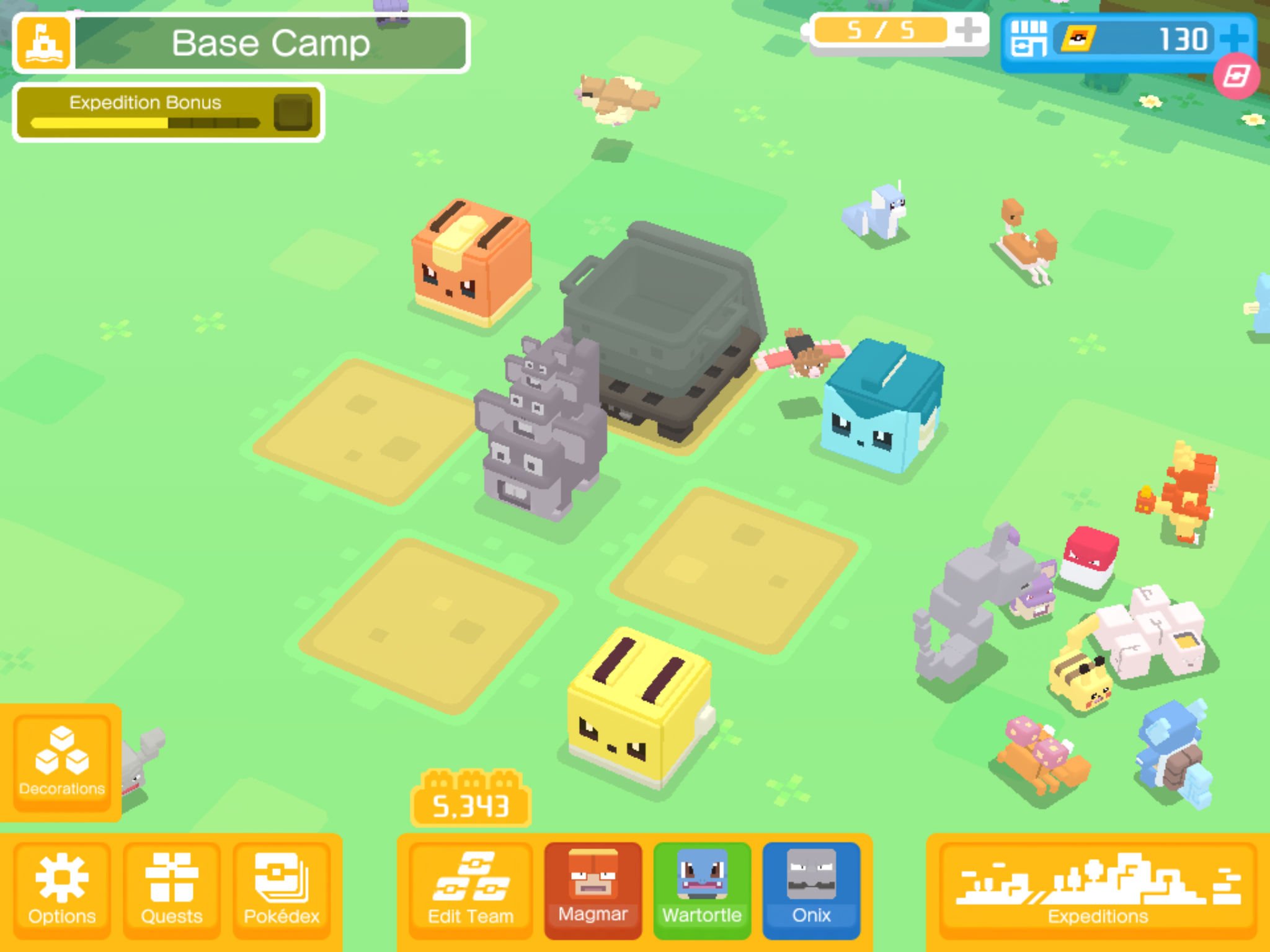 Well, yes, if you want to attract just any old Pokémon to your team. As it turns out, there are actually 18 different recipes in Pokémon Quest, each of which will bring different kinds of monsters to your camp. The good news is they will always join you when you show up. The bad news is that even when you know the recipes, there's still some chance involved, as it could be one of several different characters who arrive when they smell what you're cooking.
We'd go over them here, but IGN has already created a very thorough  Pokémon Quest recipe guide, and we can't just replicate their work because, you know, plagiarism. Suffice it to say that studying up and unlocking the recipes is the best way to ensure you don't just have random Pokémon  dropping by, and since certain types get bonuses in certain levels, you really don't want that.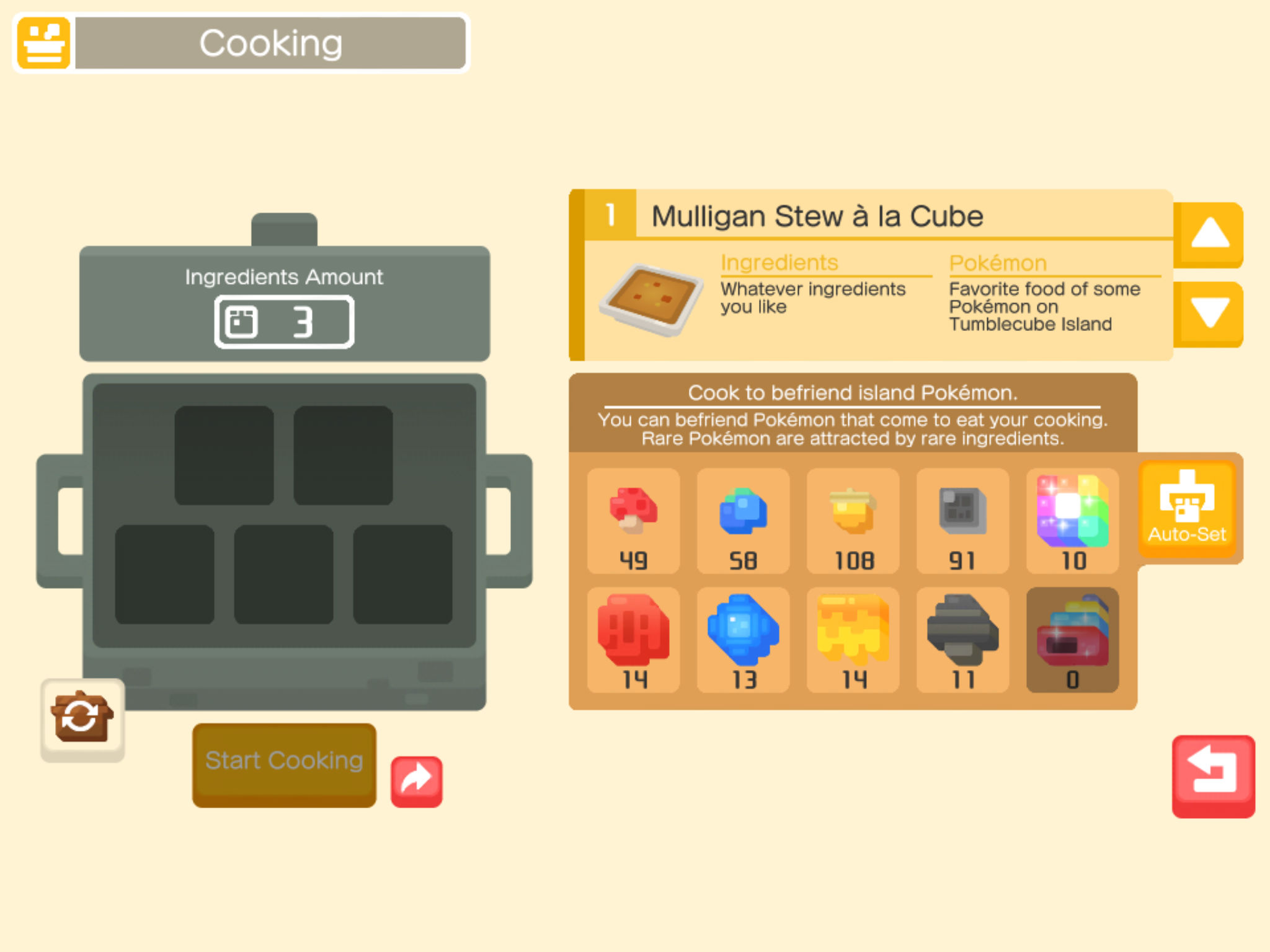 We'll also share this important tip: As you progress through the game, you'll unlock new pots. The recipes work the same in every pot, except that the better ones require more units of each ingredient in each of the five recipe slots. The trade-off is that higher level Pokémon will result from cooking with the better pots, and that's definitely a good thing if you don't want to constantly be grinding out levels you've already passed just to level up a character you really like.
It almost goes without saying that as long as you've got stuff with which to cook, you should have something going in your pot all the time.
How to Get More Ingredients for Your Recipes
Now that you've wrapped your head around "cooking is catching" in this game, you probably are asking the obvious follow-up question, which is "Where do I get them there ingredients?" Except not in that way because you're definitely better at grammar than that.
The first and most obvious way is just to play some levels, because the cooking ingredients are the loot drops in Pokémon Quest. You won't get something from every wild Pokémon you defeat, and the amounts of ingredients appear pretty random, but successfully completing an expedition can easily net you double-digit foodstuffs on a regular basis.
Another way to get some quick ingredients, especially some of the rarer ones, is to complete some quests, which you can find (wait for it … ) by tapping on the 'Quests' icon at the bottom of the main game screen. Check out the Challenge Quests and you'll find plenty of rewards for things you accomplish for the first time and for cumulative successes as you advance through the game.
Last and possibly not least, if you have too many Power Stones, which are the other loot drops that help make your Pokémon stronger, you can recycle them for ingredients too. Within a character's profile screen, look for the 'Recycle' icon on the right. Tap on that, tap on any Power Stones you'd like to trade in and then tap on the same icon again (which has now turned into a trashcan) and you'll instantly say goodbye to those Stones and hello to more cooking materials.
All the Ways to Make Your Pokémon More Powerful
Though some Pokémon arrive in camp already pretty capable, they'll need to be toughened up to make it further on the mysterious Tumblecube Island. Just being in the heat of battle gains them experience, and when they level up, they'll achieve modest increases in attack power and HP — and they also might evolve if able to do so. In fact, leveling up Pokémon is the only way to get them to evolve in this game, and the stat bonuses when it happens are pretty solid.
However, the quickest way to make your favorites more formidable is to slot Power Stones into their Power Charms. Every Pokémon has one, which can hold at least two and as many as nine Power Stones. You'll find the Stones as Loot Drops, though not nearly as frequently as cooking ingredients. Expect to nab one or two Power Stones from every completed level.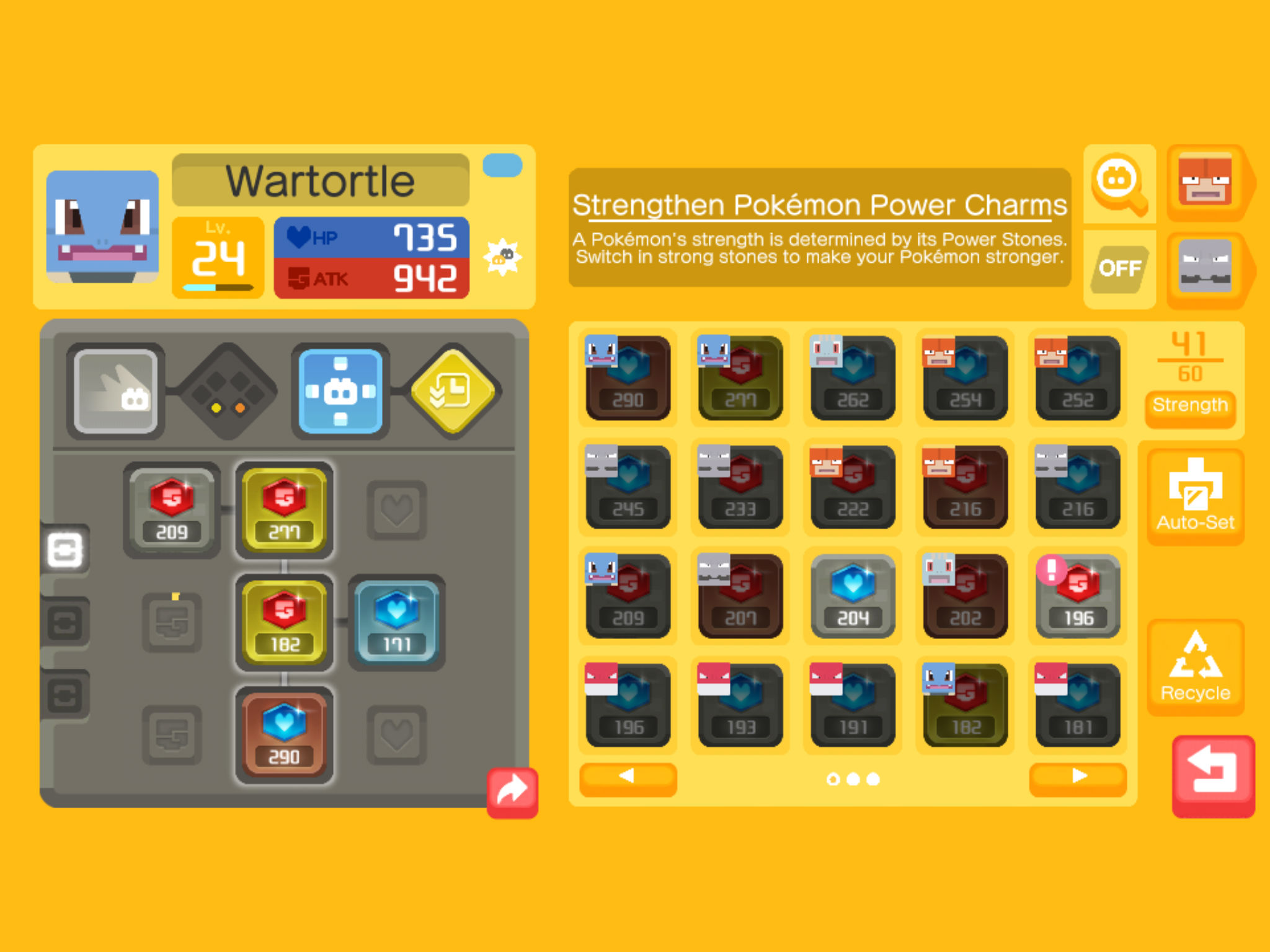 Power Stones with a red boxing glove increase attack power, while the ones with a blue heart increase HP. Certain rare Stones also come with bonuses to things like movement speed, critical hit rate or damage, recovery time upon fainting, and more. Sometimes these bonuses are good enough to be worth keeping even with lower base stats, but generally speaking, you'll find better Power Stones from tougher expeditions and probably want to slot them in on your mains as soon as you get them.
One more thing you can do in Pokémon Quest is to train your Pokémon, though it's not as crucial in this game as it is in some others. From your team screen, you can tap on the 'Training' button to access this feature, which can level up your Pokémon just by sacrificing others you don't want, or have some characters learn the moves known by others, though there's usually not a 100 percent chance of success, which is important to keep in mind.
How to Get Free PM Tickets and What to Do With Them
Pokémon Quest is a free-to-play game and we made it this far without talking about currencies of any kind, which is pretty dope. People are saying that now, right?
There is, indeed, a currency involved, and it's called PM Tickets, because … we think it's because the in-game shop is called the Poké Mart, but don't quote us on that. Anyway, PM Tickets can do several nifty things:
Speed up the cooking timer so that one of your recipes finishes instantly: 10 PM Tickets per skipped expedition.
Expand either your Pokémon box or Power Stone box, increasing the maximum number of either one that you can have in your inventory.
If all of your Pokémon are defeated on an expedition, you can spend 10 PM Tickets to get the loot you have acquired up to that point — an option worth considering if you are defeated fighting the boss and have already racked up, say, 10 or more ingredients and a Power Stone.
Buy decorations for your base camp with all sorts of beneficial effects: Increasing the experience your Pokémon receive in battle, increase the number of ingredients you receive as drops, etc.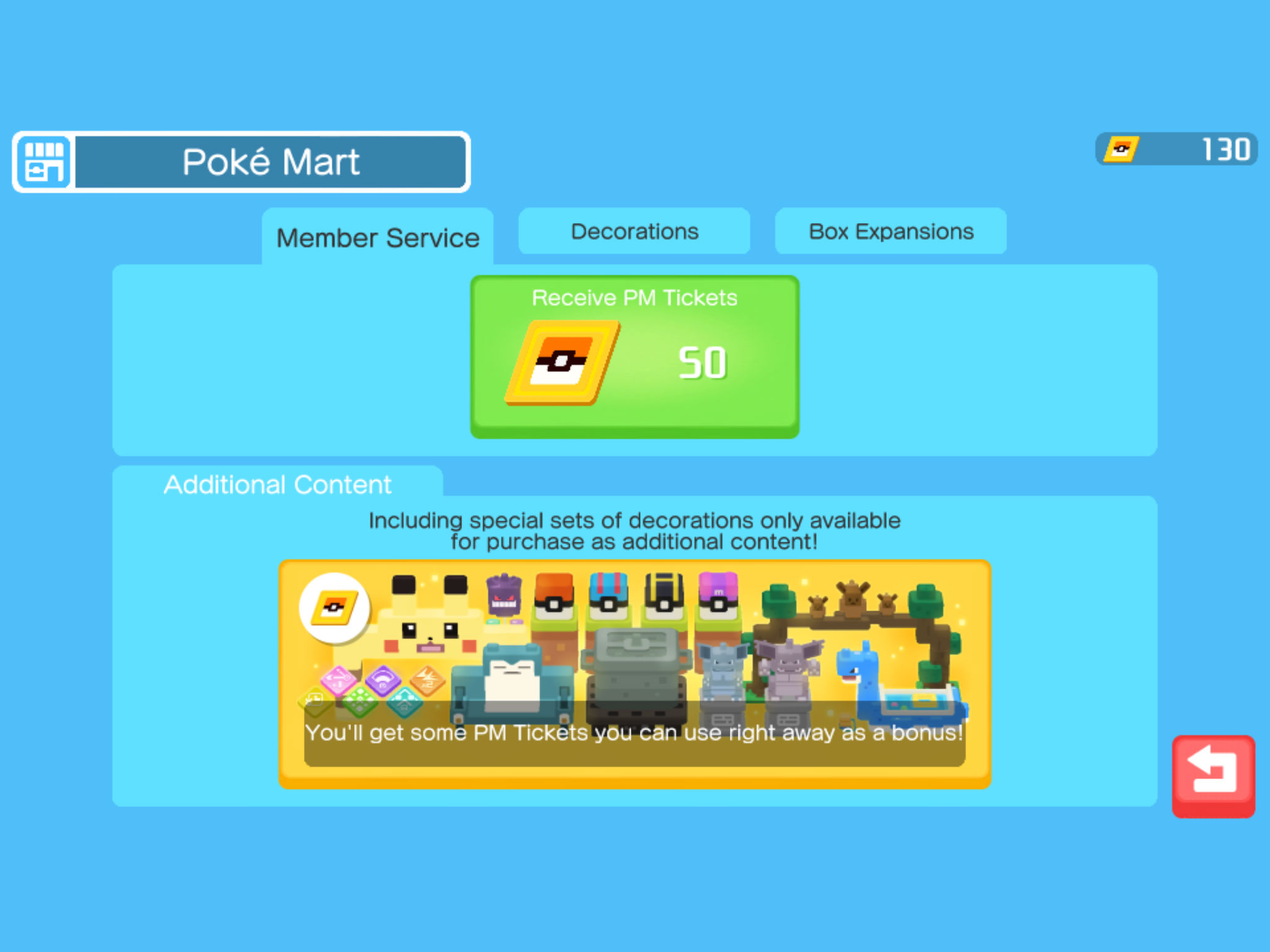 Believe it or not, you get 50 PM Tickets a day just for playing, on a timer that you'll find in the Poké Mart. Every 22 hours, you get your daily allotment. The other road to free PM Tickets is by completing Quests, as both Main and Challenge Quests can have PM Tickets as rewards. Check them out and work toward them and you'll keep your supply pretty decent at all times.