The idea behind the TouchArcade Game of the Week is that every Friday afternoon we post the one game that came out this week that we think is worth giving a special nod to. Now, before anyone goes over-thinking this, it doesn't necessarily mean our Game of the Week pick is the highest scoring game in a review, the game with the best graphics, or really any other quantifiable "best" thing. Instead, it's more just us picking out the single game out of the week's releases that we think is the most noteworthy, surprising, interesting, or really any other hard to describe quality that makes it worth having if you were just going to pick up one.
These picks might be controversial, and that's OK. If you disagree with what we've chosen, let's try to use the comments of these articles to have conversations about what game is your game of the week and why.
Without further ado…
Pocket City
SimCity 2000 holds a special place in my heart. My first computer that was actually bordering on being my computer was a Macintosh Performa 550 CD which could barely play any games. It had a CD-ROM drive, but was largely too slow for games like Myst and The 7th Guest. This kinda sorta left SimCity 2000 as the only game worth playing that both was a) available on the Mac and b) my Mac could run. Ever since the App Store started getting serious with more in-depth games, I've been dying to relive the nostalgia of SimCity. There's SimCity BuildIt (Free) but … well, you guys know how the rest of that goes. A free to play replacement is no replacement at all.
Enter Pocket City ($2.99), the best SimCity replacement I've seen yet on the App Store. It's not a 1:1 version of SimCity, but instead is one of those modern interpretations that leans heavily on the original source material but isn't afraid to be bold with making changes to make it a better experience on mobile. We've got a full review that gets into some great detail on just how good this game is:
Right off the bat Pocket City will feel instantly familiar and in a good way. The game opens up with an isometric city on which gamers have their Town Hall and that's about it. From here they are tasked with building infrastructure like roads, power stations and of course water towers. Those three tentpoles are the lifeblood of Pocket City because without them, no city can thrive. Yes, you will need to find the best way to set up your Residential, Commercial and Industrial zones – just like Sim City – but none of those can flourish without being watered, powered and accessible. You will do well to remember that as you start out.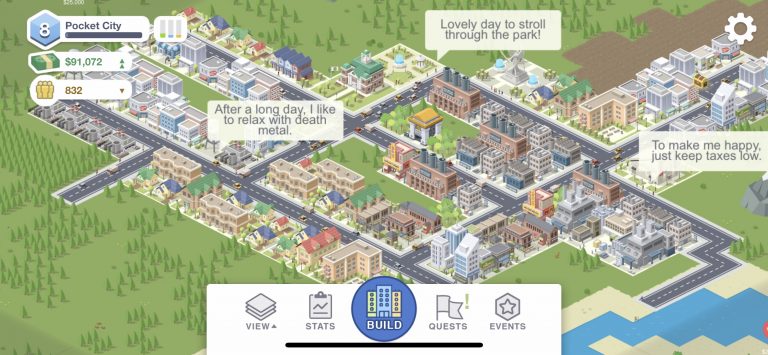 The best part though, is that the game costs five bucks and has absolutely no freemium shenanigans. This is a game that is prime for premium currencies and all sorts of other trash, but it has none of that. Again, from our review:
Thankfully, nobody will be held back by the kind of things that normally cause constination with games like this. Right off the bat your $4.99 will get you the full Pocket City experience. That means that there are no timers, no in-app purchases and nothing to get in the way of your fun. That's probably how I managed to lose an evening and early morning to the game, but that's probably my fault more than its! The only limit to your play time is likely to be your battery and the in-game currency that, in all honestly, is so easy to accrue I cannot imagine ever managing to run out no matter how aggressive the city expansion becomes.
It's really sort of messed up how it feels novel and unique that a builder on iOS costs money and just lets you play it as long as you want, but … here we are. I really, really like Pocket City, as does the rest of the TouchArcade team. It's been responsible for draining quite a bit of productivity this week across the whole crew.