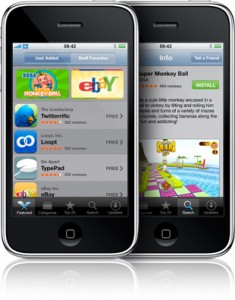 The Christmas holiday is always a big one for Apple's iTunes Store. With the influx of new iPod Touch and iPhone owners, we expect there may be a lot of newcomers to this site who are looking for a list of the "best" games available on the iPhone.
Since a single "best" list is such a hard list to come up with due to individual tastes, we've instead compiled a list of games that we consider to an excellent cross section of iPhone gaming and could be seen as "required reading" for iPhone and iPod Touch gamers.
Long time readers will likely be familiar with most of these titles, and for good reason: these are amongst the best the App Store has to offer and we recommend each of these titles.
Clicking on each game title will link you directly to the App Store. Listed in order of ascending price.

Aurora Feint: The Beginning (Free) – Amongst the first games in the App Store, this may have been an eye opener for many iPhone gamers. The game offers a polished match-3 (Bejeweled-like) puzzler in the setting of a role playing game. Progressive accomplishments in the puzzle portion of the game provides you with resources to level up and gain increasing skills. Review/Video

PapiJump (Free) – A ridiculously simple game that will have you frustrated and addicted. Sunflat's Papi games have received a bit of a cult following due to their insultingly simple graphics but compelling gameplay. PapiJump, however, remains Sunflat's best. Review/Video

Dropship ($0.99) – We confidently declared this to be the best shooter in the App Store. Excellent and innovative controls with well balanced gameplay made this one of our most enjoyed games. This is how an iPhone game should play and at $0.99, it's a no brainer. Review/Video

Wurdle ($1.99) – Curiously, we've never covered this game here on TouchArcade. This word game is a variant of Boggle in which you try to find as many words on a tiled board. This is app-store crack for a good segment of the iPhone gameplaying population. The simplicity of its design with easy to use touch screen controls make it one of the best.

Trism ($2.99) – Also one of the early titles available for the iPhone, this is another Match-3 color game but reinvented for the iPhone. It uses triangles (trisms) and tilt controls to influence the direction that the tiles will fall. Surprisingly, the design really worked and resulted in one of the first (and best) iPhone-specific puzzle games. Review/Video

Fastlane Street Racing ($3.99) – There's no shortage of racers for the iPhone, but this one stood out to us as one of the best racing games for the platform. The game had its detractors, however, due to the high starting difficulty of the game. Fortunately, the developers have just released a v1.1 update which introduces an "easy" mode. Review/Video (before easy mode update).

Toy Bot Diaries ($3.99) – Toy Bot was another standout title, not just because of the enjoyable gameplay as a physics platformer, but also the fact that this was one of the first true iPhone games with game design and controls invented specifically for the platform. The right control system really lets you immerse yourself into a game. Review/Video

Fieldrunners ($4.99) – Tower Defense. Heard of it? If you haven't, this is the game for you. Even if you have, this is probably the game for you. Named one of Time Magazine's Top 10 video games of the year, we at TouchArcade feel the title is well deserved. This game has significant cross-over appeal that has introduced countless iPhone users to the genre of Tower Defense (TD). Despite the proliferation of TD games in the App Store, many still consider this one the best. Review/Video

Galcon ($4.99) – The perfect pick-up strategy game? A fast paced arcade strategy game in which you must dominate all the planets. Wonderfully suited for the iPhone with short gaming sessions lasting a few minutes each. Online multi-player really takes this game to the next level. Review/Video

Real Soccer 2009 ($5.99) – For soccer fans, this is the game to get. Sports gaming on the iPhone hasn't seen much that can compare to the massive titles available for traditional consoles, but this game comes closest. Review/Video

Hero of Sparta ($9.99) – This overall package is one of the most impressive games for the iPhone. As a "Hack n' Slasher", you fight your way through hordes of enemies in a 3D environment. For those who have wanted a "console-like" experience in the iPhone, this is the closest yet. Review/Video

Rolando ($9.99) – Rolando was one of the most anticipated iPhone games of the year. Even though Ngmoco is a sponsor of this site, I still feel confident that I can unbiasedly say that the game delivered on much of the hype. The game offers an iPhone-specific platformer that incorporates the iPhone's touch screen and accelerometer into a wonderfully produced game. Review/Video
While our list ends there, that's not to say there aren't a number of other great iPhone games that we've covered in other articles. As a sampling of iPhone gaming, though, we feel this a representative cross-section of the best the App Store has to offer. Meanwhile, we'll continue to try to highlight the best titles for the iPhone and iPod Touch platform in 2009 and beyond.
Reader's Choice

Snail Mail ($1.99) – One of our readers' (and our) favorites. Take a cute, loudmouth, cel-shaded snail, mix with a spot-on control system and a challenging, smoothly-animated set of tracks, and you get this great iPhone gem. Review/Video