We were blown away earlier this month when Epic Games announced that Fortnite: Battle Royale would be coming soon to iOS. In case you've been hiding under a rock for the last week and a half, Fortnite has been busy overtaking Minecraft and PUBG in popularity while breaking Twitch stream records. A few of us over at TouchArcade were in the first wave of invites went out earlier today to check out the iOS version. I've been playing Fortnite: Battle Royale for a few hours now and it simply blows my mind how well it works in the mobile arena.
I'll save the long diatribe for how games like Battle Royale and PUBG operate, but to put it simply, you enter a game with 99 other people in a last man standing arena style combat. Along the way, you'll find weapons and ammo to attack and defend yourself, and accumulate resources to build your way to hopeful victory. Fortnite has been steadily rising in popularity primarily due to how well Epic Games has improved on this formula.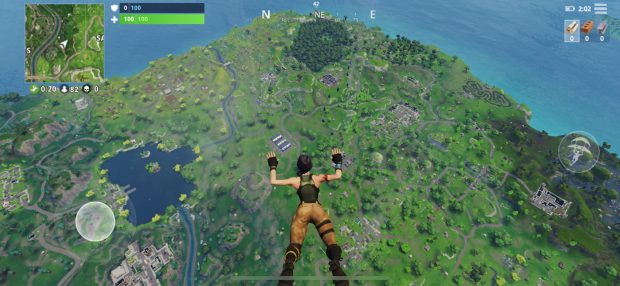 What everyone wants to know at this point is how well Fortnite: Battle Royale plays on iOS. Well, at least on my iPhone X, I can safely say that I'm blown away with just how amazing it plays. Battle Royale's colorful visuals are well represented in this mobile port and the game runs at a pretty smooth framerate with some occasional popup. The touchscreen controls do take some time to get used to, but the game's strafe and aim assist do a decent job of compensating for the understandably lost of precision. The same goes for build mode, where the game's intelligent placement system works well enough in letting me quickly build structures on the fly. Cool control options such as double tapping to lock in running and multiple fire options also do a great job of transitioning to touch screen controls. In fact, my biggest issue with the controls probably has to do with switching between weapons, as having to tap between each one on a small screen takes some practice to be precise.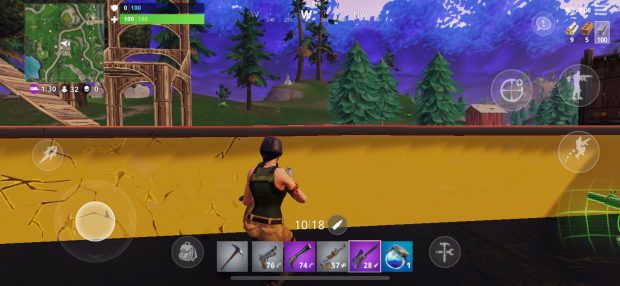 So, Fortnite: Battle Royale easily passes the visual, framerate, and control tests in my book. But, most importantly, is it still as fun on mobile as it is on other platforms? I'd say the answer to that is a resounding yes. The general length of games are perfectly acceptable for holding a mobile device (although expect some heavy battery drain) and the game's myriad of cosmetic unlocks combined with the gameplay itself lends the title to an insane amount of replayability.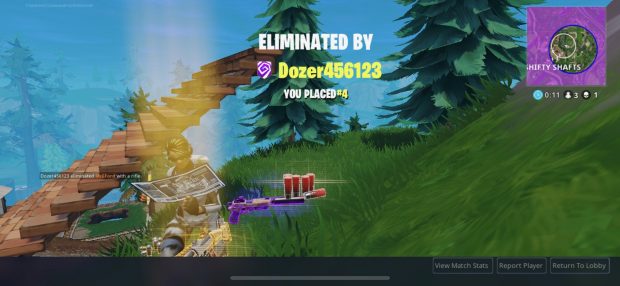 I plan on continuing my adventures in Battle Royale indefinitely, but there are a few things to keep in mind. My awesome experience was on an iPhone X, so these impressions don't cover other versions of iPhone or the iPad or controller experience (which I imagine would be quite a bit different from a control standpoint). Also, I haven't had a chance to play a cross-platform game, which may change the general difficulty depending on your opponents. Even still, based on what I've seen and played so far, this is going to be the game to play for quite some time. If you're interested in checking the game out ahead of its release, be sure to register for a chance to get an invite.