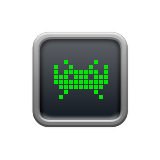 The App Store has continued to grow in leaps and bounds in 2010. The number of apps in the App Store soared past 300,000 with hundreds of new games being released every day.
We sat down trying to figure out the best iPhone games of 2010 and found the task of narrowing down the list to a select few to be near impossible. Instead, we've organized our year in review into categories with what we feel is an excellent cross section of games from 2010. If you just got an iPhone or iPod Touch for Christmas, this list is an excellent starting place to catch you up. Note that many of the games also have iPad versions which are also linked.
---
Casual
Cut the Rope Originalâ"¢, $0.99 - [Lite / iPad] – [Review] – [Forum Thread] – Proving that a cute main character, clever level designs, and simple touch screen controls are a formula for success, Cut the Rope has ridden the top of the charts practically since it was first released. The goal is to navigate a dangling bit of candy into the mouth of the adorable and hungry Om Nom by cutting the correct ropes to set it free. Just feeding the lil' guy isn't so hard, but getting 3 stars and a high score on each level can be, and is what has brought people back to Cut the Rope time and time again.
Fruit Ninja Classic, $1.99 - [Lite / iPad] – [Review] – [Forum Thread] – When Fruit Ninja was first released, it was novel for using a simple swiping mechanic to slice fruit out of the air. It was hard to explain the appeal, but it was an oddly satisfying experience and quickly shot up to the top of the charts. Since then it's gained new modes, unlockable items, and online multiplayer, and has become a mainstay on my device. Who would have though slicing fruit could be so much fun?
Robot Unicorn Attack, $0.99 - [iPad] – [Review] – [Forum Thread] – The iOS port of this popular Flash game from Adult Swim meant you could have all the rainbows, fairies, unicorns, and as much Erasure's Always in your pocket with you at all times. This endless running game adds additional moves like double jumps and dashes to the formula, wrapping everything in a sugary sweet graphical package that is the epitome of "ironically cool" and also a ton of fun.
Tilt to Live, $2.99 - [Lite / iPad] – [Review] – [Forum Thread] – In its intial release, the game was based around a simple but fun formula of frantically avoiding red dots and using various power-ups to dispatch them. Since then, several updates have been released adding great new power-ups, game modes, and more.
Solipskier, $0.99 - [Review] – [Forum Thread] – A universal game where you draw the slope for a skier to ski down. To make him speed up, you draw a downward slope, and to make him jump you simply draw a ramp. It works incredibly well both on the iPhone and iPad.
Platformer
Bounce On 2: Drallo's Demise, $3.99 - [Lite / iPad] – [Review] – [Forum Thread] – Bounce On 2: Drallo's Demise succeeds in delivering highly enjoyable platform gameplay to the iPhone. The original was fun, but the sequel goes well beyond, feeling notably more "fleshed out," with a good deal more eye-candy. While there's certainly room for more quality platformers in the App Store, Bounce On 2 is among the best.
Fastar!, $1.99 - [Review] – [Forum Thread] – Fight angry squares in this action RPG. The name of the game is speed runs, and the goal of Fastar is to play the game faster and faster. There's a cool magic system, online leaderboards, and squares that explode coins when they die. What's not to love?
Dark Nebula - Episode Two, $1.99 - [Review] – [Forum Thread] – We loved the first installment, and the second is even better. You control a disc-like object by tilting, but to call this game a simple ball roller hardly seems to do it justice. The level design is amazing, and there's even a new combat system to allow for boss fights.
Babylonian Twins (Premium) Puzzle Platformer, $2.99 - [iPad] – [Review] – [Forum Thread] – Sixteen years in the making, Babylonian Twins delivers an amazingly challenging yet satisfying iPhone and iPad puzzle platformer. In many modern platformers, I've felt like I'm just mindlessly going through the motions to make it to the end of each level. Babylonian Twins, however, really keeps you enthralled throughout.
Hook Worlds - GameClub, Free - [Review] – [Forum Thread] – Developer Rocketcat Games practically perfected the "hooking game" genre with their previous two App Store releases, and Hook Worlds is a culmination of that expertise. Offering 3 (soon to be 4) endless running games injected with the hooking mechanic, Hook Worlds manages to make each one feel unique despite using the same core gameplay. This is topped off with tight controls, charming pixel art, and the humorous tidings that Rocketcat is known for.
Retro
Pix'n Love Rush, $0.99 - [iPad] – [Review] – [Forum Thread] – Like a platforming game with ADD, Pix'n Love Rush offers bite sized levels with constantly changing themes. The themes run the gamut of retro consoles, including the greyscale screen of the Game Boy and headache inducing red of the Virtual Boy. The jumping, shooting, and coin collecting is complemented with solid virtual controls, and every facet of the visuals just ooze style. On top of that Pix'n Love Rush is just a frantically fun good time.
The Incident, Free - [Review] – [Forum Thread] – This curious tilt-based game has you climbing a seemingly never-ending pile of junk all the way in to space. It's packed with some really great pixel art, and is even universal with some cool interaction between devices allowing you to do things like use an iPhone to control the iPad game via Bluetooth.
Vector Tanks EXTREME!, $0.99 - [Review] – [Forum Thread] – We're not entirely sure it's possible to pack more retro charm in to this game. As the title may hint, you compete in battles against other tanks, and the whole game is drawn in glorious vector graphics. If you were around during the 80's to play Battlezone, you need this game.
FINAL FANTASY (Old Ver.), $7.99 - [Review] – [Forum Thread] – A great port of the classic NES title that started it all. Final Fantasy II is also available, but this is the game you should start with. If you were around for the original release of the game, hearing the opening theme again will likely be worth the price of admission alone.
Secret of Mana, $7.99 - [Review] – [Forum Thread] – One of the timeless role-playing games from the bygone SNES era, Secret of Mana is a huge fan favorite among RPG gamers and has finally arrived on iOS. Practically everything you remember about Secret of Mana is intact in this new version, both the good and the bad, and has been reworked effectively for virtual touch screen controls. If you loved this classic title nearly two decades ago, then it's practically essential to have in your iOS library.
Role Playing
Infinity Blade, $5.99 - [Review] – [Forum Thread] – ChAIR's amazing gesture-based swordfighter which utilizes the Unreal Engine to provide the best graphics we've seen so far on the platform. Sadly, you'll need a 3rd generation iPod, iPhone 3GS, or later to enjoy them. If you've got a recent device, this is not a game to miss.
Aralon: Sword and Shadow, Free - [Review] – [Forum Thread] – There have been many RPGs released on the App Store, but none with the depth and scope of Aralon. The game is home to an epic game world complete with multiple races, classes, mounts to ride, crafting recipes to master, and quests to complete.
LEGO Harry Potter: Years 1-4, $4.99 - [Review] – [Forum Thread] – A fantastic port of Years 1-4. It's universal, has Retina Display support, and just as much content and depth as the full console counterparts. Unfortunately, since it's a port it also retains the console-style save system which isn't as mobile friendly as we'd like it to be.
CHAOS RINGS, $6.99 - [iPad] – [Review] – [Forum Thread] – One of the most ambitious RPG games we've seen so far for the iPhone. The graphics and gameplay are exactly what you'd expect out of a Square Enix RPG. Battle in parties of two in classic turn-based battles as you make your way through a story that's just as ridiculous as any other Japanese RPG.
Strategy / Sim
Sword & Poker, $2.99 - [Lite] – [Review] – [Forum Thread] – At the core Sword & Poker is a card-based strategy/adventure game where battles take place by making poker hands on a 5×5 grid. The "Sword" portion of Sword & Poker comes from the roleplaying game layered on top of these poker battles. The strange blend of genres works quite well and is a game we really loved.
Warpgate, $4.99 - [Lite / iPad] – [Review] – [Forum Thread] – A space conquest game with an amazing sense of scope. Warpgate has cool graphics, an interesting faction system to get involved in, and a dynamic in-game economy that can keep you busy for as long as you remain interested in the game.
Plants vs. Zombies, $0.99 - [iPad] – [Review] – [Forum Thread] – Popcap's casual tower defense game hardly needs an introduction. Plants vs Zombies is a game that's easy enough to appeal to everyone, yet fun enough to warrant multiple play throughs without issue.
Game Dev Story, $4.99 - [Lite] – [Review] – [Forum Thread] – At first glance this appears to be an abysmal port of a J2ME game… Then you play it. A few hours later you will be looking for your charger to keep playing. In the game you run your own game studio, managing staff, making games, and even releasing your own console. Once Game Dev Story sucks you in, it's impossible to put down.
Monkey Island 2 Special Edition: LeChuck's Revenge, $2.99 - [Lite / iPad] – [Review] – [Forum Thread] – Few games inspire more heartfelt nostalgia than the classic LucasArts adventure games of the late 80's and early 90's. The improved iOS control scheme in the sequel which works like many other iPhone adventures games where you just touch areas in the game world that you want to move to, or objects you want to interact with. Fans of the series are in for a treat with this installment.
Osmos, $2.99 - [iPad] – [Review] – [Forum Thread] – In this award winning indie game, you control a tiny organism called a "mote". By tapping in a direction, you expel mass towards where you tapped, and your mote goes zooming off the other direction. With each tap you lose a little bit of your mass, so it doesn't take long before you're making extremely calculated taps to get exactly where you want to go with minimal loss of size. Your mote can absorb any mote that it smaller than it, but it also can be absorbed by any mote that is larger than it. The gameplay translates beautifully on both the iPad and iPhone and is a great great experience.
Action / Shooter
STREET FIGHTER IV, $4.99 - [Review] – [Forum Thread] – We were incredibly skeptical of how Street Fighter would work with touch screen controls, but have been pleasantly surprised. Also, since the original release, Capcom has consistently updated the game with new characters to play as. Also, if you've got a friend nearby who also owns the game you can play against each other using Bluetooth.
Chopper 2 - GameClub, Free - [Review] – [Forum Thread] – The long-awaited sequel of one of the most popular action games of the original App Store launch. It also has all kinds of crazy control options utilizing its universal nature on both the iPhone and iPad, and it's everything a great sequel should be. It expands on everything that made the original great, with some new things thrown in to the mix.
Archetype, $0.99 - [iPad] – [Review] – [Forum Thread] – Five on five online deathmatch, capture the flag, and more. Archetype has Retina Display graphics, and the HD version looks great on the iPad. If online FPS games are your thing, this isn't one you should miss.

Dodonpachi Resurrection, $8.99 – [Lite] – [Review] – [Forum Thread] – When it comes to bullet hell shooters, it doesn't get much better than Dodonpachi Resurrection. There is so much going on at once in this game that it can be entirely overwhelming at times (in a good way), but this also prevents it from running on devices older than the iPhone 3GS and 3rd generation iPod touch.
GTA: Chinatown Wars, $4.99 - [Lite / iPad] – [Review] – [Forum Thread] – Grand Theft Auto: Chinatown Wars is by far the best open world crime game available on the platform. The sheer amount of content, the amazing graphics, and gameplay that will keep you coming back for more whether you choose to follow the story or rampage through Liberty City on your own is absolutely fantastic.
Space Miner - GameClub, Free - [Lite / iPad] – [Review] – [Forum Thread] – Combining classic Asteroids style gameplay wrapped in a clever story and a surprisingly extensive RPG-style ship upgrade system, Space Miner isn't a game you should miss. It recently was updated with Retina Display graphics, and the iPad version is great as well.
Racing
Real Racing 2, $4.99 - [Review] – [Forum Thread] – A marvelous sequel to Firemint's original Real Racing, which improves upon the first in every way imaginable. A career mode, licensed cars, and 16 player online multiplayer are just a few of the new features. It also will run on any device, even the first generation iPod touch.
Cubed Rally Racer - GameClub, Free - [Lite / iPad] – [Review] – [Forum Thread] – A wonderful homage to isometric racing games, Cubed Rally Racer is completely randomized, so you'll never play the same track twice. Similarly, if a particular track is too difficult, you can simply generate a new one to play. The iPad version features split screen single-device multiplayer which is a ton of fun.
Reckless Racing, $0.99 - [Lite / iPad] – [Review] – [Forum Thread] – An incredibly enjoyable top-down arcade racer with multiple cars, game modes, and even online multiplayer. Retina Display graphics and an excellent physics system heighten the experience, although we wish there were more tracks to race on as Deliverace is one of those games you never want to end.
Puzzle / Board
Carcassonne, $4.99 - [Review] – [Forum Thread] – There are many board games that have made their way to the App Store, but Carcassonne is by far the finest. Online asynchronous multiplayer, Retina Display graphics, universal compatibility, and classic gameplay. It doesn't get much better than this.
Trainyard, $0.99 - [Lite] – [Review] – [Forum Thread] – A puzzle game based on laying train tracks to route multi-colored trains around the game board. Solutions can be shared online, and after you beat a level it's even more fun to see the zillion other ways that everyone else solved it.
Zen Bound® 2, $2.99 [Forum Thread] – Zen Bound 2 is filled with relaxing gameplay supplemented by one of the best (if not the best) soundtrack I've heard in an iPhone game, and the gameplay mechanic of rotating string around a 3D object to cover it in paint works phenomenally with the multi-touch controls of iOS devices– and even more so when you throw the gyroscope of the iPhone 4 in to the mix.
Helsing's Fire, $0.99 - [Lite / iPad] – [Review] – [Forum Thread] – Helsing's Fire sends you on a quest to destroy Dracula, placing you in 90 randomly generated, dungeon-like levels across three different worlds. The challenge is to eliminate said beasties by moving your torch about the screen, which casts brilliant beams of light and dark shadows about the play area. It's one of the most unique games I've ever played and is a true App Store gem.
Sports
Tony Hawk's Pro Skater 2, $1.99 - [Review] – [Forum Thread] – A surprisingly competent port of the classic skateboarding game. Everything is included from the original, and once you get used to the virtual controls, you'll be performing endless combos in no time in the many included skating locations.
MADDEN NFL 11 by EA SPORTSâ"¢, $2.99 - [iPad]- [Review] – [Forum Thread] – The Madden series hardly needs an introduction, as football player turned coach turned commentator John Madden has had his name on football games for the better part of 20 years now. EA introduced a new featured called GameFlow this year which will intelligently chooses plays for you. It is absolutely insane how much this changes both the feel and the pace of the game. Using GameFlow, endless submenus of plays are a thing of the past. Instead, you just play football.
X2 Soccer 10/11, $4.99 - [iPad]- [Review] – [Forum Thread] – X2 Soccer 2010 brings improvements to graphics, controls, computer AI, new game modes and more teams. X2 Soccer 2010 has over 150 club teams to choose from in 10 different leagues, plus international teams from all over the world. X2 Soccer 2010 is one of the top soccer game experiences right now on the App Store.
X2 Snowboarding, $2.99 - [Lite / iPad]- [Review] – [Forum Thread] – X2 Snowboarding from Exient is a highly enjoyable romp on the slopes that sets itself apart from the crowd in a number of ways. All of the aspects of X2 Snowboarding come together to deliver a highly enjoyable game with a surprising sense of speed and immersion.
Odds and Ends
Sketch Nation Shooter, $0.99 - [Review] – [Forum Thread] – While it isn't that great of a game in itself, Sketch Nation Shooter is one of the most creative uses of the iPhone camera we've seen yet. You sketch a doodle on a piece of paper, take a photo of it, and then import it in to little mini games you create. Gameplay is a little limited, but does it really matter if you turn a drawing of your cat in to an end boss?
Godville, Free - [Review] – [Forum Thread] – Godville is a "zero-player game" in that it requires absolutely no interaction from the player at all. Your character in Godville plays himself, all by himself, and you take the role of an omnipotent god and can either encourage or punish your hero, or do nothing at all. It's surprisingly amusing to just be able to load up your Godville character and vicariously live through his randomized adventures without needing to actually do anything at all.