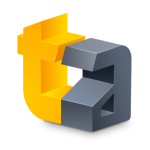 Put simply, 2017 has been an unbelievable year for mobile gamers. Between surprise ports of full-blown AAA games, countless indie titles, and everything in between, there has been no shortage of great new games to play. Following what has become our annual tradition here at TouchArcade, we're proud to present our list of the 100 best games released this year. This list is the culmination of thousands of hours of work throughout the year, constantly combing out the best of the best.
While the quality of the games on the App Store continues to improve, 2017 has been a scary year for us at TouchArcade from a financial perspective. Typically, this time of year the whole site would be filled with ads from developers hoping to score some holiday sales of their new titles. Instead, those ad slots are vacant as developers have continued to shift deeper and deeper into spending their promotional budgets entirely on user acquisition. This has made us completely dependent on reader support to keep the site running, and that support has also significantly dwindled this year.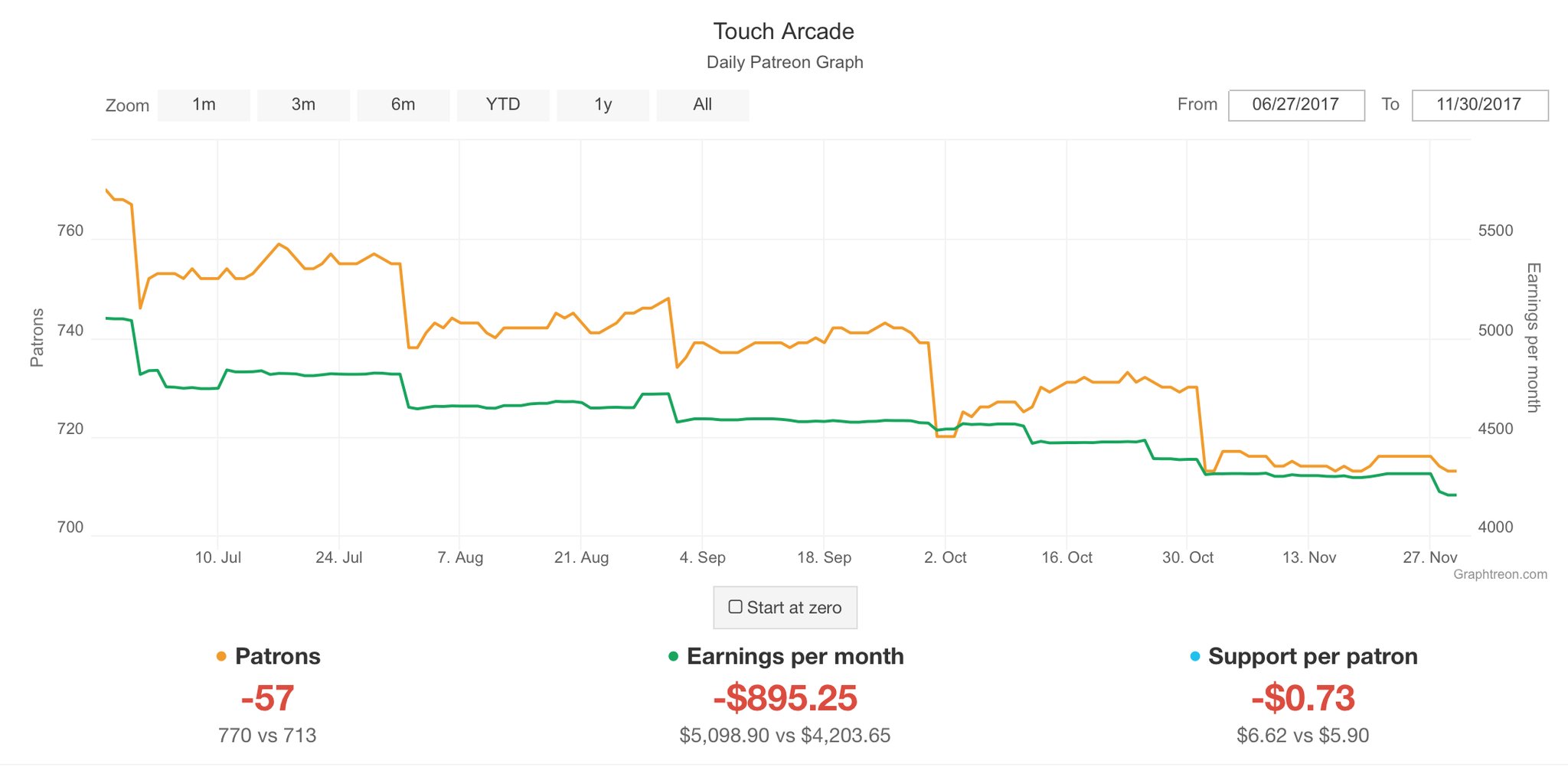 Right now, TouchArcade is running due to roughly 0.1% of our readers who are generous enough to support a site they love. We'd really, really like to see that number increase in 2018. If you value the work we do here at TouchArcade, there's a number of ways you can support the site:
It is not at all hyperbole to say that we desperately need your help to survive. If you even remotely value having a place that you can come to find people who work tirelessly to provide independent third party coverage of mobile games, please consider one of the methods above to help us continue providing this content. For us, TouchArcade is a labor of love, and all proceeds from Patreon and other methods of community support go directly to paying for our servers, continued development of the web site (which we are re-launching next year, here's a tease of what it looks like), a new TouchArcade app, expenses related to traveling to cover events, and other similar things. If you need a way to rationalize it, think of it as a magazine subscription that gives you way more content, constantly. If you've ever saved money from our sale posts (like this huge holiday sale roundup) or because a review saved you from buying a bad game, kick some of that our way. Even a dollar helps.
With that out of the way, dig into our top 100 mobile games released this year. We've organized them using whatever iTunes subcategory the game is assigned to that makes the most sense. A lot is packed into "Action," "Adventure," and "Puzzle," but that's just sort of how the App Store goes. Either scroll through the list below, or use one of these quick links to jump directly to a specific category:
---

AKA TO BLUE, $7.99 - Review – Forum Thread – With the library of CAVE shooters largely defunct on the App Store thanks to the iOS 11 64-bit requirement, a project from some former CAVE developers has swooped in to help fill the giant gap the disappearance of those games left. Aka to Blue is a fully premium, no IAP bullet hell shooter that, like CAVE's classics, features a unique scoring system that's a joy to try and master. This is coupled with a slick art style that consists of gorgeous 3D backgrounds and illustrated, almost comic book-like characters that make Aka to Blue a game with both brains and beauty. -JN

Arena of Valor, Free - Review – Forum Thread – The world's most popular mobile MOBA finally launched in North America after a international rollout that took forever. Arena of Valor is by Tencent, who also owns the PC hit MOBA League of Legends, so AoV is a shockingly similar game- Raising the somewhat fascinating question of if you're ripping off yourself, does it still count as a ripoff? Truly a debate for the ages. Either way, it makes sense why 100m people play Arena of Valor daily. This is truly a top-tier game. -EH

Beat Street, Free - Forum Thread – A love letter to the classic side-scrolling beat 'em ups of the '80s and '90s, Beat Street captures the essence of what made these button mashers fun back in the day. Namely combat that's simple enough to grasp but strategic enough to be interesting and fun. With a colorful cast of humanoid animal enemies bent on taking over the world, Beat Street also has a lighthearted and humorous style that's easy to enjoy, and its ingenious control scheme makes this a great time in landscape mode or using just one hand in portrait mode. -JN

CATS: Crash Arena Turbo Stars, Free - Forum Thread – While this game wasn't really that sticky inside of the TouchArcade community, we thought the core mechanic that powered the whole thing was unbelievably clever. Basically, it's cartoony robot wars, where you build a battle bot with a seemingly endless supply of variety and upgrades. You then engage in PvP battles with other players' battle bots, which more or less just mash together until one of them dies. Even if you don't stick with it, you've got to at least try the tutorial. -EH

Flipping Legend, Free - Review – Forum Thread – I've always felt that a two button control scheme is a perfect fit for touchscreens, as you can often just split the screen down the middle and have each side be a big button. That's exactly what Flipping Legend does, and it puts your dexterity to the test as you bound left and right trying to avoid hazards and defeat enemies. The simple fact you can wrap around the screen from one side to the other adds an extra dimension and there's no better feeling than getting your brain "in the zone" as you deftly leap through a level. -JN

Modern Combat Versus, Free - Game of the Week – Forum Thread – For whatever reason, this most recent iteration of Modern Combat didn't really seem to resonate with our community as much as previous titles, but if you give the game a shot you'll find a shockingly good mobile blend of Overwatch and Call of Duty multiplayer. Characters have their own special abilities which when used at the right time can really turn the tide of a multiplayer match. The visuals in game are fantastic as well, making Versus totally worth checking out if you're looking for something to push your new iPhone to its limit. -EH

Sonic Runners Adventure, $2.99 - Review – Forum Thread – One trend in 2017 that I've liked is seeing games that would normally scream free to play actually release as a premium product. Although it was built on the ashes of the now-defunct free to play Sonic runners that came before it, Sonic Runners Adventure is a breath of fresh air in the tired auto-runner genre. They've absolutely nailed the feeling of a Sonic game here with tons of speed and split-second timing needed, as well as a big roster of characters to unlock and play as, and although it's not quite the same as a traditional Sonic game this one gets right all the important bits while offering up a few twists on the typical formula. -JN

---

A Boy and His Blob, $1.99 - Forum Thread – Originally released in 2009, this is a complete reimagining of the 1989 NES title A Boy and His Blob, that features gorgeous new hand-drawn art style with stunning animations as well as a more complete storyline. It's a puzzle platformer where you'll feed your blob friend various types of jelly beans to turn it into various types of items that will help you through the game. It's incredibly inventive, and thanks to its modern reimagining it's also an adorable and heartwarming tale. -JN

A Normal Lost Phone, $2.99 - Forum Thread – A Normal Lost Phone from Plug In Digital was the first game in what became a phone game on the phone genre of games to release on mobile and PC. You get to explore an unknown person's phone and the plot unfolds through discoveries you make while looking through text messages, photos, and more. It has a nice fake phone interface and the narrative explores some topics not touched upon often in gaming. It also has a larger narrative at play that you discover while actually playing it on your phone. While many have come after this release, A Normal Lost Phone remains a must play title and worthy of your time in one of the best years of gaming ever.-MM

Ashworld, $3.99 - Forum Thread – We all love big, open-world games but the traditional style of them doesn't lend itself too well to the type of mobile gaming that most people do. Ashworld is a game that explores this problem by creating an engaging world to run around and create havoc in, but the goals you're trying to achieve all fit nicely into that moment-to-moment style of gaming. It's the type of game you can pop into for a few minutes or a few hours and either way you'll feel like you're doing something meaningful. It's also fast-paced and chaotic in a very satisfying way. -JN

Batman: The Enemy Within, Free - Forum Thread – Telltale has had a major turnaround since the release of the original Walking Dead: The Game (Free), with super high quality releases that explore popular IP's in their trademark Telltale style. Batman: The Enemy Within is particularly unique as a Batman game, since both your actions as Batman and Bruce Wayne play vital roles in the story. It's really fascinating to play as Bruce Wayne, particularly considering how many Batman games really only feature Bruce Wayne in cut scenes or similar before throwing you into Batman action. Good characters, good writing, and an all around great game. -EH

Beholder, $4.99 - Review – Forum Thread – It feels like games have been exploring very dark and disturbing themes more in recent years, and Beholder is one of the darker ones. You'll play a landlord who is more or less forced to monitor your tenants' every move by order of the totalitarian government. The strategy of figuring out how to learn the dirty secrets of the folks living in your building is a very satisfying experience, but at the same time it makes you feel pretty gross. Still, you've got to protect yourself and your family, so you suck it up and do what you have to do. -JN

Bury me, my Love, $2.99 - Forum Thread – We're living in an unparalleled time in video games where developers are looking to tackle some pretty heavy issues using games as their medium. Bury Me, My Love is the story of a Syrian couple wanting to escape their war-torn country. The wife embarks on a journey to escape to the safety of Europe while here husband stays behind. He tries to direct her on her journey and the game plays out as a faux text message conversation. It's a powerful story and an experience that anyone who doesn't think games can be art should expose themselves to. -JN

forma.8 GO, $4.99 - Game of the Week – Forum Thread – Forma.8 has quite the history around TouchArcade as the game was originally announced way back in June of 2012 and was due that winter. Well that sure didn't happen! After years of development Forma.8 did finally arrive this year on a number of platforms, and yes even its original intended platform of mobile as Forma.8 GO. It was actually worth the wait! This extremely stylish adventure has you exploring gorgeous landscapes inspired by the classic adventure game Another World, and will have you solving mysteries and learning about the game's lore with intuitive touchscreen controls that, in my opinion, feel better than playing it on any other platform. -JN

Full Throttle Remastered, $4.99 - Forum Thread – Full Throttle Remastered is the third and final game in the remaster trilogy that had LucasArts classics get remastered for current platforms. Full Throttle Remastered has you play as Ben in a fantastic point and click adventure that features some kickass music from Them Gone Jackals and superb voice acting. While some of the puzzles feel obtuse today, Full Throttle is a wonderful story with memorable characters. The only thing missing here is a ZZ Top song. -MM

Hoggy 2, Free - Game of the Week – Forum Thread – The original Hoggy was a massively popular puzzle platformer in the very early days of the App Store, and fans had been waiting many years for a follow-up. It finally arrived this year with Hoggy 2, and in just about every way it has surpassed the original. This is a platformer but you don't actually jump, you move left or right and you can switch your own gravity at will to either be able to walk on the floor or the ceiling. Every level is built around that mechanic, but Hoggy 2 also includes an extensive level creation tool that ensures there's a nearly endless supply of content to play. -JN

Playdead's INSIDE, Free - Review – Forum Thread – The highly anticipated follow-up to Playdead's award-winning LIMBO, INSIDE takes the same formula of highly unsettling environments and trial-and-error puzzle platforming and amps it up in a big way. First of all the visuals are now in full 3D as opposed to the iconic silhouette look of LIMBO, and with incredible lighting techniques it creates a truly haunting atmosphere. Some of the puzzling can be frustratingly obtuse, but that's sort of the point too, and INSIDE creates an overall experience that's even more impactful than its fantastic predecessor. -JN

Morphite, $7.99 - Game of the Week – Forum Thread – Ever since the first announcement of Morphite, it became one of the most anticipated games in our community. With its stylish low-poly visuals and the promise of countless worlds to explore, it had a lot of promise to live up to. Surprisingly, it succeeded in most regards, and Morphite is a game that's easy to jump into and just get lost exploring new lands and discovering new alien life. There's a cool storyline and campaign to complete too, but for my money there's nothing like just wasting the hours trodding off and seeing what sort of interesting stuff you can find. -JN

Oddworld: New 'n' Tasty, $4.99 - Review – Forum Thread – The original Oddworld: Abe's Oddysee propelled a most unlikely protagonist into the spotlight of the PlayStation generation. Abe's got a good heart and he doesn't want to lose it, or any of his other parts, anytime soon. The story of this strange leader has been remade with an impressive amount of love and care in Oddworld: New 'n Tasty!, and whether you're new to Oddworld or an old hat, you'll definitely want to check out this stunning puzzle-platformer. It's hard to imagine how this mobile port could have been pulled off any better.  -SM

Portal Knights, $4.99 - Game of the Week – Forum Thread – The cool thing about the rampant success of Minecraft ($6.99) is the number of incredibly creative spinoffs on the formula. Portal Knights is one of those, and instead of just building a base and exploring, you do all that wrapped in a full-blown RPG experience with spells, monsters, equipment, and more. Local multiplayer only makes the experience more awesome if you have a friend to play with. -EH

Rules of Survival, Free - Guide – Forum Thread – The second of NetEase's Playerunknown's Battlegrounds knockoffs, and just as good as Knives Out (Free) but in slightly different ways. We're still scratching our heads why the same developer released multiple games that are so similar, but if you're at all into PUBG and want to play a similar game on your iPhone, these two are the best. -EH

Stranger Things: The Game, Free - Making Of – Forum Thread – For the entirety of video gaming, movie and TV tie-in games have been dreadful. There are very few examples that prove that wrong, but Stranger Things: The Game is definitely one of them. It plays as an (appropriately) old-school top-down action RPG as you stomp around the familiar grounds of Hawkins, Indiana playing as and interacting with many of the fan-favorite characters from the show. It doesn't add anything to the main narrative of the show per se, but it's definitely stuffed with fan service and fleshes out the universe on the whole, and remarkably the game is available for free with no ads or costs associated with playing it. Truly a model for future tie-in games to come. -JN

The Talos Principle, $4.99 - Game of the Week – Forum Thread – 2017 saw some fantastic puzzle games in general but The Talos Principle from Croteam is easily the developer's best work. It is a first person (or third person) puzzle adventure game with a very philosophical narrative. It also has a cat that you may or may not ever see. While it may seem easy initially, the difficulty ramps up later on with multiple new mechanics but nothing is ever unfair. It is also a fairly open experience allowing you to revisit previous areas and play at your own pace. While the port isn't perfect visually, fans of games like Portal 2 should look into getting this. The puzzles are exceptional and the narrative will make this game remain with you long after you've completed the final puzzle. -MM

Thimbleweed Park, $9.99 - Review – Forum Thread – At first, Thimbleweed Park comes off as nothing more than a really great throwback to the classic games that put its creators on the gaming map. The more you play, however, the more you realize that nothing is exactly what it seems in this strange place. Simultaneously an ode to and a deconstruction of vintage point-and-click adventure games, Thimbleweed Park is a must-have for adventure game fans.  -SM

---

Arkanoid vs Space Invaders, $4.99 - Review – Forum Thread – Both Arkanoid and Space Invaders are classics in the world of video games, and seeing as indie developers have blended mechanics from both games together into one game in various ways over the years I'm surprised it took so long to see an official mashup. It works just as good as you'd hope it would, too. Battle invaders creeping down the screen towards you by bouncing shots back up at them Arkanoid-style. In a pleasantly surprising turn of events for this type of game on the App Store, it's also a fully paid, no IAP release. -JN

Cat Bird!, Free - Game of the Week – Forum Thread – Like its name implies, in this platformer you play as a cat bird hybrid giving you the ability to both jump and float for a short period of time. Cat Bird takes that main mechanic and explores it in pretty much every way possible across 40 well-designed levels. To top it off, it has some of the best pixel art around and fantastic sounds and music to match. There is no shortage of platformers to choose from on the App Store, but very few come with the level of quality that Cat Bird does. -JN

Danmaku Unlimited 3, $4.99 - Review – Forum Thread – The Danmaku Unlimited series is by now a household name for fans of mobile shoot-em-ups, and this third installment nicely underlines why. With production values rivaling any of the genre greats, a deep scoring system, and compelling gameplay mechanics that push you into taking a ton of risks for a huge pay-off, Danmaku Unlimited 3 is at once its own game and a faithful follow-up to the hit Danmaku Unlimited 2. It's tense, gorgeous, and incredibly satisfying. -SM

Kalimbaâ"¢, $3.99 - Forum Thread – Platforming games where you control two characters simultaneously have been done before, but I can't think of a game that takes that mechanic and explores it as much as Kalimba does. You'll be testing your dexterity as you run and jump through each platforming level, and your brain will get a workout as you figure out how to orient each character and use the environment to your advantage in order to solve the game's fiendish puzzles. -JN

Kick Ass Commandos, $1.99 - Review – Forum Thread – If you could take every cliche from ever over-the-top '80s action movie and cram them into a top-down dual-stick shooter, you'd have Kick Ass Commandos. The mayhem is cranked up to 11 as you work through each level blasting every bad guy and collecting imprisoned soldiers who join your crew until you have a mob of destruction in tow. What really stands out though is that this isn't just a mindless blast-a-thon as you'll need genuine strategy to get past the game's many challenges. -JN

Miles & Kilo, $2.99 - Review – Forum Thread – Kid Tripp was a great spin on the Westone classic Wonder Boy, and its sequel only ramps things up even more. With cunning level designs featuring genuinely tricky platforming that still manages to be fair, Miles and Kilo is a dream for anyone who loves a good old platformer. The graphics are improved, the adventure is bigger, and there's a playable dog. A wonderful playable dog. Miles and Kilo is everything you could hope for from a sequel. -SM

MUL.MASH.TAB.BA.GAL.GAL, $2.99 - Review – Forum Thread – There's no polite way to say it, but MUL.MASH.TAB.BA.GAL.GAL is one of the worst game titles I've ever heard. How do you even pronounce it? What does it even mean? Thankfully, that's easy to forgive as this is one of the most interesting takes on a Pong game that I've ever played. In fact, you're essentially playing Pong against yourself as you control paddles at either side of the screen and bounce your "ball" in between them in an effort to take out the enemies rising from the depths of the sea. It works wonderfully well, and with a progression loop that's easy to get sucked into and gameplay that's constantly entertaining this is one of the year's best no matter what silly type of name it has. -JN

Pocket Mine 3, Free - Forum Thread – It's always an amusing moment when a free to play game comes along that even sucks in the most staunch freemium haters out there, and that perfectly describes the situation surrounding the launch of Pocket Mine 3. It's a progress-based mining game, there you tap to dig deeper and deeper inside of your pocket mine. The feeling of progression is top-notch, and it feel like the game always has another thing for you to work towards. And, hey, it easily wins the award for the game this year that we saw the most people saying, "I don't like freemium games buuuuut… here's my friend code." -EH

Steredenn, $3.99 - Review – Forum Thread – One of my favorite things about the mobile platform is the many indie games that find their way from Steam over to the App Store. One of those is Steredenn, a roguelike shoot 'em up that has a dedicated following on desktop but is a game I'd never heard of before its mobile release. Boy, I'm sure glad it made the leap as this is one of my favorite shooters of all time, on any platform. Its roguelike nature means the game feels different each time you play, but the real star of the show is the many interesting weapons you can pick up along your journey and especially the heart-pounding boss fights you'll encounter as you work your way through the game. -JN

---

Age of Rivals, $3.99 - Forum Thread – We are living in a world of countless card battling games, and it's rare that one will come along that feels different from the pack. Age of Rivals is a combination of civilization-building and deck-building, and it's a blend that feels really fresh in the face of other card games. One of the most interesting aspects is that this is a complete paid game right from the start, with no IAP, so hunting and hoping for the best or rarest cards is something you don't have to worry about and instead you're free to focus on the intense strategy of each match. -JN

---

Card Thief, Free - Review – Forum Thread – A couple of years back, developer Tinytouchtales surprised many with the excellent Card Crawl. With Card Thief, Tinytouchtales approached the idea of a solitaire card game from a whole new angle. Incorporating stealth elements, the game essentially dares you to push your luck as far as you can in order to earn a higher score and take home some serious loot. While it's not quite as immediately accessible as Card Crawl, Card Thief has a lot to offer the player who is willing to stick with it long enough to uncover its impressive depth and variety. -SM

The Elder Scrolls: Legends CCG, Free - Review – Forum Thread – While we're still waiting for the Hearthstone (Free) killer everyone likes to talk about, The Elder Scrolls: Legends is easily the best competitor we've seen enter the free to play collectable card game scene this year. The game itself plays more like Magic the Gathering, with a clever card color system adapted from the character stats of Elder Scrolls games. Bethesda has been rapid-fire releasing new content as well, both keeping the metagame fresh and keeping players on their toes. -EH

Flipflop Solitaire, Free - Game of the Week – Forum Thread – Solitiare is one of those games that's so classic and well-defined that it doesn't seem possible that anyone could mess with the mechanics to create an experience that's as enjoyable as the original. Flipflop Solitaire blows that notion out of the water. It's Solitaire at the core, but with just a few minor adjustments that turn it into what feels like an entirely new game, but with the same qualities that has made the original game such an enduring classic for generations and keeps you coming back for more. -JN

Reigns: Her Majesty, $2.99 - Review – Forum Thread – We absolutely loved the original Reigns ($2.99), and Reigns: Her Majesty delivered exactly what we wanted: More Reigns. This time around you play as the queen, and there's loads more depth via the implementation of an item system and zodiac calendar. Like the original, it's filled with mystery so if you need help on your quest be sure to check out our walkthrough. -EH

South Park: Phone Destroyerâ"¢, Free - Guide – Forum Thread – A popular trend the past couple of years has been these free to play battlers where you amass a team of characters and take on the teams of opponents all over the world. South Park Phone Destroyer follows a similar formula, but where it really shines is in the level of fan service on offer. This is a decidedly South Park game through and through, from the naughty language to the many inside jokes that trade off of moments from the long-running series. It's also a surprisingly fair free to play game, and if you're a South Park fan in any capacity this is a game you should be playing. -JN

---

Flower, $4.99 - Forum Thread – Getting an announcement for Sky being a timed exclusive to Apple platforms from thatgamecompany wasn't the only thing we saw this year. Annapurna Interactive brought one of thatgamecompany's nicest experiences to iOS when Flower hit the App Store. This is a big deal for a couple of reasons. Firstly, Flower is a brilliant experience and you'd be doing yourself a favour by playing it if you fancy abstract indie experiences with great visual and audio design. You control the wind and set out on what feels like a magical experience spread across a variety of levels that are dream sequences. The second and bigger reason to be excited about Flower is that it was a PlayStation exclusive and this might open the door for more of thatgamecompany's PlayStation games to make their way to iOS.-MM

Hidden Folks, $4.99 - Game of the Week – Forum Thread – The lovely thing about point and click interactions on iOS is they feel a lot more immersive thanks to the amazing displays and capacitive touch. Hidden Folks is available on PC platforms and mobile platforms but the best experience is on iPads. The monochrome hand drawn art is amazing in this modern take on a Where's Waldo? experience that will keep you coming back for more. It recently got a big update to celebrate the holiday season as well. The art and sound design are more than worth the asking price, let alone the well thought out levels.-MM

---

Injustice 2, Free - Guide – Forum Thread – The first Injustice turned NetherRealm's full console and PC fighting game and streamlined it into an immensely playable mobile grinder. The sequel brings everything that was great about the first game but tosses in a few new fighting mechanics, an expanded roster, greatly improved visuals, and more. Considering the first game still has an active player base and continues to get updates years into its release, and the sequel has so far demonstrated a similar amount of success, I expect these juggernauts to continue dominating the mobile fighting scene for a long time to come. -JN

Skullgirls, Free - Game of the Week – Forum Thread – When you're a smaller developer it's not easy to break into the fighting game scene that's largely been controlled by the big companies for the past few decades, but Skullgirls managed to find an audience on console and desktop with its tight mechanics and an eclectic roster of fighters. This year they squeezed everything great about their game into a mobile format that utilizes swipe-fighting mechanics like the immensely popular Injustice or Contest of Champions series, and the results are one of the best versions of this new type of mobile fighting game. With some of the best animations around and superb hand-drawn sprites and backgrounds, Skullgirls is a joy to carry around in your pocket. -JN

Street Fighter IV CE, $4.99 - Review – Forum Thread – Capcom had a ton of success in the early App Store days with their mobile versions of their (then new) Street Fighter IV, the long-awaited modern take on the granddaddy of the fighting game genre. Unfortunately, despite their success, those games languished for the past several years. This year brought Street Fighter IV Champion Edition, which is built around those original mobile games but offers many of the modern conveniences we expect in games today. Despite its dated look it still plays surprisingly great even with virtual controls, and with a dedicated audience of players to fight online as well as modern features like live YouTube streaming, this one has become the go-to traditional fighting game in the world of mobile. -JN

---

Bridge Constructor Portal, $1.99 - Review – Forum Thread – While Bridge Constructor Portal is really just a (admittedly very well done) Portal-themed version of Bridge Constructor, the addition of portals, companion cubes, and all sorts of other new mechanics really spice things up quite a bit. GLaDOS taunting you between levels is as amusing as ever, and bridge building gameplay has always worked really well on touch screens. If you like Bridge Constructor Portal, be sure to check out the original Bridge Constructor ($0.99) as well. -EH

Campfire Cooking, $3.99 - Developer Spotlight – Forum Thread – A hallmark of a great logic puzzle game is being able to sufficiently challenge you without feeling frustrating or obtuse. Campfire Cooking accomplishes this with flying colors. It has a near-perfect rate of progression as you learn how to properly maneuver food over a campfire to get everything cooked properly as new mechanics are slowly introduced to keep you on your toes. There's some real brain-busters here, but they're the type you enjoy poking and prodding at until you find the solution rather than the type that feel frustratingly impossible. -JN

Cosmic Express, $5.99 - Forum Thread – Cosmic Express takes a simple idea and ramps it up into something truly special. In each level you're given a little space city and your job is to lay down some tracks so that you can create a route that can stop at each station, pick up the passengers, and get them where they need to go. It's much trickier than it sounds, and Cosmic Express takes that gameplay mechanic and explores it to the fullest. It does all of that with a whimsical art style and loads of personality, making it perfect for those who love highly-polished and challenging puzzle games. -JN

FEZ Pocket Edition, $4.99 - Review – Forum Thread – After being teased and then seemingly cancelled and then teased again, we got a surprise release of FEZ Pocket Edition on iOS. The port is fantastic and it supports both touch and controllers. FEZ from Polytron has a lovely visual style and one of the best soundtracks in gaming coming together with some well thought out puzzles to give you a memorable puzzle adventure experience. The interaction between visuals and audio in some of the areas here are exceptional. FEZ Pocket Edition is one of the easiest recommendations if you have a controller on iOS.-MM

FRAMED 2, $4.99 - Review – Forum Thread – The original Framed was built around the ingenious mechanic of moving panels of an animated comic book around to create new scenarios and create solutions to puzzles, and while it was one of the most unique games in the App Store it felt like it never truly lived up to its amazing concept. Framed 2 fulfilled all that promise and more, exploring the panel-moving gameplay in a deep way and offering up a truly interesting narrative to boot. Framed was certainly not bad, but Framed 2 was absolutely phenomenal in comparison, and in fact playing them together back to back makes them feel like one big, amazing experience. -JN

GNOG, $4.99 - Forum Thread – Some games just exude fun and playfulness, and GNOG is most definitely one of them. This odd puzzle box game has you poking and prodding at giant robotic heads of all things, tinkering and toying with them until you unlock their various secrets. It's like the mischievous, pop art little brother of The Room series that's full of style and personality. The visuals and animations are so fantastic it's like you're poking your finger into a tiny living world each time you start a new level, and the music and sound effects set the perfect tone for this entertaining little game. -JN

Gorogoa, $4.99 - Review – Forum Thread – Gorogoa is unlike any game I've ever played before. If you had to try to define it, you could say it's a mix of point-and-click adventure game and those old tile-sliding picture puzzles. That really doesn't do justice for just how magical an experience this is, though. With zero words or instructions, Gorogoa tells a fascinating story as you piece pictures together, strip them into parts and combine them with other pictures to create whole new environments. The entire game was designed, coded, and illustrated by just one person which is remarkable, and even days after finishing the all too brief game I still can't get Gorogoa off my mind. A masterpiece. -JN

Layton's Mystery Journey, $15.99 - Review – Forum Thread – No, this isn't the strongest game in the Layton series by any measure. But it does finally bring to mobile the core gameplay structure that seemed like an utterly natural fit since the very beginning, and unsurprisingly, it works really well as a game for smart devices. It has that usual Level 5 polish, making it quite easy on the eyes and ears, and is packed with enough content to keep you busy for a couple dozen hours or so. Plus, it has a talking dog who has simply had enough of your tomfoolery. How can you go wrong with that? -SM

Linelight, $1.99 - Review – Forum Thread – When Linelight made the unexpected jump from desktop and console to mobile in July, I had never actually heard of it before. I mean, a bunch of glowy lines, what IS this thing?? But within the first few minutes of playing I could see that the touchscreen was an absolutely perfect fit for the game. You'll guide your glowy main character through a ton of challenging line puzzles that almost look like electrical schematics. New mechanics are introduced as you progress, and there were a number of times while playing Linelight that I had to just stop and marvel at the brilliance of a particular mechanic or level design. Don't let the minimalist look fool you, this is a top-tier puzzler if I've ever seen one. -JN

Million Onion Hotel, $3.99 - Review – Forum Thread – A land mass divided right down the center stands at the brink of total war. Right on the border sits a special hotel with even more special onion soup. Big things are about to go down at the Million Onion Hotel, but you'll only find out what happens if you can get a handle on the ins and outs of this quirky, charming puzzle game. Tap magic onions and other assorted oddities to make lines, summon space cows, collect onion warriors, and battle against a giant chicken robot, all for the sake of love and peace. Beyond the odd story and presentation, tons of secrets and some enjoyably frantic gameplay make this a must-have. -SM

Monument Valley 2, $3.99 - Review – Forum Thread – Monument Valley 2 probably hews a little too closely to the original game for its own good, but there's little doubt about its artistic merits, if nothing else. Developer ustwo once again outdid themselves with the attractive visuals, making this a lovely treat for your eyes. Short, sweet, and absolutely gorgeous, chances are good that if you loved the first game, you'll enjoy this one. While you might wish for a little more meat on the proverbial bones, the magic of pulling each stage apart in various impossible ways is always a wonder. -SM

Mushroom 11, $4.99 - Forum Thread – In Mushroom 11 you control a alien fungus using your finger. It's unbelievably clever how it works, as you use the touchscreen to nudge your blob along. You can shape your blob in all sorts of different ways, and it's unreal how far the developers push this mechanic into all sorts of different puzzles and even a few boss fights. It's also available on Steam if you'd like to pay more money to play it on your computer. -EH

Old Man's Journey, $4.99 - Review – Forum Thread – Straddling the lines between art game, experience game, and puzzle game, Old Man's Journey is played by interacting with the environment of the world so your old man can, well, journey. It's the kind of game that really shines on the iPad, as you can really take in all the detail of the world on the larger screen. Just be prepared for it to pull at your heart strings. -EH

Red's Kingdom, $2.99 - Game of the Week – Forum Thread – We're used to puzzle games that offer a bunch of levels that you'd pick from a menu and work you way through in a mostly linear progression, but what Red's Kingdom does that's so brilliant is it takes that puzzle formula and fits it into a big open-world adventure. Because of that, you'd be forgiven for feeling like you're playing something closer to an old-school Zelda game than a puzzle game, but the universe that Red's Kingdom creates and its likeable characters and colorful art style elevate it above your average mobile puzzler. -JN

Slayaway Camp, $2.99 - Review – Forum Thread – Like Red's Kingdom, Slayaway Camp is another puzzle game that manages to feel more like an actual adventure than a by-the-numbers puzzler. Its entire theme is built around '80s horror movies, and Slayaway Camp does the most excellent job of capturing the essence of campy B movies in every facet of the game. From menus and UI to the copious amounts of gore, to the "filming" of each new "movie" the aesthetics here are second only to the wonderfully well-designed and challenging levels to solve. -JN

Splitter Critters, $2.99 - Review – Forum Thread – When we first saw Splitter Critters back at PAX, we said "This game is either going to win ton of awards, or just go nowhere." Well, it seems they ended up winning loads of awards with gameplay that is remarkably clever: You draw a line to split the screen, then you can drag each side that you cut to line up in different ways. Solving puzzles involves getting an alien to his spaceship, and doing that requires making a path that might need multiple splits to have everything line up. Don't miss this game. -EH

Swim Out, $2.99 - Review – Forum Thread – The first thing I ever noticed about Swim Out was its striking art style. The muted look of its environments are highlighted with bright pops of color, and the entire aesthetic feels like a throw back to mid-century Americana. Those looks quickly fade into the background though as you're tasked with some of the most brain-twisting turn-based logic puzzling around. Both the visuals and the gameplay combine to offer one of the more satisfying and challenging puzzlers released this year. -JN

Ticket to Earth, $4.99 - Review – Forum Thread – If you would have told me that there's a game that blends match-3 style gameplay with turn-based strategy gameplay and wrapped the whole thing up in a super stylish sci-fi aesthetic with a compelling cast of characters and storyline to follow, of would have said you're crazy. But that's exactly what Ticket to Earth managed to pull off this year. I can't believe how interesting the color-matching mechanics make the turn-based strategy portions and the fact that those two genres actually blend perfectly together still blows my mind. Our only problem with this game is that it's episodic and we want the remaining episodes like NOW, but don't let that cause you to sleep on this truly unique title. -JN

The Witness, $9.99 - Review – Forum Thread – Jonathan Blow's The Witness surpasses Braid in almost every aspect. It is a puzzle experience set on an isolated island with a ton of puzzles with many of them related to others. The introduction to puzzle mechanics and exploration aspect blend together brilliantly to create a memorable experience. There are also many secrets that you may never see without external help. The Witness on iOS is a great port and you can play it with touch or using a controller. There's easily dozens of hours of brilliant puzzles within The Witness. Get ready to start seeing things after spending time here. -MM

YANKAI'S PEAK., $3.99 - Review – Forum Thread – Developer Kenny Sun has a real knack for clever, quirky puzzle games involving geometric shapes. A very specific skill, no doubt, but one he ought to be proud of. Yankai's Peak's chosen object of adoration is the humble pyramid. You need to get all the pyramids from their starting positions to specific spots on a precarious layout by carefully pushing them around. It's a little like the classic Sokoban/Boxxle box-pushing puzzle games, but a little bit harder to visualize due to the unusual shapes involved. It's great food for your gray matter.  -SM

---

Crash Club, Free - Forum Thread – The past couple years on the App Store have been incredibly popular for the ".io" style of massively multiplayer games. The problem is that while it's fun to play with a ton of people at once, most of the games are pretty janky in their presentations. The team at Prettygreat wanted to change that with their highly-polished game Crash Club, which lets people log into a world with a bunch of others and smash into each other with a ton of cool vehicles in an all out brawl. With a destructible environment to mow down in your pursuit of the number one spot, Crash Club has offered up some of the most entertaining gaming moments of 2017. -JN

DATA WING, Free - Game of the Week – Forum Thread – It would be easy to dismiss Data Wing based on its screenshots alone, as it looks like yet another ultra-retro-inspired top-down minimalistic space shooter. That's not the case at all though. Data Wing is actually a racing game, and features a really cool mechanic where you boost by carefully grazing the edges of the track. It's a ton of fun and is a really nice twist on a typical top-down racer. It also tells a really interesting story, surprising for a game like this, and defying all logic whatsoever it's also an entirely free game with no ads or IAP of any kind. A passion project if there ever was one. -JN

GRIDâ"¢ Autosport, $9.99 - Review – Forum Thread – For years we've talked about "console-like" games for mobile, but GRID Autosport is not just console-like, but it's the entire console and PC game that only released a few years ago. This is the real deal. GRID also balances the fine line between simulation and arcade racing, skewing more towards simulation but still being approachable to non-gear heads. Perhaps even more remarkable is the EXTENSIVE options included, which allow you to tailor the game to be as hardcore or as casual as you want, all while still offering a tremendous feeling of satisfaction for learning the many different cars and tracks in the game. -JN

Pigeon Wings, $1.99 - Review – Forum Thread – When you see the title of this game, you might think it's some sort of Tiny Wings ($1.99) game, which couldn't be further from the truth. Instead, it's an unbelievably fast paced racing game where you're a pigeon in a plane. It seems like the kind of game that could be just randomized and endless, but instead there's an actual level structure and a shocking amount of depth. Pigeon Wings was one of the big surprises of the year. -EH

---

Ace Attorney INVESTIGATIONS, $0.99 - Review – Forum Thread – It may focus on a side character and not the series' namesake, and it takes the action out of the courtroom and into the crime scenes themselves, but this is a fun take on the Ace Attorney series. It features the same sort of personality and cast of wacky characters as its siblings and offers plenty of mysteries to solve. While it serves as a completely standalone release, it's definitely most enjoyable for those who have played through at least the original trilogy of Ace Attorney games. -JN

Animus - Stand Alone, $7.99 - Review – Forum Thread – Hack 'n slash games are predominantly free to play affairs which focus more on social components and grinding loot boxes to deck out your character in the best gear. Animus looks to be a more straightforward affair, a paid game that can be played offline and doesn't mess with any of that social stuff. It's extremely skill-based and inspired by the likes of Dark Souls, so rather than praying to the RNG gods that you get good enough gear to play through the game here you can focus on enhancing your battling skills and learning the weaknesses of enemies, which is a very satisfying change from most other ARPGs on the App Store. -JN

The Binding of Isaac: Rebirth, $14.99 - Review – Forum Thread – Dual-stick shooters are one of the best fits for touchscreen devices, and it's a wonder that one of the finest examples of the genre took so long to make it to mobile. Isaac finally did arrive at the beginning of the year though, and it's every bit as great as I always knew it could be. The Binding of Isaac: Rebirth is one of the most varied and replayable games in existence, and it's an absolute must-own for fans of roguelike dungeon crawler shooters. And poop. There's lots and lots of poop. -JN

Cat Quest, $4.99 - Review – Forum Thread – If you could take everything that's fun about a story-driven action adventure RPG, squish it down into a roughly 10-hour experience that is built from scratch to work well on touchscreen, and stuff the whole thing with more humor and cat puns than you can shake a paw at, then you'd have Cat Quest. There is so much charm bursting from this game, and it's streamlined just enough so that it's still a nice challenge for RPG enthusiasts while still being totally approachable to both genre newbies and busy folks who can't typically commit to the massive RPGs on other platforms. -JN

DANDY DUNGEON Brave Yamada, Free - Review – Forum Thread – Over the past several years, as the indie game movement has continued to grow, we've been inundated with roguelike dungeon crawlers of all shapes and sizes. But I can promise that there are none with the sort of personality and straight up absurdity that Dandy Dungeon possesses. The funniest part is that the game itself is a commentary on that very thing. You play as a middle-aged software developer who keeps punting off his work duties to develop his indie passion project, a roguelike dungeon crawler, naturally. That bit of fourth-wall-breaking is just the tip of the iceberg of the kind of humor and entertainment you'll see throughout Dandy Dungeon. -JN

Darkest Dungeon:Tablet Edition, $4.99 - Review – Forum Thread – This year saw many big name indies finally make their way to iOS. Darkest Dungeon is a hard as nails dungeon crawler with roguelike elements, a lovely art style, and lots of management aspects. It oozes stylish dark gothic visuals and has an excellent iPad version. While it is sad that the aspect ratio forces some of the text to be too small given the iPad's screen, Darkest Dungeon is well worth your time. The DLC should be making its way to iOS soon as well. Your time here will be both rewarding and punishing. Few games manage to tension and atmosphere that Darkest Dungeon has.-MM

Death Road to Canada, $14.99 - Review – Forum Thread – One of the many virtues of games with randomized elements are the unique stories that each player can potentially have along the way. It's probably the best thing about Death Road to Canada, the latest creation of Rocketcat and Madgarden. The zombie apocalypse has come, and you need to make it to the safe sanctuary that is Canada. While there's plenty of action along the way, the most compelling part of the game comes from the unpredictable outcomes of having a bunch of weirdo characters along for the trip. Try naming them after real people for maximum hilarity. -SM

Don't Starve: Shipwrecked, $4.99 - Forum Thread – The first Don't Starve made its way to mobile in 2015, and proved to be a spectacular fit for the platform. The Shipwrecked expansion arrived as a separate app on the App Store, but brought with it the same stellar roguelike survival gameplay with bonuses like an improved mobile interface complete with a great new virtual joystick option and the ability to travel between a bunch of different islands. This added a dose of strategy (and even MORE challenge) as each island inevitably runs out of resources and it forces you to go somewhere else to start anew. -JN

Life Is Strange, Free - Review – Forum Thread – Life is Strange originally launched on consoles and PC but always felt like a perfect fit for iOS. Unlike many other similar games with choices, the ones made here actually matter and make a difference to future episodes. It debuted with Episode 1 in the same week that saw INSIDE and FEZ release and will be complete in early 2018 when the final two episodes are available. While controller support would've been great, the touch controls here are good and Life is Strange is something everyone needs to experience with its time travel mechanic and indie film aesthetic. There's even a Lite version you can try for free.-MM

Lineage 2: Revolution, Free - Review – Forum Thread – Netmarble absolutely knocked our socks off this year with the release of Lineage 2 on mobile. It's a full-blown MMO which has an auto-play mode that makes the game play more like a idle progress game than something you need to be engaged with all the time. It's really cool, as we often get bored of these mobile MMO's because of the time requirement to get anywhere in them, but in Lineage 2 your character just completes quests on their own. When you actively want to play, you can take control and engage in a bunch of different PvP modes and dungeons. It's super cool, and it makes us hopeful more developers follow this path with mobile MMO's in the future. -EH

Lowlander II: Lowerlander, $2.99 - Review – Forum Thread – Psst, hey kid! Do you like Ultima? Specifically, the really early Ultima games? Friend, have I got a game for you! I once said that the original Lowlander was a better Ultima 2 than Ultima 2 was itself, and I stand by that. Lowlander 2: Lowerlander is even better than the original game. Some may have expected the game to follow the homage line and draw on Ultima 3, but instead we've simply got a bigger, more refined take on the first Lowlander. Given how enjoyable it turned out, it's hard to argue with that approach. Don't be fooled by its simple appearance. RPG fans will definitely want to check this out. -SM

Ace Attorney Spirit of Justice, $0.99 - Review – Forum Thread – The Ace Attorney series is getting fairly long in the tooth, and with so many entries available on iOS alone, it's getting harder to keep things fresh with each new installment. Spirit of Justice scores by sending our trusty defense attorney to a strange land where he's not up to speed with all of the rules. At the same time, the game resolves a lot of hanging plot threads that have been around since Ace Attorney: Apollo Justice. It's a great, huge adventure with a charming localization.  -SM

Planescape: Torment, $9.99 - Review – Forum Thread – Overhaul Games brought us Baldur's Gate, Baldur's Gate II, and Icewind Dale previously but this year finally saw the grand daddy of all CRPGs release on iOS. Planescape: Torment has a ton of text. It also has a fantastic story to sink your teeth into. If you're in the mood for a true classic and one of the big influences to many western RPGs today, Planescape: Torment is a must have. Just prepare yourself for a ton of reading. -MM

Technobabylon, $4.99 - Forum Thread – Over the last few years a lot of Cyberpunk games have been released across all platforms but few actually managed getting the atmosphere and tone right. Wadjet Eye Games have been putting out some great stuff on iOS but Technobabylon takes the cake. This point and click adventure will see you play in a world where human interaction is unnecessary thanks to the Trance. The tale involves blackmail, murder, investigation, and more all wrapped up into an excellent pixel art aesthetic. There is no filler here at all. It is that damn good. -MM

Tempest: Pirate RPG Premium, $7.99 - Review – Forum Thread – This thrilling high seas romp really challenges your preconceived notions about what an ARPG should be. Gone are the dusty tomes and moldering dungeons of fantasy past. What we find in their place is an action packed arcade delight of a game about swashing buckles and running out the long nines to sink your enemies. Tempest serves up some fantastic battle sequences complete with sea monsters, weather effects and ship to ship docking attacks. You also have a number of factions all vying for control of the water ways, all desparate to find adventurers willing to hoist their flag and claim victory. What you wouldn't expect out of this expansive maritime title is that it is fully multiplayer and offers the ability to mow down the enemy with the assistance of your friends online. -AF

To the Moon, $4.99 - Review – Forum Thread – To The Moon has been a standout title for storytelling and music ever since it debuted in 2011 on PC. If you're ok with gameplay that just involves a few basic puzzles and mostly just exploring and interacting with people, you will have a hell of an emotional experience in To The Moon. The mobile version is still fantastic with some improvements to the interface but a few quirks with movement. The unveiling of the plot is done in a very unorthodox manner and the game pulls it off brilliantly. There aren't many games that get storytelling so right like To The Moon does.-MM

---

A Planet of Mine, Free - Game of the Week – Forum Thread – The 4X genre is notoriously complicated, and it's unbelievable just how streamlined A Planet of Mine manages to make the whole thing. Instead of a world map, you manage individual 2D planets, with a typical 4X hex grid replaced by "slices" of your individual planets. Even if you don't particularly care for 4X, this game is worth downloading just to see how elegantly they simplify it. Better yet, A Planet of Mine is totally free to try with IAP to unlock other races to play as. -EH

Animal Crossing: Pocket Camp, Free - Review – Guide – Friend Codes – While Animal Crossing: Pocket Camp only has about an ounce of the charm of the main entries in the series, that's enough to carry it a good distance. It looks like Animal Crossing, and it sounds like Animal Crossing. It would be nice if it played more like Animal Crossing, but the collection and room arrangement aspects are intact even if the more sandbox-style elements are not. Still, if you don't quite have the time or the hardware to boot up your 3DS, Pocket Camp will give you a temporary fix. -SM

Game Dev Tycoon, $4.99 - Review – Forum Thread – It seems like we've spent years saying to ourselves, "I wish someone would take the Game Dev Story ($4.99) formula and just … do it better. Not that there's anything wrong with GDS, but Game Dev Tycoon takes the basic idea of managing a game studio and runs with it in a fashion that's both incredibly well done and loaded with way more depth. It's different enough that even if you played Game Dev Story to death, there will still be loads to love inside of Game Dev Tycoon. -EH

Getting Over It, $4.99 - Hands On – Forum Thread – There are plenty of wacky physics-based games that are meant to be silly and shallow experiences that you can have a brief laugh at with your buds, and then there's Getting Over It. It's a surprisingly deep game with a tremendously nuanced physics system that allows your cauldron-bound half-man to climb an entire mountain filled with junk using only the head of a sledgehammer. It's also a harsh lesson in failure as you can lose minutes or even hours of progress in the blink of an eye with one slip-up. What's so interesting is that the game is constantly reflecting on your failures and encouraging you to deal with and learn from them, which is a surprisingly positive message from a game that revels in its brutal difficulty. -JN

SPACEPLAN, $2.99 - Review – Forum Thread – We've played a load of clickers, but Spaceplan is in its own universe. Typical clicker and idle game gameplay is combined with a story that feels like The Martian in a way. The cool thing about Spaceplan is that it ends, and the ending is really cool. Typically it seems like you just play these kind of games until you get bored of them, so having a finale is a really welcome change. -EH

Trailer Park Boys Greasy Money, Free - Review – Forum Thread – Not only is Trailer Park Boys a pretty fantastic idle game, but it is an absolute masterpiece of delivering fan service and flawlessly utilizing the IP. It's a fascinating mix, as the game itself is good enough that if you've never seen the show, you'll still have fun. However, if you're into the Trailer Park Boys, you will love what they do with this game. -EH

Universal Paperclipsâ"¢, $1.99 - Forum Thread – Man, clickers, ya'll. The clicker and idle gaming genre has exploded on mobile, and it's easy to see why. The simple gameplay coupled with an addictive progression loop fits perfectly in the moment-to-moment style of mobile gaming. Universal Paperclips originally launched as a free browser game that instantly took the entire world by storm. It seemed like EVERYBODY was sucked into playing it. Happily that experience was brought to the mobile platform in a polished up, fully premium experience, so now we can all waste our lives building our paperclip empires anywhere we go. -JN

---

Big Shot Boxing, Free - Forum Thread – Colin Lane has released a small handful of super fun games that utilize intentionally awkward physics with difficult and often hilarious results. Big Shot Boxing follows a similar theme, but feels more like a "complete" game instead of a fun mini-game. A career mode with stats you can upgrade and numerous other subsystems add loads of depth to what, at its core, is a silly physics boxing game. These subsystems make Big Shot Boxing really hard to put down, and the highly randomized elements of individual matches makes things really exciting. -EH

Prizefighters, Free - Forum Thread – It's been a strangely popular year for boxing games, and Prizefighters won our hearts with its incredibly ingenious control scheme and surprisingly deep career progression system. It was inspired in part by the classic Punch Out!, especially in its visuals, but this is far from just a copy and in fact it plays much closer to a simulation than an arcade game. Working your way up the ranks and buffing out your custom boxer is incredibly fun and the core mechanics are so good it makes you want to turn right around and start anew even once you've claimed the highest championship. -JN

---

The Escapists: Prison Escape, $4.99 - Game of the Week – Forum Thread – Right off the bat the premise of The Escapists is compelling: You play as a prisoner who must find a way to break out of prison. Where the game really shines though is in its extremely deep level of detail. Each prison is a large, complex series of buildings that are hiding all sorts of different ways to escape. There's also a ton of social politics in play too, so you'll need to know who to talk to and how to treat people to get what you'll need to play your break out. While this is all going on you'll still need to keep up appearances so guards don't become suspicious of you, which means adhering to the strict schedule set for the prisoners as well as performing mundane tasks like working out or doing laundry. -JN

Fire Emblem Heroes, Free - Forum Thread – With an enormous cast of characters spanning more than 25 years of releases, Fire Emblem always seemed like a safe candidate among Nintendo's many properties for a free-to-play mobile conversion. The real question was in how much of the franchise's legendary strategic gameplay would make the trip, and the answer turned out to be a little surprising. Players who just want to enjoy the ride will find Fire Emblem Heroes to be friendly and generous, but if you're looking for something a little tougher, the game is quite willing to provide challenges that will test your wits to their very ends. Bite-sized yet faithful, this is Nintendo's most successful mobile effort thus far for good reasons. -SM

Iron Marines: RTS offline game, $2.99 - Review – Forum Thread – When the company that created three highly successful tower defense games in the Kingdom Rush series got a hankering to try their hand at a real-time strategy game, the result was a fantastic hybrid of sorts that leans more towards strategy but holds onto elements of tower defense. Iron Marines features the same fantastic artwork and high amount of polish that developer Ironhide is known for, a challenging campaign to play through, and a variety of playable IAP heroes that change up the experience in fun new ways. -JN

Kingdom: New Lands, $4.99 - Game of the Week – Forum Thread – What looks like a simple side-scrolling pixel art game actually hides some of the deepest strategy simulation around. Kingdom: New Lands tasks you with building up a kingdom from scratch by managing money and resources in order to enlist the help you need and the materials you need to accomplish that goal. It's also a survival game, as there's a number of ways your game can go south if you don't do the right thing, and death is frequent and abrupt. That's part of the fun though as with each game comes new knowledge which leads to an even better subsequent game, and it's a very satisfying experience. -JN

Sid Meier's Civilization® VI, Free - Review – Forum Thread – The biggest surprise for us this holiday season was the sudden appearance of a full-blown iPad port of Civilization VI. It's the real deal game, with nothing missing short of online multiplayer. Better yet, it's totally free to try for the first 60 turns, which is more than enough to go through the entire tutorial and get a feel as to whether or not you like the game. If you want to play more, the full game unlock is $59.99 (although as of this writing it's on sale for $29.99). -EH

Warhammer Quest 2, $4.99 - Review – Forum Thread – It's not a mystery why the Warhammer Quest games shine so brightly past so many of their Games Workshop inspired siblings. Xcom style combat with with a loot plundering dungeon delving fantasy theme is a great combination. This game does a great job of making you feel invested in the characters in your party. Levelling and equipping them and hoping they don't die a horrible death will keep you hooked. Despite a checkered launch, the second game in the series quickly received some greatly needed patch attention and is now worthy of its predecessor. Keep an eye on this one in 2018 because a big update has been announced for February including new classes and a new campaign. -AF

---

HQ Trivia, Free - Forum Thread – While it falls a bit outside of the gamer-y games we typically post about on TouchArcade, HQ Trivia has taken the world by storm. It's an incredibly fascinating format, which feels like being in an episode of Black Mirror. Basically, at set intervals throughout the day you get a push alert that a new show is starting, you join up and play a trivia game with hundreds of thousands of other people watching the host and answering the questions in real time. We're probably going to see loads of knock-offs next year, and it'll be interesting to see how others iterate on the HQ Trivia formula. -EH

---

If you'd like to check out lists from previous years, we've been putting together these best-of roundups since the beginning of TouchArcade. It's actually super interesting to go back and look at these, particularly as the platform has evolved over the years. Titles that knocked our socks off in 2008 are almost laughable to look at in 2017, and I'm sure that will continue in future years as the App Store thrives.

Here's our previous lists:

It's wild to think that next year will be the tenth year of doing these lists. I can't wait to see what 2018 has in store for us. The plan for next week during the iTunes freeze is we're going to slowly drizzle out our personal top ten lists, so if you don't see a game in this list, there's still a chance it'll pop up somewhere else. After that, the last of our year-end coverage will be our Game of the Year awards. What were your favorite games of the year? Let us know in the comments!