The idea behind the TouchArcade Game of the Week is that every Friday afternoon we post the one game that came out this week that we think is worth giving a special nod to. Now, before anyone goes over-thinking this, it doesn't necessarily mean our Game of the Week pick is the highest scoring game in a review, the game with the best graphics, or really any other quantifiable "best" thing. Instead, it's more just us picking out the single game out of the week's releases that we think is the most noteworthy, surprising, interesting, or really any other hard to describe quality that makes it worth having if you were just going to pick up one.
These picks might be controversial, and that's OK. If you disagree with what we've chosen, let's try to use the comments of these articles to have conversations about what game is your game of the week and why.
Without further ado…
Hoggy 2
This week marks the release of Hoggy 2 (Free) on mobile, an excellent game in its own right, but more importantly it also marks the return of Raptisoft to the App Store! For those who don't know Raptisoft is a solo indie developer who has been making games on desktop even before the iPhone was released. He got in pretty early in the world of mobile with the release of the original Hoggy (Free) in November of 2009, and then went on to release several awesome games, including the bonafide cult-classic Solomon's Keep (Free). Sadly, several factors led to Raptisoft having to take a hiatus from development for a few years, leaving a planned new Solomon game and several other projects on hold. Thankfully, all that stuff is now behind him and Hoggy 2 is a triumphant way to return to being an active mobile developer.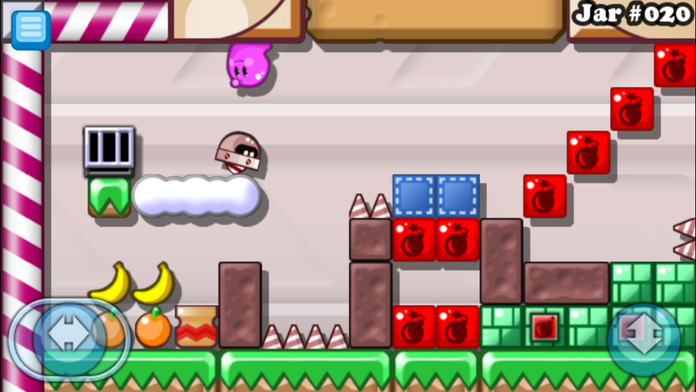 Hoggy 2 follows closely in the footsteps of its predecessor. It's a puzzle platformer where you play as a married couple of pink… blobby things, and you can move left and right freely or tap the right side of the screen to flip the gravity. You can't jump in a traditional sense and you'll need to rely on a variety of special power-ups to allow you to defeat enemies and move past certain block types. This is a very puzzle-centric puzzle platformer. The goal of each level is to collect all the fruit spread around which allows you to obtain a key, and further levels in the game are gated off depending on how many keys you have. You'll continue on through more than 200(!) levels in an effort to save your blobby pink children from the evil moon men who have captured them.
But wait… there's more! Hoggy 2 isn't just 200+ hand-crafted levels, but there's a full-blown level editor included too and since the game has been out on desktop since April there are already tons of user-created levels to check out. The editor works really well on touchscreen, allowing you to drag and drop pieces one-by-one to a specific spot or choose and item and draw continuously with your finger. It's like finger painting your very own levels, and you can place a bunch of stuff and then instantly jump in to play test it yourself, and just as instantly jump right back into the editor to make changes. That is the most important thing with level editors in my opinion, as it can be quite tedious to iterate on a creation when you have to wait for a level to load or jump back and forth between menus. Raptisoft totally nails it here.
Finally, Hoggy 2 has an extremely generous pay model. It's free to download and supported by ads, with a one-time IAP of $4.99 to completely disable them. Even as a free player you're welcome to create, share, and download as many user-created levels as you want, but you'll need to create a Maker Mall ID in order to share your creations with the world. But again, that's free to do and just requires an email address. There's no reason not to check out Hoggy 2 if you enjoy a good puzzle platformer, and now that this has released Raptisoft is going to update his existing catalog on mobile to make them 64-bit compliant. After that, it's on to the Solomon's Keep remake that has been in the work for a long time. I'm ecstatic to have Raptisoft back in the mobile fold and absolutely adore Hoggy 2, so go check it out!