The idea behind the TouchArcade Game of the Week is that every Friday afternoon we post the one game that came out this week that we think is worth giving a special nod to. Now, before anyone goes over-thinking this, it doesn't necessarily mean our Game of the Week pick is the highest scoring game in a review, the game with the best graphics, or really any other quantifiable "best" thing. Instead, it's more just us picking out the single game out of the week's releases that we think is the most noteworthy, surprising, interesting, or really any other hard to describe quality that makes it worth having if you were just going to pick up one.
These picks might be controversial, and that's OK. If you disagree with what we've chosen, let's try to use the comments of these articles to have conversations about what game is your game of the week and why.
Without further ado…
Sid Meier's Civilization VI
As iOS hardware has gotten more capable over the years, you often see people wishing we'd get ports of some of the more recent console and PC games on our favorite portable devices. Unfortunately, with the way free to play has taken a hold of the App Store, and with iOS devices needing to be capable for day-to-day usage for a plethora of things other than gaming, that dream hasn't really taken off yet. Bigger games can tend to wear a device's battery down quickly, and although iOS device specs are impressive it's not always possible to dedicate all that beef towards running a single game. And of course, the kinds of prices developers would need to charge in order to make ports of recent games feasible isn't really what most mobile game players are willing to spend.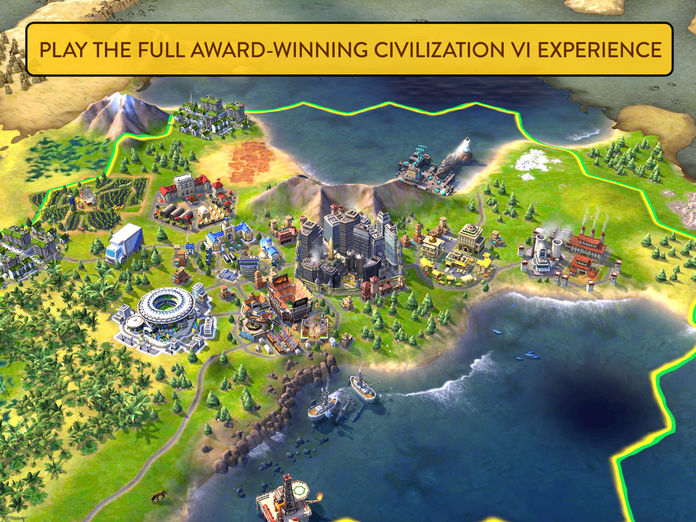 The tide is slowly turning though, as not only have a lot of smaller indie developers decided to port their existing console or PC games to mobile but a few of the bigger companies are trying it out as well. We were treated to Codemasters' absolutely fantastic 2014 racing game GRID Autosport at the end of November, and just this week we received an even more unexpected treat with Aspyr bringing Firaxis Games' full Sid Meier's Civilization VI (Free) from desktop to iPad. While GRID was impressive being a game as recent as 2014, Sid Meier's Civilization VI only launched in October of 2016, just a little over a year ago. Impressive stuff.
Of course there are some concessions bringing a game like this to the iPad. For one, the graphics have been downgraded in order to provide a more stable experience. It's certainly not terrible looking or anything, but if you're someone who plays on the desktop version with visuals maxed out you'll definitely notice a difference. The other big concession is that… well, that's kind of it. This really is the full-blown game from desktop. It's missing some expansion content that will likely come at a later date, but this is really and truly Sid Meier's Civilization VI that you can pack up and take with you anywhere. It's amazing.
You can find out just about all you need to know about Civilization VI in Eli's 5 star review from earlier this week, so I won't go into a ton of detail here. However I think (and hope) this might be the turning point for more big-time premium releases on iOS going forward. Civilization VI is not messing around with pricing either, as the regular price is the full $60 that is is on other platforms, which is pretty much uncharted territory on mobile, though it's currently available for 50% off as a launch sale. If Aspyr and Firaxis are able to get a decent return on investment in bringing this full game to mobile, hopefully that will open the floodgates for even more amazing experiences to come to the iOS platform.