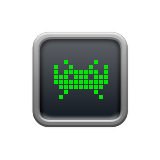 We figured with the launch of the iPhone 3G S and the introduction of the $99 iPhone 3G, the number of iPhone users will have grown massively just over this past weekend. As a result, we expect we'll see a number of new visitors looking for the best iPhone and iPod Touch games available in the App Store.
While we compiled a list of some of the best games from 2008 back in December, we haven't done much of a wrap up since.
So, here's list of notable games that have been released in 2009. It should be a great list to catch up on some of the best titles this year. Game titles link directly to the app store. Most review links contain gameplay videos.
Required Reading
It's hard to come up with a must have list for the App Store, but you should be familiar with these titles that seem to have already become App Store classics.
Cheap Fun
Some solid titles at bargain bin prices.
Other Notables
Big Brands
Retro / Classics
Only on iPhone / iPod Touch
Some standout titles that use the iPhone / iPod Touch controls in a unique way that couldn't easily exist on most other platforms.
Be sure to check out our 2008 Holiday "Best Of" list (prices listed in the 2008 article may not be accurate any longer).