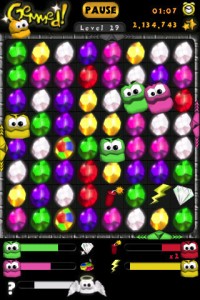 I'm not sure what possessed Wasted Pixel to work on and release a Match-3 game into the App Store… because if they'd have asked me before hand, I would have told them to forget about it.
Well, it's good they didn't ask me, because Gemmed! [App Store] is a very fun and refreshing take on genre, and here's the reason why: The goal of the game is not to match-3.
The goal of this game is to get each colored monster on the board to their respective exits. Monsters act in one predictable behavior: they will eat adjacent gems of their own color, and by doing so, they move one step closer to their exit. Your job is to manipulate the gems around each monster in order to lead them to their exit. You accomplish this, of course, through Match-3.
The distinction may sound subtle but for me it was the difference between actually playing a game vs. just killing some time. The game also adds special power-ups and good and bad monsters which help/hinder your progress. The goal itself gets far more difficult as they add more monsters at opposite ends of the board. Meanwhile, the position of the exits also make a huge impact on your gameplay options (near the bottom of the screen is much harder).
While we've included the developer's gameplay video below, I highly recommend just downloading the Lite version [App Store] and giving it a spin. The Lite version is a very good representation of the full game with a sampling of levels. It skips from level 1 to level 5 to level 10 and so on. This gives you a chance to explore the harder levels.
My main criticism of the full version is the pacing of the game. The difficulty ramps rather slowly, so you will find a single game lasting you 20-30 levels. Of course, you can easily stop and resume at any time, but I'd enjoy being able to start at a higher difficulty.
The full version of the game has just gone on sale to $0.99 until February 1st. Normal price is $2.99.
App Store Links: Gemmed! Lite, Free and Gemmed!, $0.99 (On sale until Feb 1st)