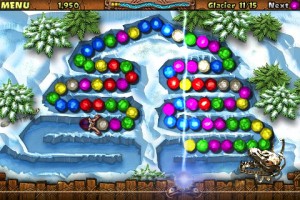 I'll admit that I'm a little late on posting a review of PlayCreek's latest game, StoneLoops of Jurassica [App Store]. I've got a good reason though… I can't put it down. They've somehow managed to re-invent the marble shooter genre to create a game that really must be experienced to fully appreciate (And at 99¢, why wouldn't you?).
When it was first released, I wrote it off as yet another clone in a long line of mediocre Zuma clones on the App Store. Imagine my surprise when I discovered that Stoneloops! of Jurassica actually made Zuma look like the mediocre clone in comparison.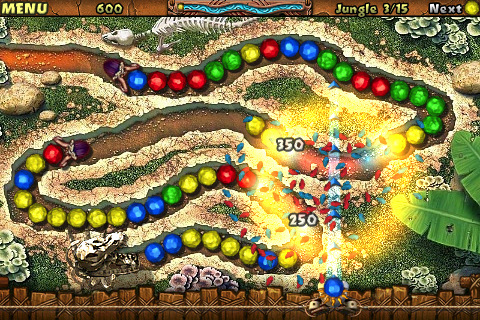 The concept of the game is simple, and anyone who has played a similar game will know how to play instantly. Stones of various color are shot from the bottom of the screen, when they connect to the existing incoming line of stones to form a match of three, the group explodes. If removing that group of stones creates matches from the surrounding stones, you can score multiple combos if you're good at planning ahead with your stone placement.
There are two variations on the gameplay included in StoneLoops! of Jurassica, Classic and Grab 'n' Shoot. In Classic mode, you're forced to shoot the random  colored stone that gets loaded in your shooter. In Grab 'n' Shoot, as the name would imply, you grab a stone from the game field, then shoot it somewhere else to sort the strings of stones into matches. Both game modes are equally fun, but I've found myself leaning more towards preferring Classic mode.
StoneLoops! of Jurassica also comes with a beefy system of power-ups that can be picked up to provide assistance in dealing with the oncoming invasion of colored stones. These power-ups can assist in destroying stones, changing their colors, and either stopping or reversing their advancement.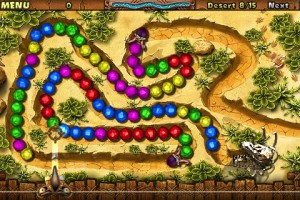 I'm happy to say that StoneLoops! of Jurassica has a well designed difficulty curve. In playing through it, I found myself only needing to redo a few levels, although I had many close calls. Aside from a solid foundation of well-executed gameplay, PlayCreek also added a heaping helping of secondary features to add depth to the game. Included is an achievement system with awards based on both performance and collecting items. As you clear the strings of stones, gems appear that can be caught with your shooter that serve for score and achievement fodder. While these sort of incentives are becoming standard in many iPhone games, the oddest inclusion is the home upgrade system.
As you progress through the game, your jungle hut is upgraded after completing sets of levels. For instance, you start with just a basic hut and bridge system, and after clearing a few levels you install some swanky hand rails. This isn't explained at all in game, but hey… who doesn't like upgrading their house?
At the current "Grand Opening Sale" price of 99¢, it's not hard to find a reason to pick up StoneLoops! of Jurassica. The game is a ridiculous value with complete soundtrack, excellent graphic design, 75 levels of incresing complexity through five different environments, achievements, power-ups, the confusing house upgrade system, etc.
There is a ton packed in to this game, and while I haven't quite made it all the way through yet, I have a feeling StoneLoops of Jurassica is going to join the ranks of games on the iPhone that I can't help but finish because it constantly keeps me coming back for more.
Game Details

Name:

StoneLoops! of Jurassica (v1.0)

Price:

$0.99 [Buy]

Developer:

PlayCreek

Size:

15.0 MB

Device:

Tested on iPhone 3G
StoneLoops! of Jurassica sets the current standard for fantastic match three marble shooting games and is hard to pass up at the promotional price. It's incredibly fun, and comes packed with enough content to keep you busy for quite some time.