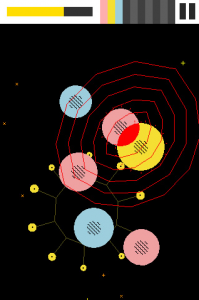 After our profile of Owen Goss earlier this week, some commenters were insistent that "new and original" was the way to find success in the App Store.
While Steph Thirion's original game Eliss may have seen some moderate exposure after having been nominated for GDC Mobile's Innovative Game Design award, it's still far from being a App Store success story despite it's unique design.
We reviewed the game back in March and found to be a wonderful game.
Simply stated, Eliss perfectly demonstrates what iPhone gaming can be. It's a highly challenging game that's near impossible to put down and it could not exist on any other platform.
Thirion has just put out a Lite version of Eliss which offers you 3 levels of the multi-touch game. The game presentation is sparse, however, so new players may be a bit lost at first.
The game is separated into levels in which planets appear. Like colored planets can be combined to make a larger planet (pinch) or pulled apart to create smaller planets (spread). The goal of the game is to eliminate the planets by dragging them into the "squeezars" (think black…err…multicolored holes) of matching size and color that blink in and out of the universe. After a set number of planets have been eliminated it's on to the next level. And the most important thing to remember? Don't let planets of different colors touch!
We recorded this gameplay video of the Lite version as it's much easier to see than to explain:

[ Full HD version | Low Bandwidth version ]
The first three levels included in the Lite version just introduce you to the very basics of gameplay, while the full version continues to introduce new and challenging elements as you progress. The full version of Eliss remains available at $2.99 and we still highly recommend it.
App Store Link: Eliss Lite, Free, Eliss, $2.99