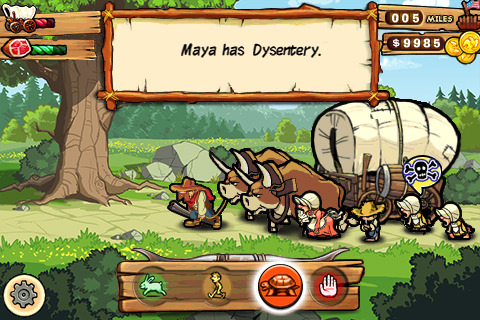 Gameloft's take on The Oregon Trail [App Store] has finally arrived in the App Store this morning. We previewed this classic game back in February and found that despite the modern touches, it remains loyal to its original gameplay:
Some readers fond of the original expressed concern that Gameloft's iPhone offering might be simply an Oregon Trail-themed string of mini games. This is not the case. The Oregon Trail for the iPhone is, at its core, the original game given a makeover as well as a series of tweaks and enhancements that help bring the title forward 30 years for today's mobile gamer.
Gameloft streamlined the initial setup for the expedition and added more events along the trail to keep the game interesting.
The official release description offers the following features:
All of the decision-making and problem-solving fun of the original game, plus additional parameters to take the Oregon Trail experience even further than you've played before.
8 skill-based mini-games, including 2 accelerometer-based challenges: hunting, fishing, river crossing, rafting, wagon repairing, telegraph, berry picking, and gold panning.
Random events (disease, bandits, hitchhikers, etc.) faced by real pioneers increases the challenge.
Side-missions add more excitement to your journey, affecting your westward trek.
Prepare for your departure: Select the members of your party, choose your departure date and purchase supplies.
Gameloft provides an official trailer which shows the variety of events in the game:
Our own HD video of the game shows the early gameplay:

[ Full HD version | Low Bandwidth version ]
Based on our brief time with the game, we do feel that fans of the original will enjoy this modern take.
App Store Link: Oregon Trail, $5.99