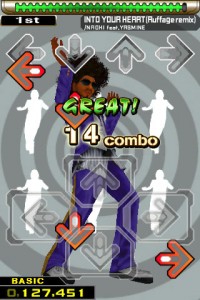 Konami's DanceDanceRevolution S [App Store] has finally arrived in the U.S. App Store. Konami the Lite version back in January but the Paid version had been nowhere to be found.
The worldwide sensation that started the dance game craze – hits the iPhone/iPod touch!

Hear the rhythm and tap your touch screen on stage! The controls are simple – the challenge is rocking to the beat with the upcoming arrows coming from the bottom of the screen!
The game offers a remarkably authentic DDR experience and fans of the original will likely be pleased. The full version of the game is said to have 25 total songs which have been fully listed in the forum post. The default unlocked songs are listed here:
AFTER THE GAME OF LOVE 1/2/6/8 – 105bpm
Beautiful Inside (Cube::Hard Mix) 2/4/7/9 – 110bpm
Brilliant 2U 3/6/6/10 – 150bpm
escape 3/5/7/11 – 140bpm
A Geisha's Dream (Ruffage Remix) 3/6/9/10 – 140bpm
HANA RANMAN -Flowers- 3/5/7/11 – 160bpm
INTO YOUR HEART (Ruffage Remix) 2/4/8/11 – 135bpm
Mess With My Emotions 3/5/6/11 – 130bpm
SABER WING 4/8/10/13 – 74-222bpm
TRUE LOVE 4/4/8/10 – 188bpm
This gameplay video is from the Lite version which remains available in the App Store:
App Store Link: DanceDanceRevolution S Lite, Free, DanceDanceRevolution S, $6.99