Retro gaming fans will be pleased to hear that, at long last (after five weeks in the approval queue), Madgarden's Choplifter-inspired rescue action shooter Saucelifter [link] is now available in the App Store.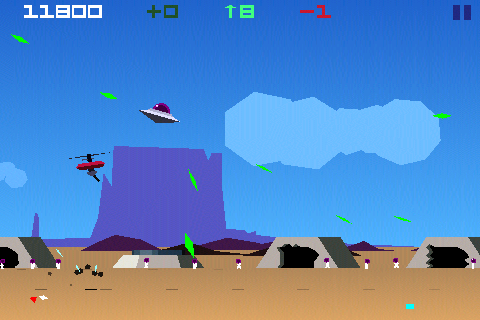 A peaceful interstellar mission-gone-wrong has left your crewmates stranded, and in the hands of an aggressive Earth military! Now, your mastery of superior flying-saucer technology is their only hope for survival.

Will you rescue the helpless captives and beam them home to safety.. or will Earth's mechanized military madness result in your total destruction?
Gameplay involves flying your saucer to the Earth prison barracks, blasting open the doors, picking up your captive crewmates, and dropping them off at the transporter where they're beamed safely back to your alien world.  This is made challenging by evil Earth forces, including tanks, laser turrets, and flying attack drones.  As can be seen in the demo video, the action can get pretty intense.
Features as listed by the developer:
Addictive, pick-up-and-play action (no annoying dialogs or interruptions)
Silky-smooth, crisp vector graphics
Dynamic stereo sound effects, and lots of 'em
Accelerometer-controlled flying saucer! (what else do you really need?)
Easy auto-calibration of tilt controls
Superior alien 3-way touch-firing technology
Easy-to-follow Tutorial Mode
Multiple difficulty levels
High scores
Listen to your music while you play
Author Paul Pridham indicates that a version 1.1 update adds skyline variation (night / day), new enemy superguns, and various graphics and sound updates and will be submitted next week.  And he assures us that the updates won't end there.  (There's even talk of extra secret sauce…)
Granted, I'm a rather die hard retro gaming fan, but I've had the release build of Saucelifter on my iPhone for a month and a half and, right now, it's in my personal top-five.  It is a retro title, but its solid action should appeal to many action gamers outside of the retro camp.
See our gameplay video and decide for yourself.

[ Full HD version | Low Bandwidth version ]
Thinking the game was on the verge of going live, we posted a review of this release version back in March.  Have a look.
App Store Link: Saucelifter, $1.99