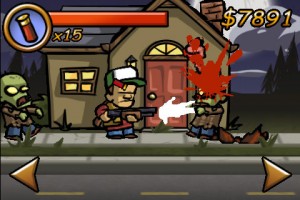 We last looked at Zombieville USA when it was first released in mid-February.
The survival shooter has since rocketed up the charts to the top 10 position in the App Store, and for very good reason. Despite its seemingly simple gameplay, Zombieville actually requires some strategy to progress and is a whole lot of fun.
Last week, Mika Mobile updated the app with a number of requested improvements including:
Two new zombie types that appear in high levels
3 different difficulty choices
Pause button
Improved firing controls
Weapon balance tweaks
A Lite version has also bee introduced [App Store] which gives you a single level to play to get a feel for the mechanics. If you haven't tried this game yet, we give it a solid recommendation.
App Store Link: Zombieville USA, $1.99