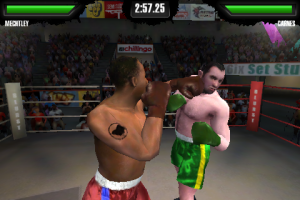 Chillingo has released this exclusive trailer video for the upcoming Touch KO boxing game for the iPhone. This ambitious project has been in the wings for some time. We interviewed one of the developers Adam Mechtley back in April.
Of interest from the interview was the attention to details in the game and use of motion-capture animation:
In terms of content, we are pushing a lot of detail. Each character is about 3500 polygons and uses actual motion-captured animation. We also have some nice gameplay features to add detail. For instance, we modulate the fighters' speeds based on their stats, so a fighter with high agility has a higher base attack speed. The fighters become tired and attack slower if they throw too many punches or the fight drags on too long, so they become more vulnerable to counter-attacks. On the other hand, you can mitigate this by training up stamina.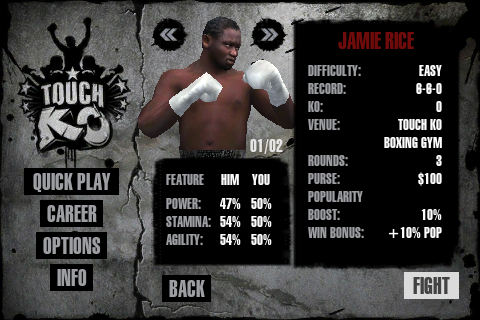 Here's a list of features provided by the developer:
Customize your boxer's appearance with dozens of equipment and tattoo options
Additional content packs coming soon!
Quick-Play mode lets you get in a quick bout on the go
Compete for title fights in Career Mode, rising through the ranks from amateur to champion
Intuitive, easy-to-use controls
Accurate scoring uses real boxing rules
Online leaderboards and achievements
Crushing knock-out punches
Random opponent generator creates hundreds of possible opponents
Play your own music from your iTunes Library
Last we heard the game was due for a June release.