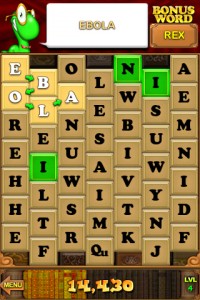 PopCap's Bookworm [App Store] is to word games as Bejeweled 2 [App Store] is to match three games–often imitated, never duplicated. Prior to Bookworm's arrival, every other word game was a mere steward to the throne. After hours of playing the new iPhone port of this PopCap classic, I can confidently say there is a new king in town.
Bookworm uses the same formula of most word games, offering a field of random tiles from A to Z, (with 'Qu' combined in to one tile) that players must search through to find words. The tiles are large enough that accurately tapping them with your finger isn't an issue and you can then either select the rest of your word by tapping adjacent tiles or dragging your finger through them. Lex, the Bookworm mascot accompanies you throughout the game, showing you the score of the current word you have selected. Tapping the selected word removes the tiles from the board. Lex eats them, and sometimes offers a definition of the previous word as more tiles fall from the top.
The length of the word you just entered determines the type of new tiles that are spawned. If you manage to find a huge word, green, golden or diamond-like tiles will appear. Using these special letters to create other words sends your score skyrocketing. Each word fills up Lex's bookshelves, represented below the play field along with your current score. Fill up a shelf and you graduate to the next level, picking up a snazzy new title on the way.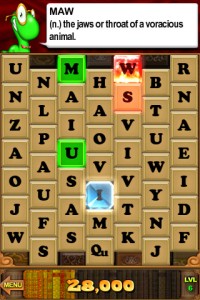 After you rank up a few times, a new type of letter will appear: The dreaded burning tile. These tiles start at the top, and slowly burn their way towards the bottom with each word that doesn't include the flaming letter. If one of them reaches the bottom and sets your library on fire, it's game over. These tiles can be cleared like any other letter on the board by using them in a word. The shorter the word you enter, the higher the risk of new tiles being on fire. This makes for a fun game play mechanic which forces the player to either search for longer words, or risk the consequences in dealing with an inferno closing in on Lex's books.
If you can't find any words, shake the iPhone a few times and Bookworm offers you the chance to scramble up the tiles. While shaking things up might save you from being stuck, it also clears all the bonus tiles and adds a few fire tiles. Depending on your luck, shuffling the tiles can work out very well for you, or put you in a worse situation than you were in before.
Bookworm comes with two game types, depending on the pace you prefer. Classic mode has no time penalties, and is perfect for analytical word game players who enjoy searching endlessly for the longest words or planning ahead to have tiles line up for even longer words. This game mode is also great for playing while you're doing something else, but have a few moments here and there to find a few words.
If you prefer a more frantic pace, Timed mode will be more your style. Letter tiles will spontaneously catch fire, and have to be dealt with accordingly to protect Lex's library. Initially the tiles take quite a while to be set on fire, but as you level up, the flaming tiles come at you faster and faster. It doesn't take very long until timed mode will have you desperately searching for any word–regardless of length–as long as it puts out a few fires.
The best part though? Unlike an increasingly large number of iPhone games that completely lose your progress when you get a call or need to quit the application, Bookworm saves everything. I really do mean everything, including remembering the tiles you had selected when you resume your game. On top of this, Bookworm keeps two separate save states for each of the game modes. PopCap really went the extra mile to guarantee that Bookworm is a game you can pick up and play whenever you only have a few seconds, or if you're sitting down for a word-finding marathon.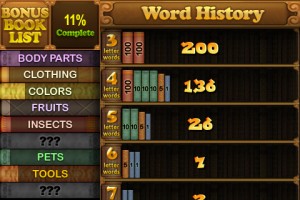 The pacing of the game is excellent and has a very fun feel to it. Bookworm also keeps track of your overall statistics, recording your best words, scores, and highest ranks. It even includes a word history so you can see how many three to twelve letter (twelve letter!?) words you've found complete with a brief listing of the words you've used recently from each word length.
As cliché speaking to the "polish" of a game has become, it's hard to come up with a better way to describe the highly refined game play in Bookworm. It's no surprise either; Bookworm has been on nearly every platform imaginable starting with the PC over six years ago. Even after playing the game when it first debuted on PC and several other platforms, I still find myself going back to Bookworm on my iPhone to see if I can beat my previous high score.
While there are word games on the App Store that offer similar game play–and even some fairly obvious clones–none really compare with the complete Bookworm package as it has evolved over the years. While there is no lite version currently available, PopCap has both an online flash version of the game, and demos you can download on the same page for both the PC and Mac.
Game Details

Name:

Bookworm (v1.0)

Price:

$4.99 [Buy]

Developer:

PopCap Games

Size:

9.0 MB

Device:

Tested on iPhone 3G
Bookworm is one of the best iPhone word games available. While $4.99 might seem a little pricey when there are similarly structured games for less, the quality and replay value of this long-running game really shows and it comes highly recommended.
This review was written by Eli Hodapp, a guest contributor at TouchArcade.