While we were busy covering Apple's WWDC in San Francisco, SGN released their air combat title F.A.S.T. — Fleet Air Superiority Training [App Store] for the iPhone and iPod touch. We've finally had a chance to spend some time with this rather impressive title.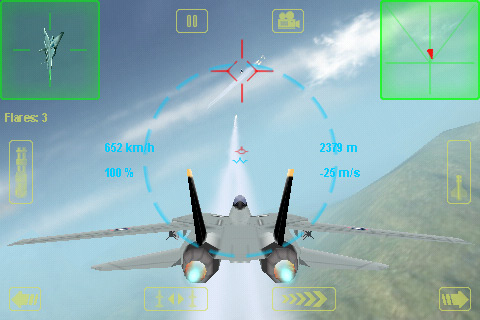 A flying shooter very much in the spirit of the popular Playstation franchise Ace Combat, F.A.S.T delivers iPhone aerial combat action in spades.  The game dispenses with any real storyline, takeoffs, and landings, putting the player in the thick of the action from the start of each mission.  There are 30 missions of increasing difficulty in all and a nice variety of aircraft to choose from (three available initially, with a total of 10 unlockable through mission progress), such as the F-4, F-15, F-16, Eurofighter 2000, F-22, and even a "secret" plane only accessible through successful victory in the "Insane" difficulty missions.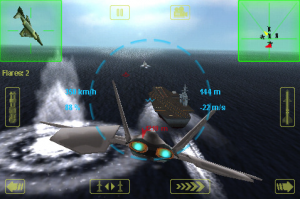 F.A.S.T. throws the player into the thick of an aerial combat scenario involving multiple closing enemy targets over a variety of ground environments.  The combat arsenal includes radar guided and heat seeking missiles for long-range attack, 20mm miniguns for close-range dog fighting, and flares for dodging in-bound enemy missiles.  The game features accelerometer aircraft control that is pretty much perfectly implemented — it's just exactly right, surprisingly so.  And while it does not provide an X-Plane-style true-flight simulation experience (nor does it strive to), it's more involved flying than more casual air comabt games, such as Top Gun.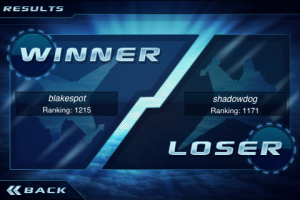 Aside from player vs. AI, the game offers both (online) WiFi- and (local) Bluetooth-based multiplayer in head-to-head and 2-on-2 arrangements.  In my experience battling online combatants over WiFi, I've seen gameplay that is smooth and responsive, with no dropouts.  And, I have to say, waxing the tail of online players is a pretty satisfying experience (I hear it's possible to get waxed yourself, but I've never experienced it…).
We first caught wind of this title early last month, when SGN had a somewhat different release plan in mind.  But as SGN's Dan Brazelton points out in our forums, this initial release provides the aforementioned 30 missions, head-to-head, and 2-on-2 play.  But when "the war breaks out," a free update will allow players to use their skills in "the war."  It seems much larger scale multiplayer action is in store this summer.  But even if the war were not headed our way, F.A.S.T. is meaty enough to stand, as is, on its own as a solid aerial fighter. Perhaps the most convincing endorsement comes from Sci Fly 2 developer Josh Rosen:
I'm the developer of SciFly, so I guess I'm a "competitor." But, even I'll say this game is great 🙂 It's definitely the first practical (aka fun) mutliplayer iPhone game to actually hit the store, congrats developers!
Ace Combat fans, this game is for you.  And anyone else who enjoys a little modern day dogfighting action will likely find F.A.S.T. — Fleet Air Superiority Training worth the price of admission.  The game is currently available for a limited time price of $4.99 (standard price is $9.99).
See the developer's game trailer for a closer look.
App Store Link: F.A.S.T. — Fleet Air Superiority Training, $4.99 (limited time)

SGN and a dozen other companies are presently sponsors of this site, but that does not affect our choice of coverage or influence our reviews.