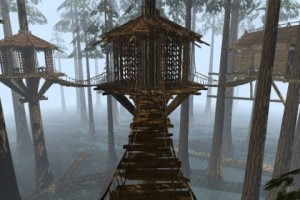 We first reported on Cyan's iPhone Myst port back in August of last year. The game was released to the App Store tonight for $5.99. [link]
For those not familiar with Myst, the game was first published for the Mac in 1993 and was both a critical and commercial success. While technologically rather simple from today's standpoint (mostly static images), the game's graphics and soundtrack were remarkably immersive. The game starts you on a strange island where you must explore your surroundings, solve puzzles and figure out the backstory.
The interface is entirely point-and-click driven. Switches, clues and other hints are explored by tapping on interesting items on the screen. There are also many puzzle elements that must be solved in order to complete the game.
I've included a video of the iPhone version of the game. Rather than going straight to the gameplay itself, however, I've started the video at launch, as the Cyan logo animation itself brought back many a memory. Video of the game itself starts around 2 minutes 25 seconds in. (Note that subsequent launches bring you straight into the game.)
The game naturally uses the touch-screen as the interface which seems perfect for the game. Back in the day, simple mouse clicks were all that was required to play.
It's hard to predict what gamers without any Myst background will think of the game, but I'd like to think the iPhone version of the game will breath new life and interest into this ground-breaking game. A 1994 Wired article describes the phenomenon:
The reason for all the success was stunning in its simplicity: Myst was good. Myst was better than anything anyone had ever seen. Myst was beautiful, complicated, emotional, dark, intelligent, absorbing. It was the only thing like itself; it had invented its own category.
Note that the game is 727MB in size due to all the artwork, video and sound effects.
Perhaps of interest to Myst veterans as well as those new to the game is Cyan's "Making of Myst" video, which was part of the 1993 CD-ROM release. See the 13-minute video in two parts: part 1, part 2.
App Store Link: Myst, $5.99