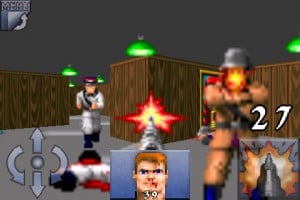 Id software's Wolfenstein 3D Classic appeared in the App Store last night.
Achtung! Play the legendary original game that launched the First Person Shooter genre. You are OSA super agent B.J. Blazkowicz and you must escape from Castle Wolfenstein and defeat the twisted Nazi regime!
The game offers all six original episodes with 60 levels for $4.99.
Wolfenstein 3D was first released in 1992 for the PC and was a massive success and has been rightfully described as the grandfather of first person shooters.
Game controls have been adapted to the iPhone and four different layouts of touch screen controls and the option to use tilt controls for either movement or turning. In practice the controls work reasonably well. Touch controls are demonstrated in this gameplay video:

[ Full HD version | Low Bandwidth version ]
App Store Link: Wolfenstein 3D Classic, $4.99