Mobile developer Digital Chocolate has brought an iPhone version of its mobile handset title Brick Breaker Revolution 3D [link] to the App Store. Brick Breaker is an Arkanoid style game with a bit more depth than most.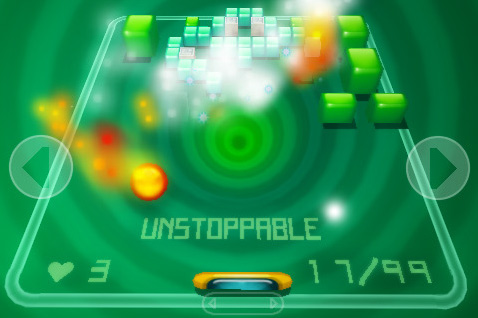 It's a 3D, touch-controlled affair that presents a colorful array of blocks set at an angle.  In Classic Mode, the game plays pretty much like the typical Arkanoid clone–use the paddle destroy bricks with a ball, collecting power-ups along the way.  In this mode you move through 99 levels and then face a final boss.  It's well done and fun, but it's the Revolution Mode that sets this game apart.
In Revolution Mode, each level contains one key brick.  When that brick is destroyed the top and bottom walls vanish and a paddle appears at the top of the screen, mirroring the one on the bottom.  You can continue destroying bricks by keeping the ball on the screen with the paddles, but letting the ball pass out of the playfield slides the action upwards or downwards to the neighboring level.  You can move freely up or down from any level once its key brick is destroyed, and at the top of each series of levels lies an animated brick boss that must be defeated.  There's also a Time Trail mode where it's a race against the clock to destroy the most bricks.
Brick Breaker Revolution 3D is a clever twist on the formula that's actually a lot of fun.  Revolution Mode is truly unique and the in-game power-ups are some of the most interesting I've seen in a title of this sort.  The following gameplay video of the mobile version gives a feel for the action, but with less polish than the superior iPhone offering.
According to Digital Chocolate, a free "lite" version will be available soon.
App Store Link: Brick Breaker Revolution 3D, $5.99