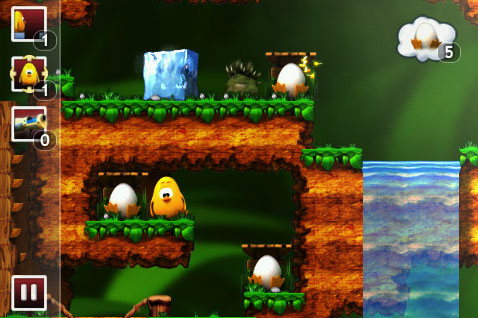 Two Tribes' long awaited iPhone version of Toki Tori [$4.99] has finally arrived in the App Store tonight. The game was originally released for the Gameboy Color back in 2001 and has since been updated for the Wii and now the iPhone (published by Chillingo).
Toki Tori is a puzzle platformer in which you control the actions of a cute chick across 80 levels. The goal of each level is for Toki Tori to free his siblings who have been mysteriously kidnapped. Each level has a number of eggs that much be rescued and a certain inventory of tools to accomplish that task. The levels consist of a side-scrolling platformed environment with ladders, obstacles and enemies. Solving a level involves finding a way to collect all the eggs without getting stuck or killed by an enemy. Judicious use of your special tools is the only way to succeed.
Tools come in a variety of shapes and sizes including: a telewarp, bridge builder, freeze-o-matic and more. You are only given a subset of tools and a limited number of each to solve the levels and you will find yourself starting them over to get it right.
The game is beautifully animated and offers a wonderfully polished experience. I found the controls to be very well adapted to the iPhone touch-screen. Simply tapping on a location will move Toki Tori to that spot. The final version's controls have seen significant improvements in sensitivity over the early beta version we looked at in February. In the end, the controls stay out of your way and let you focus on the game itself.
In the past, I've criticized iPhone puzzle games for being too easy and too short. Balancing level gameplay is an art and Toki Tori clearly benefits from being a long established game. While I haven't yet completed the 80 included levels, I found the difficulty ramped up nicely and provided some particularly imaginative challenges. Unlike some games the solutions to the more advanced levels weren't always immediately obvious which make for a much more enjoyable and rewarding experience.
This gameplay video shows two levels: an easy and a more difficult one.
[ Full HD version | Low Bandwidth version ]
The game is divided into four distinct worlds. Once the normal levels in a world are complete, you may proceed to the next world. Meanwhile, a number of "hard" levels from the completed world are also unlocked and can be played at any time.
Overall, Toki Tori is a wonderfully challenging puzzle game that has been very well adapted to the iPhone and comes highly recommended.
App Store Link: Toki Tori, $4.99