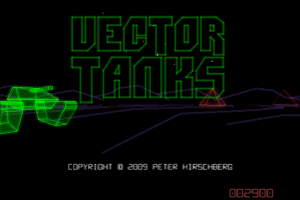 When I think back to the magical wonder that was the '80s video arcade, certain particular sights and sounds spring to mind as I gaze nostalgically out towards the horizon.  I recall the ever-present tinkle of the change machine.  I recall the electric glow of all CRTs ablaze with pixellated goodness.  I recall the ozone charged smell of electric wonder in the air.  And I recall certain key games.
Robotron.  Ms. PAC-MAN.  Space Invaders.  Tempest.  Donkey Kong.
And Battlezone.
Yes, Atari's first-person, vector-based tank shooter all wrapped up in a wonderfully imposing up-right cabinet.  Battlezone.  I feel like it's part of my DNA.
And so does Retro Overlord Peter Hirschberg.  This is why Battlezone is proudly represented in his amazing Luna City Arcade located in Northern Virginia.
Now, one would think that a man with such a magical cave of retro delight in which to daily dwell would be satisfied with the arcade goodness found within.  But not Peter.  Peter got greedy.  He wanted the goodness of Battlezone in his pocket–with him at all times.  What's more, he has attempted to one-up the legendary green-and-black tank shooter and inject a bit of modern vitality into the tried and true formula.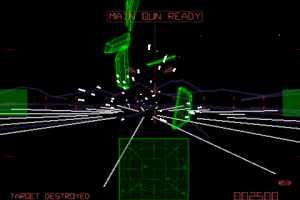 Well, there was no stopping him.  Peter Hirschberg has just released Vector Tanks [App Store] for the iPhone and iPod touch through the iTunes App Store (published by Chillingo).
Vector Tanks feels like Battlezone 2.0.  It's a first-person 3D tank shooter with a vector-based battlefield display akin to the classic we know so well, but it features certain modern touches that give the game a fresh, new feel while not sullying the core retro gameplay.  The notable enhancements include semi-translucent vectors that glow with a warmth reminiscent of arcade CRTs of old, a smooth inertial "sway" to the motion of the tank, and a convincing jolt resulting from the shockwave of near-proximity explosions.  It all fits together nicely.
The game places the player on the aforementioned vector-based battlefield in a futuristic tank.  The landscape is littered with simply-shaped obstacles that can be used to shield against enemy fire.  The on-screen enemies are tanks and jeeps.  Tanks are slow-moving and dangerous, capable of firing volleys of shells in an attempt to turn your tank into slag.  Jeeps are more nimble and provide a bonus when destroyed by weaponry or crushing impact.  (With every third enemy tank destroyed, the difficulty moves up a notch.)  Several power-ups are strewn about the battlefield and can be collected to aid in battle: Rapid Fire helps with moving targets, Nuke delivers a powerful blast that can take out several enemies at once, and Shields protects against enemy fire and the Nuke shockwave, but not land mines.  Oh yea–watch out for the land mines.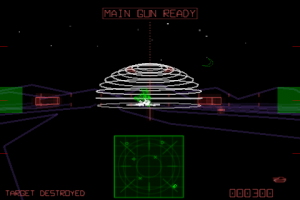 In the absence of a cabinet with dual analog sticks, the tank is controlled by way of touch control at the left and right edges of the iPhone's screen; each thumb controls a set of tracks.  Both left and right thumbs forward = full speed ahead.  Left thumb forward, right thumb back = a quick turn to the right, and so forth.  Firing is handled by a tap to the center reticle.  The controls work quite well and do a fine job of preserving the unique dual-handed control of the arcade classic.
I've spent over a week with Vector Tanks and can say that it brings quality arcade action that takes me back to the arcades of my youth.  It includes most of the charm of the original bundled up in a polished, "future retro" package that's hard to put down.  While it's is a no-brainer for retro fans, any iPhone gamer who enjoys a nice action title may find Vector Tanks worth a look.
Have a look at our gameplay video to get a feel for the action.

[ Full HD version | Low Bandwidth version ]
Peter indicates that a future version will feature helicopters and possibly rocket ships, so those lamenting the game's lack of aerial opponents (the Battlezone UFO!) need not fret.  What's more, frequent updates is the plan, says Peter.
Game Details

Name:

Vector Tanks (v1.0)

Price:

$2.99 [Buy]

Developer:

Peter Hirschberg / Chillingo


Size:

3.3 MB

Device:

Tested on iPhone 3G
Vector Tanks is a Battlezone remake with a "future retro" feel.  It's great fun and is perhaps the most enjoyable retro offering to be found in the App Store.