Adult Swim has been on a roll lately publishing flat-out incredible games, and if you thought Monsters Ate My Condo [99¢] great, the publisher has somehow managed to ever-so-slightly one up themselves with Bring Me Sandwiches!! [99¢]. The premise is simple, and delightfully ridiculous– You play as Jimmy Nugget, a hapless employee of Stuffy's, a local fast food joint. For some reason, you and you alone have been put to the task of feeding an evil alien would-be overlord named Gourmo who has the strangest taste in sandwiches.
The idea is to make a sandwich by collecting ingredients from around the platform level. You can start with a basic cheese sandwich, but, you can add non-standard fillings like burgers, apples, oranges or hot-dogs. And then, what the heck, let's throw in: Wine bottles, flowers, tins, potted plants, beach-balls, and much much more. Each time you add another filling, your sandwich gets taller, until you're carrying around a giant towering treat filled with the craziest ingredients. A sandwich meter of sorts lets you know when your sandwich has grown large enough to please your alien master.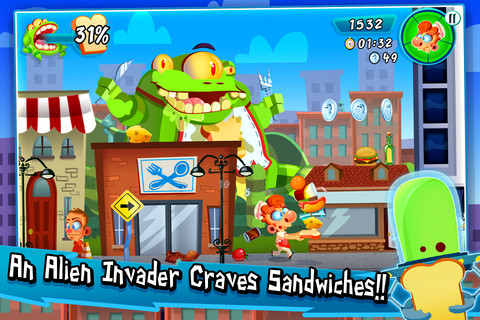 Soon, Gourmo starts placing more specific food orders: "Bring me …1 sandwich with a cat!"  The particulars of his order are displayed as icons at the top of the screen which are ticked off you collect them.  To find the ingredients, you must explore the busy levels, which include buildings to climb, bouncy roofs, clothes-lines to cross and water hydrants to smash so you can ride the gushing water into the air. There's dissolving clouds, larger items to push around, locked sections that need a key and even hidden areas to discover. And all this time, you're still carrying around a massive sandwich, which expands and contracts depending where you are.
Once the food is prepared, you take it to a waiting alien representative, who transports it up to the obese invader Gourmo, who devours it hungrily. There's an indicator on the screen which always points towards the alien, so it's easy to find. As the game progresses, you're put to the task of building multiple sandwiches as well.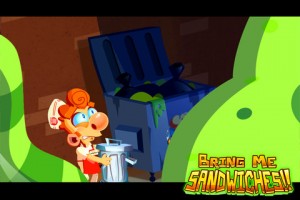 When you make a second sandwich, your slice of bread gets larger, so you can dump bigger fillings on it, like crates, televisions or satellite dishes. Apparently Gourmo isn't too fussy about his nutritional intake. When you make a third sandwich, you're given a VERY large slice of bread, which allows even larger fillings, like say, a fridge. I won't keep listing the ingredients, but according to the "Food Journal" in the main menu, there's heaps of fillings to discover.
After a while Gourmo starts asking for other things to eat; like cake. But food's not the only thing to collect. There's also 29 alien spaceship parts to discover (one per stage) and presumably these help you reach "the mysterious Planet Nuzz" mentioned in the iTunes description. There's also special pick-up items like the alien rocket pack for double jumping, or a food-magnet to attract out-of-reach items.
It"s not always easy to walk around with a towering sandwich. Birds and dogs are attracted to it and a protesting hippie might hit you with his protest sign, knocking  some fillings off your bread. Naughty children might fire slingshots at you and beware of dogs and nasty little girls on pogo-sticks. These hostile characters can all be slapped onto a large piece of bread and fed to the alien. Problem solved.
After being hurt five times, such as falling into a hole, your health meter is depleted and the stage ends. Although you can restart from a checkpoint, with the same score, stage time and sandwich percentage you possessed back at that point. Discovering a red heart will restore some health. Or, If you collect 50 coins, you earn one heart. With all the sandwich making, it's easy to forget this is also a platform game.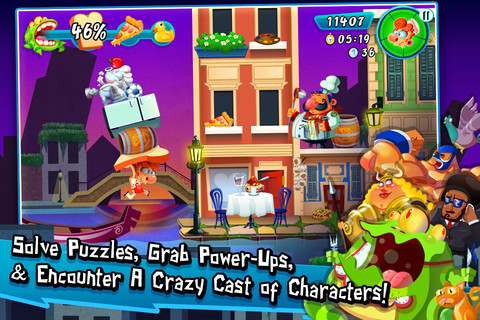 There are four chapters to play (USA, Mexico, Italy and Japan) with 29 stages in total, including four auto-scrolling stages which play like an endless runner in a platform game. Each chapter has one bonus stage to unlock. The chapters are all uniquely themed. For example, the Mexico chapter has a desert setting with prickly cacti and kicking donkeys, with Mexican-style music, bandits in sombreros and Mexican food items to collect, like tacos. The last stage in each chapter is a larger level, which can't be by-passed with the skip level function. Plus there's a special final chapter, at the very end of the game which you need enough spaceship parts to unlock.
Instead of a star-scoring system, three slices of gold bread are awarded for each level, based on specific targets for score, time taken and number of food spills. These three goals can each be achieved in different runs, which provides an incentive to replay levels. Although just by reaching the end of a level, you unlock the next level, even if you fail the time, score and spill targets.
Three control options are provided, including tilt, touch (choose one half of screen for running and the other half for jumping) or buttons. The developers even get bonus points for implementing buttons that can each be individually re-positioned on the screen. Although strangely, when the game starts you're presented with two control options to choose from, as this wonderful button option is not mentioned. Although it's available, in the options menu. My only criticism is that the jumping is a bit awkward when bouncing off someone's head, sometimes requiring multiple attempts. Apart from this the controls work perfectly fine.
We gave the last wacky game from Adult Swim, Monsters ate my Condo, a five star review, and Sandwiches!! is another quality well-constructed release, with similarly vibrant graphics. It's amusing, varied, highly entertaining and excellent value for a dollar.  Also, for you hopeful iPad owners out there, while an iPad version isn't available (and also isn't currently in the works, per the developers) it also hasn't been ruled out as a future possibility.