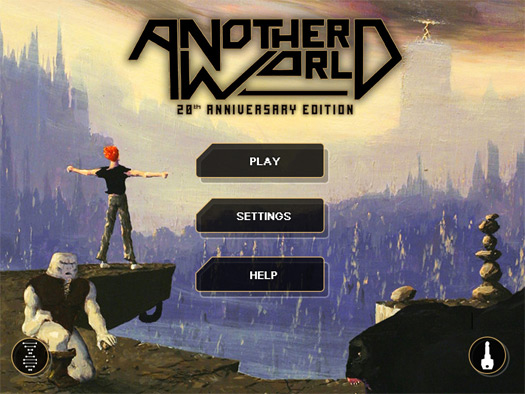 It was back during GDC 2011, during Eric Chahi's Classic Game Postmortem presentation, that we first learned that the French gamemaker would be bringing a 20th Anniversary Edition of his acclaimed classic Another World to iOS [App Store] with the help of DotEmu, through BulkyPix. A few days back, I interviewed Chahi and shared his thoughts on the coming App Store release and the iOS game scene in general. Since then, I've been playing through the release version of Another World for iOS and wanted to take the opportunity to post an early review of the title so readers know what they've got to look forward to on the game's September 22nd App Store launch day.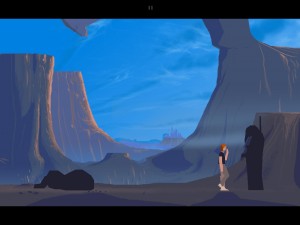 Another World (which was also known as Out of this World in certain markets) is a cinematic platform adventure originally released on the Amiga back in 1991. The game tells the story of physicist Lester Chaykin. As is illustrated in the game's introductory sequence, Lester returns to his underground laboratory one stormy night to continue work on a particle acceleration experiment. Shortly after the experiment is underway, a bolt of lightning strikes the laboratory, sending millions of volts into the accelerator and resulting in the freak teleportation of Lester to a far-away alien planet.
After close run-ins with razor slugs and a particularly intimidating muscular beast, Lester is taken prisoner by the humanoid aliens indigenous to the strange world. With help from a friendly, captive alien, Lester endeavors to escape from the underground prison to which he was taken, a feat which proves to be extremely challenging given the dangerous environments and creatures (and puzzles) that lie ahead.
Reviewing the iOS version of Another World is really a process of reviewing how it has faced translation from the desktop computer of years past to the multitouch devices with which we game, today. It's not so much a task of reviewing the game itself, and that is because, over the years, it has received such consistent exceptionally high ratings from gamers and the media alike. With its rotoscoped polygon-based animation overlying ethereal and stunning backdrop artistry (wrung from a mere 16-color palette), the game was unlike anything anyone had ever seen before. And, crucially, beneath that oh-so-pretty face is real platform puzzle challenge. Many gamers, myself included, consider Another World to be one of the best games ever published.
Far from the 320×200 pixel, 16-color screens of the machines for which Another World was originally released are the Retina displays and 10-inch iPads we've come to enjoy. In bringing the game to iOS, the designers have introduced much more striking "HD" graphics that take advantage of our evolved technology and feel fully present-day. For those wanting to relive the more sparse and pixellated visuals of the original, a two-finger swipe down the screen will toggle in the oldschool graphics at any point in the game. All of the original sounds have been re-mastered, as well, for a deeper sensation of audio ambience.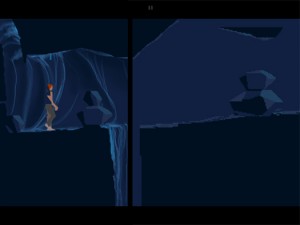 As for screen swiping, it's not just about toggling graphics modes. The iOS version of the game features two different methods of control. The most basic is an on-screen D-pad and action button that can be positioned anywhere on the screen and works about how you'd expect. The developers spent a great deal of time engineering a much nicer method of control, as well. The "Touch" mode was designed to add virtually no clutter to the game screen. Lester's movements are controlled in this mode by tapping on — or dragging outwards to — the left or right side of the display. A double-tap sends him into a sprint, and sliding up or down initiates a jump or a duck. One difficulty the developers faced in engineering this mode was the number of simultaneous actions that Lester can perform, such as running and jumping. To make this work, once Lester is running, a swipe up the screen will send him into a long jump — there's no need to sustain a touch to keep him in motion. The Touch mode is by far the superior method of control. It's simple and succeeds in making the game feel as if it might have been originally written with a touchscreen in mind.
Getting through Another World is not a cakewalk; it's a difficult and challenging game. To mix this up a bit, the iOS version features three difficulty settings. There's Normal mode, which is easier than the original, with simplified movements that make toe-smashing razor slugs, for instance, a pretty fluid affair. Next is the aptly named Hard mode, which is equivalent to the original game. And then there's Hardcore mode for those veteran gamers that feel pretty proud of themselves for having made it through the original already.
The following video shows the entire intro sequence and a few minutes of early gameplay on an iPad 2 at Normal difficulty. The gameplay sequence has been intentionally diced up a bit to prevent spoiling some of the very early puzzles for those new to the game.
As a gamer who's not too proud to admit to having greatly enjoyed but never actually completed Another World, I am excited to have the chance to do so on my favorite game platform. I'm definitely more excited, however, that so many new gamers out there will have the opportunity to get to know this title in such a well-executed translation. And, that's absolutely what the iOS version is. It is immediately evident that a great deal of time and care went into making this 20th Anniversary Edition of Another World such a beautiful fit for the iOS platform, and I consider it to be one of the absolute App Store must haves.
I encourage anyone wanting to learn more of the game's history and early development details to watch Eric Chahi's GDC 2011 presentation Classic Game Postmortem: Another World / Out of this World, hosted at the GDC Vault. We will bring an "it's out" reminder when Another World lands on the 22nd at a price of $4.99.