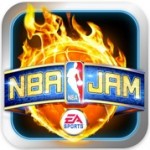 Back in the early and mid-90s, NBA Jam exploded in popularity in arcades and on home consoles everywhere with its over-the-top take on NBA basketball. Throwing down monster dunks, catching fire, and trash talking your opponent were all things that made NBA Jam such a blast back then, and that core entertainment was successfully transitioned into the franchise reboot that hit consoles in late 2010. Now an iOS version of NBA Jam [$4.99] based on the 2010 console version has hit the App Store, and despite a couple of omissions it overwhelmingly satisfies in every way if you were ever a fan of the original NBA Jam series.
The familiar NBA Jam gameplay returns here featuring a relatively rule-free game of 2-on-2 basketball with an emphasis on pulling off insane physics-defying dunks and ridiculous shooting sprees. Besides adhering to a 24 second shot clock and a no goaltending rule, pretty much anything goes in NBA Jam. Any player that makes 3 consecutive shots will then be "on fire" and during this time will make a higher percentage of shots, have unlimited turbo, and be immune to the goaltending rule. If you've played NBA Jam in the past, not a lot has changed here, but that's most likely for the best.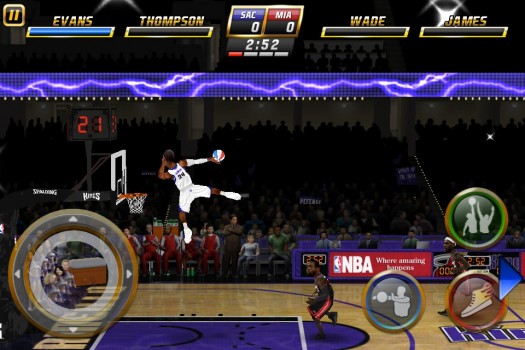 Visually the game looks stunning on iOS. The original NBA Jam was the first sports game to use character sprites that were digitized versions of real life players. The new NBA Jam takes this a step further, using 3D polygonal models for player bodies but high resolution photographs of the actual players' faces for the heads. The effect is hilarious, and a bit creepy, as the various NBA stars make an assortment of funny or intense faces during play. The player models are fluidly animated and the overall performance is fairly smooth, though there is the occasional stutter. The game is also optimized for Retina Displays, and looks especially crisp running on these devices.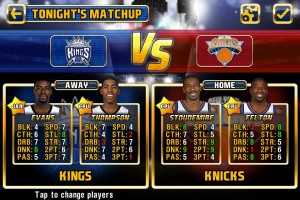 The iOS version of NBA Jam uses a smart control system that works incredibly well. There's a virtual stick for movement, a turbo button in the opposite corner, and based on if you're on offense or defense a button for passing/stealing and another for shooting/blocking. Using your limited turbo meter not only increases your player's speed but also enhances your other moves, like turning a simple steal attempt into a full-blown shove of an opponent. This is cleverly and elegantly handled by holding down turbo and then sliding to one of the other two buttons, which works great in practice. There's a training camp mode which will run through all of these controls, as well as an alternate gesture-based control option, but the default controls were easy to pick up and are my preferred method.
The meat of NBA Jam is the Classic Campaign mode that has you choosing your favorite team and taking on the 29 other NBA teams as well as several additional hidden teams. You can choose 2 players from a pool of at least 3 current NBA players from every team, and some teams have 4 or 5 players to choose from initially. Every team also has at least one unlockable player, which typically includes classic players from the respective franchise and even some mascots. Besides the Campaign mode there is also a Play Now option that will throw you into a one-off game just for fun.
Sadly there is no sort of multiplayer component to NBA Jam on iOS. As fantastic as single player is, any multiplayer-centric game like NBA Jam is always best with human competition. An online multiplayer mode would be ideal, and even a local multiplayer option would suffice, but sadly it isn't in the cards for this initial release. Also missing are any of the Remix modes or mini-games from the console releases, which is a shame as they would seem a perfect fit on this platform.
At the end of the day, NBA Jam on iOS is just what you would expect it to be – a wonderfully updated version of the classic arcade game. It's missing some features, most notably a multiplayer component, but the single player offering is more than competent and a lot of fun. There are a ton of in-game achievements to earn which unlock loads of hidden players and special features like "Big Head" mode or alternate basketball styles. There's also an option to purchase these hidden goodies via IAP if you're unwilling to work for them through regular play. Players in our forums are loving this game as well, and if you were a fan of the original or just a fan of arcade-style sports games then NBA Jam is an easy recommendation.