Kairosoft's Pocket Academy [$3.99 / Lite] takes the best and worst elements of its prior releases, Game Dev Story [$1.99 / Lite] and Hot Springs Story [$3.99 / Lite], blends them together, and then applies them to a school environment. It's not remarkable on the surface. It has the same cutesy art direction used in these prior games. It also re-hashes a lot of mechanics, continues to shroud a lot of its crucial foundational and tycoon elements in mystery, and it controls like crap. But it does still deliver in the form of the studio's should-be patented carrot-on-the-stick design approach and fleshes out a crucial, but oft-forgotten, driver in all simulation games: the people.
Provided the gun to my head wasn't real, I'd argue until the moment the trigger is pulled that Pocket Academy isn't as much of a school simulation as it is a over-the-top student simulation game because, at the end of the day, this game isn't about how pretty your school is or about how many trees you've planted. It's about what your kids are learning and how well they can prove that your system, either totalitarian or social-focused, works.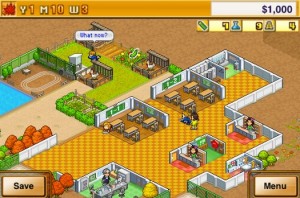 On the top end, this game puts you in the shoes of an administrator planning out the next greatest thing in education. You're in charge of building classrooms, researching new facilities like restrooms, libraries, and nurses' offices, and creating statistical bonus zones with bonus-laden objects like shrubbery, trees, or even rocks. Chaos is frowned upon, as the careful planner who puts like buildings together can string together dramatic bonuses to student-side factors like learning and school spirit.
This is where the one real rub rears its head: Pocket Academy isn't good at telling you what is "good" versus "bad." It hides a lot of bonuses and mechanics from viewing. The only solid way to find out what works well with something else is via experimentation, which is a costly and horribly slow, pace-chewing endeavor. Even buildings and research subjects have terrible descriptions that can lead to hair-pulling strategic misfires.
Like Game Dev Story understood, to some extent, the development process and let you lead it, Pocket Academy allows you to do the same with a school. The end product is a well-learned student body, and you get several years to turn kids' mush into iron. Ample classrooms and activities are a necessity to do this, as well as teachers. Students come in once a year or through transfer if your school is attractive enough. Teachers, on the other hand, need to be hired and then leveled up. Satisfactorily, you are put in charge of what statistics receive boosts upon leveling up, which lets you mold a curriculum that feels… well, you. It's pretty redeeming building something in your own image.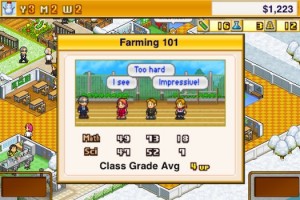 Science, math, English, Spanish, and history are the subjects each student can learn. As they sit in classrooms, they'll automatically receive points in these areas. As they roam and participate in other facilities, they'll earn additional points that you can then, in turn, spend in classrooms to boost their core attributes or apply to research. This is the push and pull: do you spend these points in order to get more areas for interaction, or do you spend them to educate the students more?
I usually go with the latter since it's the real meat of the game. In order to attract more kids, you need to compete in challenges based on those core subjects. The higher the IQ, the likelier they are to pass the challenge. Also, schools as a whole are rated and a lot of funding, as well as those ratings, depends on end-of-semester test scores. The goal is to be the best school in the world, so the students actually matter. But the other decision is a fundamental one, too. Without interaction, you don't get points for research or tests.
Weighing these two options, as dull as they sound, is entertaining. I think it helps that there's always something you could be doing in the process or, at least, building towards.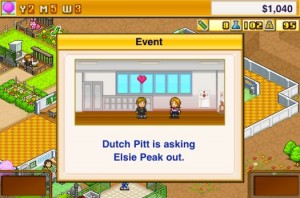 To its credit, Pocket Academy really fleshes out who these kids are. They're all named and you deal with them over the course of several years. You'll also see them make friends, attempt to date other students, get frustrated, succeed, and fail. Students all have certain disposition traits, too, which factor into how they learn and where they learn the best. As if that wasn't enough, there are also activities they favor which you can cater to by building clubs or more facilities.
After spending years with these kids and using them in the right way, you do tend to bond with the character, as silly as that sounds. But it's that connection, as flimsy as it is, that makes this simulation game much more satisfying than most. You have a stake in the systems, at least.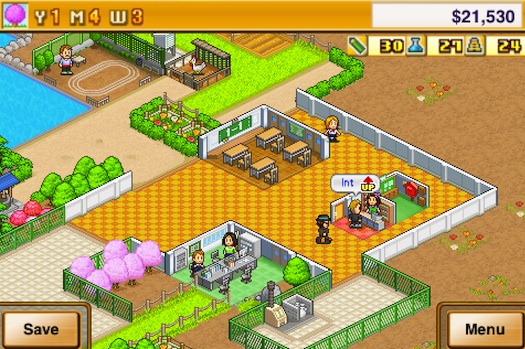 I could go on and on about the systems at play, what you can do, and the billions of little things that you'll end up doing to improve the experience. There are tons of mechanics and little touches at play in Pocket Academy, all of which are satisfying to some extent to use, deal with, or think about. The game starts brutal, so be prepared.
I have a feeling that, like Game Dev Story, you'll run out of meaningful things to do in Pocket Academy after an epic several-year run but I don't think that hurts. As it is, there are plenty of things — perhaps too much in places — to do for several, several hours. For those of you who didn't download sight unseen, no worries: this is a sharp little simulation game packed with depth and, oddly enough, a little emotion. It might be hard to penetrate at first, but stick with it and you'll be rewarded with an awesome game.