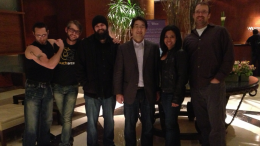 It's Monday, we're all back in our respective homes, and have just posted the remainder of the GDC straggler stories. PAX East and GDC were both insanely busy this year, so much so that we found ourselves wondering if we were actually posting too much event coverage. Regardless, good times were had by all, and like every year, it was awesome to see both familiar faces as well as meeting all sorts of new people at GDC. I've said before, and I'll say it again, if you're involved in game development in any way, GDC is an event you need to get to. GDC 2014 will take place from Monday, March 17 to Friday, March 21, 2014… So plan accordingly!
PAX East kicked off with a bang as Blizzard announced Hearthstone, a cross platform collectable card game. I got to spend a little time with it, and while I can't really speak to the depth and strategy involved without getting deeper into the game, the production values seemed out of this world.
Word of a few game releases also came from the PAX expo floor. Ms. Splosion Man got dated, and details leaked on a iOS port of XCOM: Enemy Unknown. Oh, and Ms. Splosion Man was even released while we were at GDC. As an aside, I spent the whole plane ride back to Chicago playing it.
I got a quick look at Magic 2014 at the Wizards of the Coast booth, although I'd be lying if I said I wasn't at least vaguely disappointed with how close to 2013 it is. New cards, sure, but as a long-time Magic player I wish there was more refinements to some minor things that'd vastly improve gameplay for familiar players. Following that, I stumbled across the developers of Organ Trail ($2.99) who were excited to show off a teaser for their upcoming Wizards & Warp Drives, a D&D-style shooter-ish spin on FTL.
We recorded our podcast with me chiming in from Boston, then I quickly hopped on a plane for San Francisco where GDC started. This year we experimented with 100% video coverage, and I think it went really well. The first game we saw was Snow Siege by Milkbag Games which was a crazy mash-up of tower defense, card collecting, and Tetris. From there, Kepa came by to show us Wayward, the entirely randomized roguelike spiritual successor to Mage Gauntlet (Free). I'm particularly excited for this game.
We spent some time with Cubemen 2, and if you liked the original Cubemen ($0.99) you're going to be in for a treat as the theme of the sequel definitely seems to be "even more and even better." If you're into ragdoll punishment, the next Stair Dismount is totally going to be your thing. I mean, punishing your dude in Stair Dismount (Free) was great, so it'd stand to reason that doing anything to that formula is going to be even more fun.
Fans of Knights of Pen & Paper ($4.99) were in for a treat with this GDC as a new update was revealed with all sorts of cool new features. Also, while iMech Online has been in development for ages, it definitely looks like it's getting way closer to release with our hands-on where the developers seem confident that we'll see the game in the wild next month. Oh, and while Magic 2014 and Hearthstone might've been overshadowing PAX East, the talk of the collectable card town at GDC definitely was GRL Games' Rocket Patrol. Oh, and while we don't typically cover kid-centric stuff, Hakitzu is definitely worth a look as it's a puzzle game that actually teaches you how to code.
I've been really stoked for any news on the release of the upcoming Leisure Suit Larry remake, and we got an extensive hands-on at GDC. CEO and Larry enthusiast Paul Trowe walked us through the game, which admittedly might be a little less than work safe in our video. (And as an aside, if Larry is up your alley, take a look at the just-released iOS port of Fester Mudd: Curse of the Gold.)
I was impressed with the demo we saw of Third Eye Crime, as the Spymouse (Free) style gameplay melded incredible well with a noir-theme. Speaking of games with cool atmosphere, Tengami knocked it out of the park with a puzzle adventure game that's actually set in a pop up book. It's really clever how all the interactions both look and feel. Additionally, while the dual stick shooter aisle of the App Store has been a little defunct as of late, we were happy to see some new contenders such as Annihilate which definitely gave us some Geometry Wars vibes.
Las Vegas will be joining the ranks of other iOS board games, which is an always welcome sight with how well they work on touch platforms. From there in our rapid-fire meeting schedule we hopped about as far as you can get from board games to the platformer genre with the sequel to Trace (Free), aptly named Trace 2. Switching gears with something that feels a bit more natural on the touch screen we spent loads of time with Halfbrick's upcoming Fish Out of Water, which puts you in charge of flinging fish for a set of picky judges ready to rate you on your performance. I spent the whole week insisting the game needs more sparkles.
I'm really stoked for the above Breach & Clear, which Call of Duty's Robert Bowling gave us a full walkthrough of. I think this game will be a hit, although it remains to be seen just how well (or poorly) the free to play implementation will be. A similar hardcore-ish title that we saw next was Dead Squared which is a clever combination of roguelikes and first person shooters. …And again, the variety we see at GDC is crazy as just after getting involved in a rogue-like, Brad from Be-Rad Entertainment was standing there waiting to show us AnonA, a game built at a NASA game jam with a gameplay mechanic that hinges on 3D printing.
Oh, and if you, like me, have been wondering what in the world happened to Drifter after they got all that money on Kickstarter… Well, the game has come out of hiding. It looks awesome, and I totally can't wait to play it. We got a fairly extensive walkthrough, take a look:
Be sure to take a look at the video for DeckWar. It's a pretty crazy game that I guess you'd describe as a CCG, but the way to cards link to the gameplay seems really unique. On the subject of unique games, there was also Vitamin Z, which is a fixed position shooter… Except you're shooting fruits and vegetables. From there we hopped over to Stellar Wars, which takes Liv Games' saga of sidescrolling battlers to space. Legendary Wars ($0.99) was great, and if you watch the video, all the improvements will be immediately clear.
Golf Star by Com2uS seemed really cool, as it's your typical golf game wrapped in this whole almost-MMO wrapper filled with items and avatars to unlock. It's all multiplayer-enabled too, so hopefully a community picks up after it launches. Following Golf Star we saw two other super casual titles from Trigger Happy, Feed Frankie and $1 Popcorn, each using swipe controls in slightly different ways.
I'm not traditionally that into sports games, but the above Football Heroes has me super excited. I don't watch football, like, ever, but if you make it arcade-y enough, I'm all over it. I'm also all over Gamevil's upcoming Diablo-like Dark Avenger. It looks awesome, and coupled with a super high frame rate I'm hoping it'll be as fun as it seems.
Drastically shifting genres again our next meeting was with Pixowl Games who showed us a substantial update for The Sandbox (Free). Definitely give that a look if you're into that game. Island Escape seems interesting as well, they take super fast-paced mini-games with an over-arching story. I'm anxious to spend more time with it to see how it all pans out. Oh, and there's even something for Fred fans in the works with Skiing Fred which will join Falling Fred (Free) and others on the App Store soon.
Continuing the theme of sequels and spinoffs is Soccer Rally 2. Check out the above video. Meetings then took another turn to the RPG-side with Pylon, which puts Quantum Squid in the driver seat of making their own Diablo-like. And of course, it wouldn't be a GDC without an awesome Crescent Moon game. This year's was Exiles. Take a look:
Hopping genres as far as you can go once again, the next game on the lineup was Zombie Faceball which combines zombies and baseball. Hey, it could happen? Crystal Siege was the first traditional tower defense game we saw, and its video is totally worth a look as they're doing some neat things.
It was at this point that things were getting pretty late in the day on Friday, so we quickly recorded our podcast which features Halfbrick's Phil Larsen as well as our own Arn, Nissa, and Marianne. We recorded it live, so the quality is a little different, but it's still a good listen.
Once we all got home, we only had a few cleanup stories to post of games we saw really late in the week. The first of which was Bean Dreams, which is the sequel to Bean's Quest ($2.99), a title which is always on any short list of best platformers of mine. We got a look at The Other Brothers which is coming soon, and saved the best for last with five minutes of Oceanhorn. Be sure to watch this:
And last, but certainly not least, if you're interested in the developer side of things be sure to check out the live episode of Walled Garden Weekly. I'm on it, and we're talking about the various aspects of freemium. Alternatively, you could just subscribe in iTunes.
Alright, with this out of the way, now I can finally exhale. GDC and PAX East were awesome. I can't wait for them to roll around next year. Thanks for everyone we met with, my staff who busted their butts on all this coverage, and all of our readers who enjoyed our videos. This has been the craziest ten days in a really long time.