As I've mentioned before, I did a lot of talks at GDC. All of them should eventually be available on the GDC Vault (hopefully for free) if you weren't at the event, it's just a matter of waiting for the GDC teams to do all the video processing and all that fun stuff to get them online. One of my three talks was a panel in the format of a live version of the Walled Garden Weekly podcast.
Walled Garden Weekly is a regular podcast with iOS developers Arash Keshmirian of Limbic and Kevin Pazirandeh of Auxbrain. In this special live edition, they invited both me and Keith Shepherd of Imangi Studios to discuss various aspects of free to play gaming.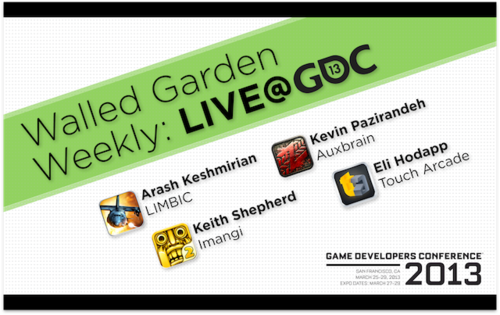 Walled Garden Weekly is typically very developer-centric, but even as a non-developer it's super interesting to get into the head(s) of people who are making the games we play every day. If you like this episode, be sure to subscribe on iTunes.
iTunes Link: Walled Garden Weekly
Direct Link: wgw-23.m4a, 69.2MB