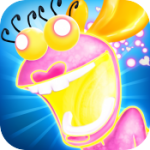 It looks like Twisted Pixel avoided being picked up in yesterda's coming tonight post because they decided to pull the "release everywhere at once" lever instead of letting the game drizzle out all over the world. Regardless, Ms. Splosion Man ($2.99) is now out in the wild. I saw it at PAX East and was totally impressed with what I saw.
Ms. Splosion Man got its starts on consoles, so the name of the game here is definitely "console quality."
Our forum members are digging the game too. We'll dive in a little deeper after GDC madness is over, but if you've been waiting for Ms. Splosion Man, mash that download link.