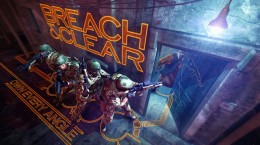 At PAX one of the coolest things I saw at the show was Gun Media's Breach & Clear. Getting video of it on the PAX show floor was a little insane, so we met with Chris of Mighty Rabbit Studios at GDC. The gist of the game basically amounts to you controlling a squad of soldiers to, well, both breach and clear.
It's a turn based strategy game, and the way you control your soldiers is super-clever. You control each unit's movement, and can give them commands to supplement their own individual AI. Like, for instance, you can breach a door, take cover, set your viewpoint to a certain way, and then your guy will take out any enemies he can. Alternatively, you can set different way points for them to stop at, each with different little commands like looking a certain way or even using various types of equipment like grenades.
It still seems early, as there isn't much content to check out in the game yet aside from the brief demo scenarios they're doing. Regardless, the foundation seems incredibly solid and I definitely see lots of cool ways that this game could go. It definitely has all the free to play trimmings clearly visible with all the currencies on the top of the screen, but the developers have been insistent there will be no pay walls or any pay-to-win mechanics.