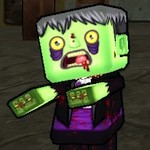 End Boss Games's Dead Squared (working title) is an interesting FPS. It's a rogue-like with DOOM sensibilities that tasks you with killing monsters across a bunch of randomly generated rooms. There's a generous loot component, too, that'll have you picking up a bunch of weapons and crafting power-ups from component parts dropped from the monsters that roam the game's halls. We've got some footage of it below:
Keep in mind this is an early alpha build. All the component parts of the experience are there, but there's a lot of polish still coming down the pipes.
Dead Squared is expected to hit in 2013.