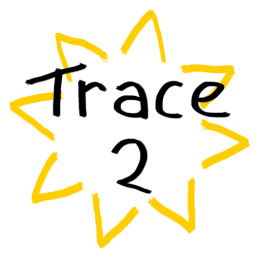 Earlier today we had the opportunity to speak with the developers of Trace (Free) on their new title and sequel, the aptly named Trace 2.
If you haven't experienced this classic (in iOS terms) platformer, we covered its release back in 2008. Described as a 'casual platformer,' Trace had you steer your stickman avatar across a variety of one-screen levels towards a goal, drawing lines across the way to bridge chasms, avoid monsters, and create paths to the finish. Creativity was the key to success, and despite its basic visuals, Trace was a decent platformer for its time.
With Trace 2, the devs appear to have taken the suggestions for a better art style to heart, as this sequel looks quite lovely. A storybook style visual flair, complete with nice pastels adorn the world select screen while each of the levels boast vastly improved graphical quality. Pretty looks aren't the only upgrade either, as each of the worlds in Trace 2 are built around interesting 'hooks' that are neat twists to the standard gameplay. I'm particularly a fan of the levels based on audio cues, which are discussed in our video.
Interested? Hit the play button and check out our brief look at Trace 2. The game looks to be released hopefully in the next few months.