Behold Studio's Knights of Pen & Paper ($4.99) is one of the best tabletop roleplaying-style experiences on iOS, and it's about to get much better. Paradox Interactive has teamed up with the studio to bring the game to PC, Mac and Linux, and in the process the whole game will be seeing a big improvement on mobile with the +1 Edition update. We had a chance to check out the upcoming update, which is going to bring a lot of big changes to the already substantial game.
First up is the Tavern, a much requested feature. Currently, when you hit the party cap of five players you're done—there's no opportunity to change your party around. The Tavern fixes this little problem, letting you move characters in and out of your party. You can experiment with different player and class combinations, particularly nice when you unlock new character classes and want to actually use them.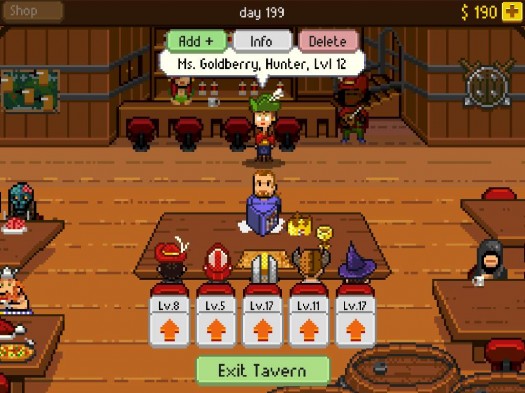 The second big upgrade is the addition of dungeons. No longer will dungeon crawls be limited to single-room jaunts into caverns. You start out with a map of unexplored rooms. As you visit each one, the dice rolls and the result lets you know what you get: treasure, for the particularly lucky, traps for the unlucky and combat and the like in between.
Each dungeon has a boss battle locked behind a door, and a key hidden randomly in one of the rooms. Boss fights are intense, and running away means starting the whole dungeon over fresh. There are three dungeons in so far—fire, ice and sewer-themed—and likely more to come. Dungeon crawler fans will also enjoy one other new addition: random loot affixes.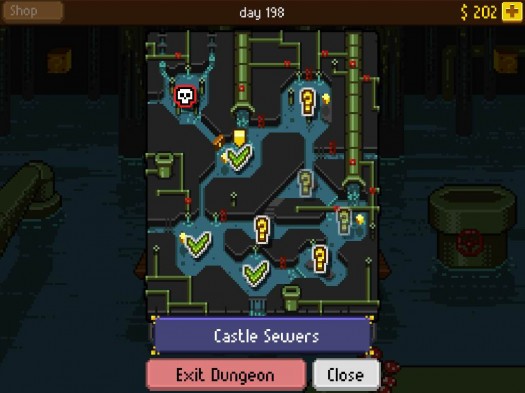 Some of the other changes are a bit further under the hood. The game will be playable in landscape mode, and the team has put a ton of work into adding that visual content for the new view—more pixel art, more visual humour. You'll also be able to save a few clicks – tapping the end point of a journey will take you there without extra stops along the route. There will still be rolls on the way, but it streamlines the whole thing a bunch.
The +1 Edition update is still under development, so features could still change. It will be arriving at about the time Knights of Pen & Paper launches on other platforms—possibly as soon as early summer.