Why hello brand new iPhone 4S owners. Allow me to introduce myself. My name is Eli, I'm 6 feet tall, brown hair, blue eyes, and love long walks on the beach… Wait, wait, wait, wrong introduction. Err, anyway, let's assume you've just unboxed your iPhone 4S, peeled all the plastic off of it, and are currently waiting for it to do its first sync. You looked up "iPhone game reviews" trying to figure out what you should downloaded, and that landed you here.

[Note to current readers: This guide is written for people who just got their iPhone, or are stumbling across TouchArcade for the first time today trying to find games for their new device. If you're a close follower of this site, chances are high that you're already aware of the things I'll be discussing and the games I'll be linking, but you never know, you might learn something!]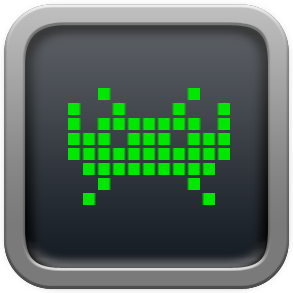 TouchArcade is the largest iOS-specific gaming site on the internet. We've got a whole staff of writers dedicated to finding and reviewing the coolest games available on the App Store, and our forums are widely regarded by iOS developers as the place to be to discuss iOS gaming. Come back often, and I promise we'll always have new and exciting things to check out every time you do. We've even got an app in development which will make TouchArcade-powered game discovery even easier.
Every month we'll do a "Best iOS Games" roundup post that bundles up all the best games that we reviewed in a particular month. These articles are the best place to get started if you want a quick glance at all the best games that have come out, accessible via the Best iPhone Games category link in the far right column. (Or by clicking that link I just dropped.)
We've also done more substantial "best of" roundups at the end of each year, as well as when new devices are released, much like this post. Here's a list of those: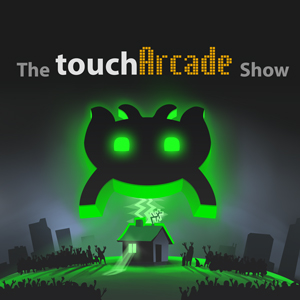 Also, we record not one, but two iOS gaming specific podcasts that we do on a weekly basis. The first, which generally lands early in the week is our "Bonus" show where we'll interview leading iOS developers on their games, as well as their past and future as game developers. Every Friday evening we release The TouchArcade Show proper which is an hour-ish long recap of the games and news of the week. There's four ways you can get our podcast:
Also, if you're new to the App Store, you'll likely be delighted to find out about the incredible culture of sales, freebies, and other promotions of great games. While even new release "premium" games are never anywhere near as expensive as traditional portable console games, if you're careful with following and tracking sales, you can get an unbelievable amount of titles for either free or 99¢. I've written up a handy dandy guide on how to use our sister site AppShopper, as well as the AppShopper App [Free] to basically never need to pay full price for anything– As long as you're patient. With the release of the 4S, and developers scrambling for your dollars, the "Popular Games With Price Drops" section of the site is particularly active lately.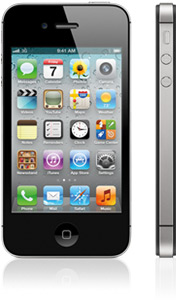 I think that's everything you really need to know to be on your way to being a savvy iOS gamer. And seriously, I can't stress enough how much you really should check out our forums. Our forum community is crazy enthusiastic about iPhone games, and you'll find threads posted for newly released titles before anyone else has posted about those games being available and threads for the best deals, often moments after dropped prices appear on iTunes. It's really pretty incredible.
So now that I've blasted your head full of knowledge, here's some iOS games that'd be a great fit for your brand spankin' new iPhone 4S, or really, any brand new iOS device. Keep in mind this obviously isn't a list of every game you should have, for that check out the previously mentioned Best iPhone Games listing, or stop by the "What Should i Get? thread on our forums where people can recommend exactly what you should check out if you post what kind of thing you're normally interested in.
Graphical Showpieces
Probably the best place to get started is on games that'll truly stretch the legs of the iPhone 4S's dual-core A5 processor. These games are packed with eye candy.
Infinity Blade, $5.99 - [Review] – [Forum Thread] – ChAIR's amazing gesture-based swordfighter which utilizes the Unreal Engine was released last year, but it's still the best way to show off what your iOS device can do. Incredible graphics are paired with a great gesture-based sword fighting system, and constant updates have kept the game fresh. There's even a sequel coming on December 1st.
Dead Spaceâ"¢, $4.99 - [Review] – [Forum Thread] – "Console quality" is a phrase that's thrown around a lot to describe portable games, and really, it's a fitting title for this iOS-exclusive version of Dead Space. Playing in a dark room with headphones makes for an incredibly creepy experience, as EA totally nailed the sound design that has made previous Dead Space titles so awesome.
Real Racing 2, $4.99 - [Review] – [Forum Thread] – A marvelous sequel to Firemint's original Real Racing, which improves upon the first in every way imaginable. A career mode, licensed cars, and 16 player online multiplayer are just a few of the new features. If you've got an AppleTV, it'll even stream wirelessly to play on your TV, among other cool things.
Anomaly Warzone Earth, $1.99 / HD – [Review] – [Forum Thread] – Who knew that turning tower defense in reverse would make for such an incredible game? If you're even vaguely interested in anything to do to tower defense, Anomaly: Warzone Earth needs to be on your iOS device. The mechanics are solid, the atmosphere is cool, the graphics are incredible and it'll leave you wanting for a sequel.
Dark Meadow, $1.99 - [Review] – [Forum Thread] – A wonky combat system is the only thing that has stopped us from fully recommending The Dark Meadow. If you can deal with that, you'll be in for a treat as the atmosphere and story of the game are absolutely phenomenal. If you're a fan of creepy atmospheric games, you'll likely love this one.
SHADOWGUN, $4.99 - [Review] – [Forum Thread] – This game is an entirely formulaic third person cover-based shooter that feels a bit more like a tech demo than it should, but it's still an incredible display of what the Unity engine is capable of. A multiplayer update with no ETA is on the horizon, which would be a welcome reprieve from an otherwise repetitive (but great looking) title.
iOS Classics
On the opposite spectrum from the graphical showpieces are the iOS classics, games which are so casual your grandma could play 'em that are still fun as heck even for stodgy "hardcore" types– And have sold millions of copies.
AB Classic, Free - [Review] – [Forum Thread] – Chances are you've already heard of Angry Birds, unless you've spent the last year of your life living on Mars in a cave with your eyes closed and your fingers in your ears. It's ridiculously popular, and for good reason: The game is incredibly fun, very simple to play, and updated often. I'd start with the original Angry Birds, but be sure to check out the other flavors, Angry Birds Seasons [99¢] and Angry Birds Rio [99¢].
Doodle Jump, $0.99 - [Review] – [Forum Thread] – Before Angry Birds' rise to power, Doodle Jump was king of the App Store. This simple tilt-based jumping game became a party of early iPhone pop culture, getting mentioned in sitcoms, name-dropped on various talk shows, and even appearing on stage at a Lady Gaga concert. A recent multiplayer update made this game even better.
Canabalt, $2.99 - [Review] – [Forum Thread] – While I'm not sure that Canabalt was responsible for bringing the endless runner to the App Store, it did it the best. A great soundtrack is paired with pixel art graphics and gameplay that basically begs for one more play through. If you want a similar game that's fleshed out a bit more with goals and unlockables, Halfbrick's Jetpack Joyride [99¢] is one of our recent favorites.
Fruit Ninja Classic, $1.99 - [Review] – [Forum Thread] – In this game, you pretend your finger is a ninja sword and you slice up fruit. The premise is simple, but the gameplay is basically perfect for these types of touch-based portable devices. Play sessions can last anywhere from a few seconds to a few minutes, and multiple game modes offer something for just about everyone.
Flight Control, $0.99 - [Review] – [Forum Thread] – Single-handedly responsible for popularizing the "chaos management" genre, Flight Control also made "line drawing" a popular control mechanic that's used in a ridiculous amount of iOS titles now. For some additional variety, you can also pick up Harbor Master [99¢] which provides similar gameplay, but with different levels and a nautical twist.
Free to Play
Love it or hate it, free to play games have taken the App Store by storm this year. These games are a little more fun than your average Farmville clone, mostly because they feel like more of a game and less of a money-vaccuuming compulsion loop:
Pocket Frogs, Free - [Review] – [Forum Thread] – In this game, player control a habitat of cute little frogs– Endlessly breeding for new varieties, mutations, and more. Aside from collecting 'em all, Pocket Frogs offers other in-game goals such as a daily challenge to breed a particular frog. Once you get a handle on how the breeding mechanic works, you can have a frog-breeding super-lab up and running in no time.
Tiny Tower: 8 Bit Retro Tycoon, Free - [Review] – [Forum Thread] – From the same developer as Pocket Frogs, this time you're put to the task of acting as a building manager for a sky scraper filled with pixelized citizens (or "bitizens"). Gameplay focuses on building your tower, as well as managing the various businesses and residencies that exist inside your tower.
DragonVale, Free - [Review] – [Forum Thread] – Mixing many of the elements from other popular free to play games, DragonVale is the latest from Backflip Studios who already have an impressive free catalog on iTunes. You create dragon habitats and breed your own colony of dragons, on the search for the legendary rainbow dragon, a rare breed of dragon that is driving players on our forum mad trying to find.
Tiny Farm®, Free - [Review] – [Forum Thread] – Similar to DragonVale and Pocket Frogs, Tiny Farm has a great breeding mechanic which seems to add a lot more depth to the game. There's a hunting system to get mega-rare animals, a super-cute art style, and there's even plans for crazy seasonal ghost animals coming up for Halloween.
Asynchronous Multiplayer
One of the best part about the iPhone is its always-on connectivity which has allowed for the miracle of push notifications. These games all rely heavily on the push notification infrastructure, sending you an alert when its your turn:
Disc Drivin', $2.99 - [Review] – [Forum Thread] – People around here are absolutely obsessed with this game. Imagine a racing game with shuffleboard-like mechanics, tons of power-ups, and push alert based multiplayer. That's Disc Drivin in a nutshell. There's also a ad-sponsored version available, Disc Drivin' Free [Free].
Words With Friends Pro, $4.99 - [Review] – [Forum Thread] – Since we first covered Words With Friends, the game has grown to an absolutely -massive- scale. You now can play cross-platform with Android and Facebook players, and the developers have been acquired by Zynga in the process. If their take on Scrabble isn't your cup of tea, Hanging With Friends [99¢] offers up Hangman-style gameplay and what Chess With Friends [$1.99] provides should be fairly self explanatory. All the versions of these games also have free ad-based versions, but you're better off just buying them as the interstitials can be pretty annoying.
Puzzle Games
The App Store is home to a serious amount of puzzle games of all shapes and sizes. Here are a few of our favorites:
Dungeon Raid, $0.99 - [Review] – [Forum Thread] – As mentioned in our review of the game, with the number of fish in the match three sea, it takes a lot to make one that's just as fun (if not more so) than the match three staples like Bejeweled 2 and other classics. Dungeon Raid accomplishes this by distilling the Puzzle Quest formula down to its basics, and providing match three gameplay that retains its simple nature while offering a shocking amount of depth via random equipment and character upgrades. Also, there's much more to matching than just high scoring, clearing each type of block has a purpose, and the order you clear them in can mean life or death. This game has stolen hours of my time, I can't recommend it enough.
Puzzle Quest 2, $2.99 - [Review] – [Forum Thread] – If you want even more depth than Dungeon Raid has to offer, check out Puzzle Quest 2. It's a great sequel to the original in every way, and it even has a multiplayer battle mode. Multiple character classes add some serious replay value to the game, making this something you can sink days of your life into if it sucks you in.
Monsters Ate My Condo, $0.99 - [Review] – [Forum Thread] – Adult Swim and Pik Pok joined forces to bring us one of the craziest matching games we've ever seen on the App Store. The game requires matching similarly colored floors while appeasing nearby color-coded monsters, each with a more ridiculous super-power than the last. Also, you can score billions if you're good. Billions!
Helsing's Fire, $0.99 – [Review] – [Forum Thread] – Helsing's Fire sends you on a quest to destroy Dracula, placing you in 90 randomly generated, dungeon-like levels across three different worlds. The challenge is to eliminate said beasties by moving your torch about the screen, which casts brilliant beams of light and dark shadows about the play area. It's one of the most unique puzzle games we've played, and several updates has made it even better than when we first checked it out.
Drop7 by Zynga, $2.99 – [Review] – [Forum Thread] – This game came out all the way back in 2009, which is ancient in App Store terms, but I've found myself playing it again and Drop7 is as fun as ever. It's a numerical puzzle game where you've got to drop numeric discs into rows and columns, and when that row adds up to that disc, it disappears. There's all kinds of different tricks and nuances you start to notice as you play, making Drop7 almost perfectly fit the "easy to play, difficult to master" mega-cliche game description.
Other Great Games
I'm not really sure what to categorize these as, but they're some of my absolute favorite games the App Store has to offer:
Superbrothers: Sword&Sworcery, $3.99 - [Review] – [Forum Thread] – If you only ever install one game on your iOS device, let it be this one. Sword & Sworcery is an amazing experience from top to bottom. The best pixel art I've ever seen is combined with a custom-tailed soundtrack to create an iOS title that's as much of an experience as it is a game. The "full" version is universal, but if you don't care about that, you can save a couple bucks by picking up Sword & Sworcery EP Micro [$2.99]
King of Dragon Pass, $9.99 – [Review] – [Forum Thread] – No lie, I've spent more time playing this game than all the other games that we reviewed in September combined. If my exhaustive review wasn't clear enough, here's all you need to know: If you like simulation games, you needed King of Dragon Pass on your iPhone yesterday. I've still got my fingers crossed for an iPad version, but I'm more than happy managing my clan whenever I've got a few seconds to spare on my iPhone.
Space Miner - GameClub, Free – [Review] – [Forum Thread] – Looking back on the game releases of 2010 trying to pick what we thought was the best lead to us continually coming back to Space Miner. We loved the classic Asteroids-style gameplay, the clever storytelling, and the degree of customization that kept us coming back for more through multiple play throughs. Depending on how you load your ship out, the game plays much differently. For instance, you can be a glass cannon prioritizing asteroid-pulverizing guns, or take a more slow and steady approach prioritizing shields and cargo space for huge hauls of ore.
Carcassonne, $4.99 - [Review] – [Forum Thread] – There are many board games that have made their way to the App Store, but Carcassonne is by far the finest. Online asynchronous multiplayer, Retina Display graphics, universal compatibility, and classic gameplay. It doesn't get much better than this.
Spider - GameClub, Free – [Review] – [Forum Thread] – We choose Tiger Style Games' Spider: The Secret of Bryce Manor for our 2009 Game of the Year first and foremost because it's a great game, but also because it perfectly represented the promise of iPhone gaming. A clever method of story telling only provides the player with as much depth as they're willing to get out of it. You can chose to play as a spider, just completing objectives… Or let your human curiosity take control and try to unravel the mysteries of Bryce Manor.
Game Dev Story, $0.99 – [Review] – [Forum Thread] – At first glance this appears to be an abysmal port of a J2ME game… Then you play it. A few hours later you will be looking for your charger to keep playing. In the game you run your own game studio, managing staff, making games, and even releasing your own console. Once Game Dev Story sucks you in, it's impossible to put down. I think this is their easiest game to get engrossed in, mostly because of the familiar subject manner. If you like this style of gameplay, check out Kairosoft's library of games on the App Store for tons more.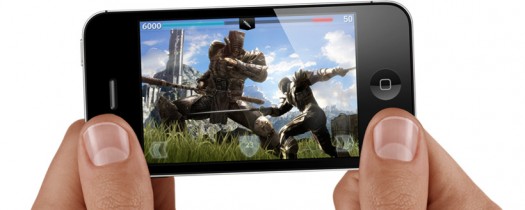 The hard part about putting together lists like this is that for each game I've included, I can think of at least ten (actually, way more than that) titles that are easily worthy of being on any must-have list for a new iOS device owner. So, instead of leaving the typical "Argh! Why is _______ on the list but _______ isn't?!" comments, I'd like to invite everyone to leave comments listing off their favorite games. Imagine a friend of yours just got an iPhone 4S, and asked you what do get. What would you tell them? More importantly, why do you recommend each of these games? A list is nothing without some context as to why they're so amazing!
So, congratulations new iPhone 4S owners. I'm glad you've discovered TouchArcade. Regular readers, I hope you learned at least something new. If nothing else, the launch of the iPhone 4S makes the pool of iOS devices even larger, which only benefits the iOS community as a whole.