After getting together to pick our official 2010 iPad and iPhone game of the year, we also had our writers compile lists of their personal favorites from the last year, and their reasons why.
---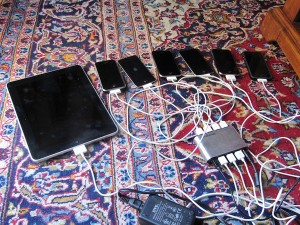 This past year was without a doubt absolutely insane for iOS gaming. Assembling our "best of" lists was an incredible task due to the sheer volume of games released, especially as things ramped up near the end of the year culminating in
quite possibly the craziest Wednesday in TouchArcade history
. The mad rush to play through and review as many of these Wednesday releases as possible between the time they're originally released on the New Zealand App Store and when they appear on the American App Store has made my personal gaming habits a little out of the ordinary, to say the least. My favorite games that I've spent quite a bit of 2010 playing generally are games that offer gameplay that is both conducive to quick plays and drawn out marathon sessions.
I've mentioned it a ton in my various reviews over the years, but more than anything else, I like games that make good iPhone games rather than good games that simply run on the iPhone. For instance, I love that we have highly competent ports like LEGO Harry Potter [$4.99] on the App Store, but I quickly found myself frustrated with its console-style checkpoint based save system which I honestly think has no place on any kind of portable device. When I'm not playing games for TouchArcade, my typical play sessions of games might only be a few minutes long while I'm waiting for something and decide to pull my phone out.
Also, although I don't quite feel as strongly as Brad when it comes to virtual controls, I love games that actually harness the power of the touch screen in ways beyond just plastering a D-Pad and set of buttons on the screen. Unfortunately, this isn't always possible for every game genre, and I can totally get in to virtual controls when they're both necessary and done well.
Anyway, it's impossible for me to list all my favorite games here, but here's a small selection of titles that I've invested a ridiculous amount of time in to over the last year:
Tilt to Live, $2.99 – [Lite / iPad] – [Review] – [Forum Thread] – I can't get enough of this game. I thought it was great when it was first released, and has only gotten better through updates with additional game modes, power-ups, and more. The art style is incredibly bright, and I really like how they've even managed to give red dots personality through different behaviors and formations. Also, few things are as satisfying as narrowly escaping death and obliterating massive amounts of red dots in one gigantic combo.
Pocket Frogs, Free – [Review] – [Forum Thread] – Freemium games have hit the App Store in a major way, and much like similar games on Facebook, your enjoyment with them seems limited to the honeymoon between discovering the game and hitting the usually not that optional pay wall. The great thing about Pocket Frogs is that it seemed to be designed to be a fun game first and a freemium revenue source second. I've played many similar games before where purchases are "optional", but Pocket Frogs was the first where they actually felt optional. Through exploring the frog pond or completing objectives you earn everything you'd ever need to keep going, unless you want to get hardcore with your frog breeding. Freemium developers have a lot to learn from NimbleBit.
Helsing's Fire, $0.99 – [Lite / iPad] – [Review] – [Forum Thread] – Talk about a complete package. Helsing's Fire has everything I like in an iPhone game: A great art style, fantastic touch-controls, a unique gameplay concept, and endless replay value thanks to super-difficult online puzzle challenges. I also like how nothing in Helsing's Fire is time sensitive, as between moves you can just put your phone down if you need to without issue. The developers have also kept the game fresh with updates, as there has been an entire new campaign and several other awesome additions since its initial release.
Baseball Superstars® 2011 Pro, $0.99 – [Lite] – [Review] – [Forum Thread] – I'm not really interested in sports, in fact, I've often remarked how much easier things would be if I were into sports as I'd always be entertained by things like whatever football game is on TV. That said, I can't get enough of the Baseball Superstars games. 2011 is little more than a slightly improved sequel over 2010, but that didn't stop me from training up an entirely new team of super players and battling online with them. Gamevil blurs the line enough between sports and RPGs that my natural instinct to fill up experience bars kicks in, making Baseball Superstars 2011 absolutely impossible to put down.
Splode, $0.99 – [Review] – [Forum Thread] – There are a ton of chain reaction type games on the App Store, but what has kept me interested in Splode is how they've taken such a simple gameplay concept and turned it in to something truly special using graphics and sound. I've always thought the transition from black and white to color was a really cool visual effect when used well. (Such as in the movie The Wizard of Oz.) Splode does something similar in that the game starts out dark and dreary with a cold sounding wind, and as you pop a splode, flowers bloom, the sky turns blue, and a musical note plays with each reaction. You can see how this all goes together in the Splode trailer.
MovieCat! - Movie Trivia Game, $1.99 – [Lite / iPad] – [Review] – [Forum Thread] – My household consists of huge movie buffs, and as such, it seems like MovieCat! is almost always running on an iPhone at some point during the day. It has enough content in it that duplicate questions still haven't really been an issue thanks to updates and in-app purchase DLC. If you're at all interested in movie trivia, this is the game to get.