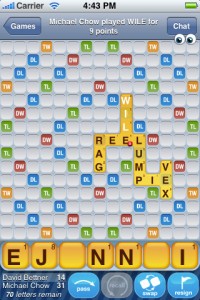 Newtoy, developers of Chess With Friends [App Store] recently released Words With Friends App Store] bringing the same asynchronous multiplayer to the game of Scrabble (basically).
Chess With Friends has become remarkably popular among Chess players, since it's both free and offers a modern spin on correspondence chess. Words With Friends takes this same formula and offers four different multiplayer game modes.
You can either search for users to play with using your contact list, or search by user name. If you don't know anyone with the game yet, you can play a random opponent. Finally, Words With Friends also has a mode for local play if you want to play against a friend using a single device.
Like Chess With Friends you can have multiple games going at once with both friends and random internet players. While push notifications aren't supported yet, you can either just launch the app to see if it's your turn yet, or enable email/SMS notifications. A recent tweet by Newtoy mentions push notifications coming soon for Chess With Friends, so I'd assume the same treatment will be coming soon for Words With Friends.
Either way, both games are free and supported via in-game advertising and Words With Friends has a premium version for 99¢ that you can buy if you want to support the developer and/or don't like looking at ads. If you like Chess or Scrabble, both games are a ton of fun.
App Store Links: