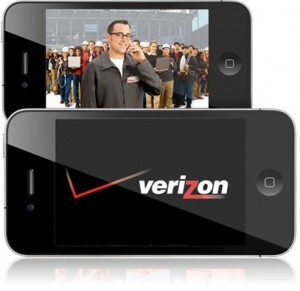 So the lines for Verizon iPhones haven't been anything like AT&T lines, but that's OK. We figure anyone hardcore enough to wait this long for an iPhone on Verizon probably got in on the crazy 3:00 AM preorder or simply decided to order online since it seems like winter isn't loosening its icy grasp yet on most of the United States. I can't blame people for not wanting to line up in the cold. I did 8 hours of sub-zero temperatures to wait in line for a Wii, and never plan on doing that again.
If you've been following TouchArcade for a while now, this guide likely won't be of much use to you. For the sake of accessibility, I'm going to assume you've mostly ignored the world of iOS gaming, as you had no reason to follow it previously using whatever Verizon phone you had before. If this describes you, awesome. If not, well, here's a huge collection of links you still might find helpful in the event that you missed something along the way.
First off, I'd consider our 2009 and 2010 game of the years absolute "must have's"-
2010
Space Miner - GameClub, Free - [Lite / iPad] – [Review] – [Forum Thread] – Looking back on the game releases of 2010 trying to pick what we thought was the best lead to us continually coming back to Space Miner. We loved the classic Asteroids-style gameplay, the clever storytelling, and the degree of customization that kept us coming back for more through multiple play throughs. Depending on how you load your ship out, the game plays much differently. For instance, you can be a glass cannon prioritizing asteroid-pulverizing guns, or take a more slow and steady approach prioritizing shields and cargo space for huge hauls of ore.
2010 Runner Up
Carcassonne, $4.99 - [Review] – [Forum Thread] – There are many board games that have made their way to the App Store, but Carcassonne is by far the finest. Online asynchronous multiplayer, Retina Display graphics, universal compatibility, and classic gameplay. It doesn't get much better than this.
2009
Spider - GameClub, Free - [Lite / iPad] – [Review] – [Forum Thread] – We choose Tiger Style Games' Spider: The Secret of Bryce Manor for our 2009 Game of the Year first and foremost because it's a great game, but also because it perfectly represented the promise of iPhone gaming. Spider is an original concept built specifically for the iPhone by a small self funded team. It's this low barrier to entry which provides customers with a huge selection of games including unique and polished gems like Spider. You really should experience this one.
---
If none of those sound cool (trust me, they are) there are still a
ton
of other games worth grabbing. Over the years we've put together various buyer's guides which are absolutely chock full of great games to grab:
We also have an entire category for Best iPhone Games which has all of these articles and more including our latest Best iPhone Games January 2011 post. This all might be a little overwhelming, so here are some more recommendations I can totally get behind anyone downloading on their new iPhone. I assume like most people on Earth, you've already heard of Angry Birds [99¢ / Lite], so here are some other games you should have. All of these do a great job at showing off the various control methods and game types you'll be coming across in your future of iPhone gaming:
Plants vs. Zombies, $0.99 - [iPad] – [Review] – [Forum Thread] – Popcap's casual tower defense game hardly needs an introduction. Plants vs Zombies is a game that's easy enough to appeal to everyone, yet fun enough to warrant multiple play throughs without issue.
Cut the Rope Originalâ"¢, $0.99 - [Lite / iPad] – [Review] – [Forum Thread] – Proving that a cute main character, clever level designs, and simple touch screen controls are a formula for success, Cut the Rope has ridden the top of the charts practically since it was first released. The goal is to navigate a dangling bit of candy into the mouth of the adorable and hungry Om Nom by cutting the correct ropes to set it free. Just feeding the lil' guy isn't so hard, but getting 3 stars and a high score on each level can be, and is what has brought people back to Cut the Rope time and time again.
Tilt to Live, $2.99 - [Lite / iPad] – [Review] – [Forum Thread] – In its intial release, the game was based around a simple but fun formula of frantically avoiding red dots and using various power-ups to dispatch them. Since then, several updates have been released adding great new power-ups, game modes, and more.
Infinity Blade, $5.99 - [Review] – [Forum Thread] – ChAIR's amazing gesture-based swordfighter which utilizes the Unreal Engine to provide the best graphics we've seen so far on the platform. Sadly, you'll need a 3rd generation iPod, iPhone 3GS, or later to enjoy them. If you've got a recent device, this is not a game to miss.
Aralon: Sword and Shadow, Free - [Review] – [Forum Thread] – There have been many RPGs released on the App Store, but none with the depth and scope of Aralon. The game is home to an epic game world complete with multiple races, classes, mounts to ride, crafting recipes to master, and quests to complete.
Game Dev Story, $4.99 - [Lite] – [Review] – [Forum Thread] – At first glance this appears to be an abysmal port of a J2ME game… Then you play it. A few hours later you will be looking for your charger to keep playing. In the game you run your own game studio, managing staff, making games, and even releasing your own console. Once Game Dev Story sucks you in, it's impossible to put down.
Dead Spaceâ"¢, $4.99 - [Review] – [Forum Thread] – "Console quality" is a phrase that's thrown around a lot to describe portable games, and really, it's a fitting title for this iOS-exclusive version of Dead Space. Sure, we're still irked that there aren't any control configuration options, but that shouldn't stop you from picking up this game, and it hasn't stopped us from playing through it multiple times. We tend to prefer Dead Space for iPad [$9.99] over its iPhone counterpart, but both are fantastic games that should be a part of your collection. EA started 2011 off with a bang by releasing Dead Space, and if this is setting the benchmark for the quality of games we're going to see out of them for the future, this is going to be one hell of a year.
Real Racing 2, $4.99 - [Review] – [Forum Thread] – A marvelous sequel to Firemint's original Real Racing, which improves upon the first in every way imaginable. A career mode, licensed cars, and 16 player online multiplayer are just a few of the new features. It also will run on any device, even the first generation iPod touch.
Helsing's Fire, $0.99 - [Lite / iPad] – [Review] – [Forum Thread] – Helsing's Fire sends you on a quest to destroy Dracula, placing you in 90 randomly generated, dungeon-like levels across three different worlds. The challenge is to eliminate said beasties by moving your torch about the screen, which casts brilliant beams of light and dark shadows about the play area. It's one of the most unique games I've ever played and is a true App Store gem.
Pocket Frogs, Free – [Review] – [Forum Thread] – Freemium games have hit the App Store in a major way, and much like similar games on Facebook, your enjoyment with them seems limited to the honeymoon between discovering the game and hitting the usually not that optional pay wall. The great thing about Pocket Frogs is that it seemed to be designed to be a fun game first and a freemium revenue source second. I've played many similar games before where purchases are "optional", but Pocket Frogs was the first where they actually felt optional. Through exploring the frog pond or completing objectives you earn everything you'd ever need to keep going, unless you want to get hardcore with your frog breeding. Freemium developers have a lot to learn from NimbleBit.
NBA JAM by EA SPORTSâ"¢, $4.99 – [Review] – [Forum Thread] – The familiar NBA Jam gameplay returns here featuring a relatively rule-free game of 2-on-2 basketball with an emphasis on pulling off insane physics-defying dunks and ridiculous shooting sprees. Besides adhering to a 24 second shot clock and a no goaltending rule, pretty much anything goes in NBA Jam. Any player that makes 3 consecutive shots will then be "on fire" and during this time will make a higher percentage of shots, have unlimited turbo, and be immune to the goaltending rule. If you've played NBA Jam in the past, not a lot has changed here, but that's most likely for the best.
Sales
One of the craziest things about the App Store is how everyone gets involved in this crazy pricing game where suddenly all kinds of great games will have their prices slam down to 99¢, or in some cases, even free. Basically every major developer and publisher has been putting their games on sale under the guise of celebrating Valentines Day, but they really want you, new Verizon customer, to download their games.
Keep in mind, developers can change the price of the games at any time, so in the case of these sales it's usually best to jump on them as quickly as possible as you can come back 10 minutes later and see a game you wanted that was priced at 99¢ rocket back up to its original price of $9.99 with little to no warning.
Here are all the developers running particularly noteworthy sales:
Clicking through all of these sale listings, you're probably thinking to yourself, "Holy moly, how am I supposed to keep up with this?" Well, an extremely useful tool is our sister site AppShopper which provides nearly real-time updates on both new apps available on the App Store, as well as price fluctuations. Here are some helpful AppShopper links that I use on a daily basis for finding things to cover on TouchArcade:
If you want to get more involved than just clicking those links, you'll notice that each of those pages also has their own associated RSS feed. For instance, if you use something like Google Reader or some other RSS reader, you can subscribe to this feed and have an entry pop up in your RSS reader whenever a game gets kicked in to freebie mode. This happens a ton, and you can really score some gems keeping on top of this.
There's also a totally free AppShopper app that you can do all this from as well. You can even create a wish list and the app will send you a push alert when a game you've had your eye on goes on sale. It's incredibly handy.
---
That's about it! If you're new to the iOS community, consider stopping by and registering for
our forums
as well. They're consider by most to be
the
place to discuss iOS gaming with an incredibly vibrant community of both gamers and developers participating 24 hours a day, 7 days a week.
Enjoy your new iPhone!