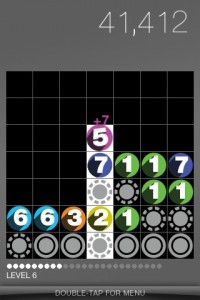 Area/Code's Drop7 [App Store] number puzzler has drawn positive reviews from our forum members and a Game of the Month nod from IGN.
The iPhone game is a version of a popular Flash game called Chain Factor that can be played in your browser.
The game involves dropping numbered discs into a row/column. Whenever the number of the disc matches the size of the row/column that the disc is in, it will disappear. In practice, it's more difficult and interesting than the description.
Give the flash version a try before considering Drop7 for its introductory $0.99 price.
App Store Link: Drop7, $0.99