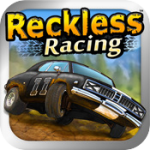 Reckless Racing [$2.99/HD] is one of those games that almost needs no introduction. Ever since we posted the first video back in early March, when it was called Deliverace, gamers were impressed with the incredibly detailed graphics engine and arcade-like physics in the game. Later that same month, our hands-on video and an additional gameplay video only served to intensify the fervor of anticipation for the game now known as Reckless Racing. While initially developer Pixelbite Games had pegged the game for an "early 2010" release, suddenly everything went quiet regarding news on Reckless Racing. The weeks passed with no word from Pixelbite on the status of the game or a release date, and fans in our forums started to doubt if the game would even be released at all.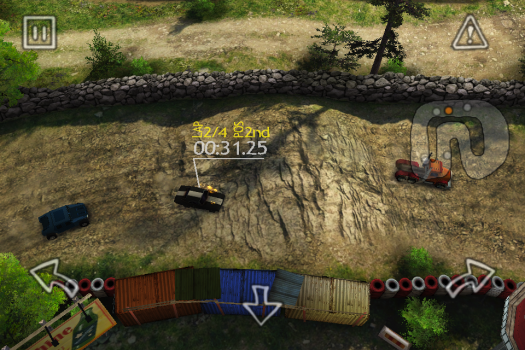 Then in late July, nearly five months after the game's announcement, we finally learned that EA Mobile had picked up Reckless Racing and would be publishing the title for Pixelbite. This was good news as it meant the game hadn't been cancelled, but we were still left without a solid release date. Meanwhile, the hype continued to swell in our forums to an astronomical degree as the weeks again began to pass without any sign of Reckless Racing. Then, just this past week, EA announced that the game would finally be coming out on October 21st, and there was much rejoicing.
Common sense would tell us that practically no game could match the incredible amount of hype that Reckless Racing has garnered in the past 7 and a half months, but casting that aside now that the final game is in our hands we can at least say that this is an incredibly enjoyable top-down arcade racing experience – just as we had hoped it would be. It definitely feels lacking in terms of track and vehicle options, especially taking into account the long development time, but what is here is super high quality and becomes an easier pill to swallow thanks to a really reasonable price point. Like many of the best games on a mobile platform, the biggest problem with Reckless Racing is that there just isn't enough of it.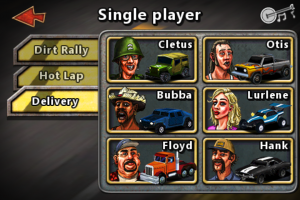 Upon starting the single player game, you are thrust into a simple but very useful tutorial. Here you can choose from one of the five different control schemes (that include various onscreen buttons, virtual steering wheels, or tilt controls) and test them out to your heart's content on a practice track until you've found the one that suits you. Quitting the tutorial takes you to the main racing menu where you can choose either Dirt Rally, Hot Lap, or Delivery mode and pick from 6 different cars and 5 different tracks to race on.
Dirt Rally is like a championship mode where you'll race 3-4 laps on each of the 5 tracks on bronze, silver, and gold medal difficulties. Once the first 5 tracks have been completed, a reversed version of each one must then be played. The Hot Lap mode has you racing your choice of track over and over again trying for the very best lap time you can get, with medals earned by beating certain time requirements. The ghost from your best lap races along with you to give you something to compete with, and any of the ghosts from the online leaderboards can be downloaded and raced against as well.
Delivery mode is fairly different from the rest of the game, and is quite a lot of fun. It takes place on its own map that is both larger and more open than the regular racing tracks. You're given either 3, 5, or 8 minutes to complete as many deliveries as you can before time runs out. A package will be picked up at one point on the map and taken to another to complete each delivery, with a handy waypoint guiding you in the right direction at all times. The dollar value of each delivery decreases the longer you take to complete it, and at the end of the time limit your total number of deliveries and cash earned serve as the score for Delivery mode.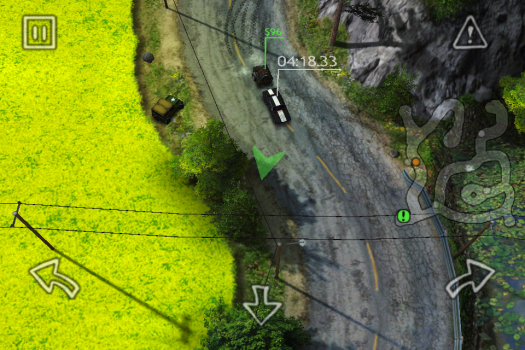 All of these single player modes include online leaderboards, and there is also an excellent online multiplayer mode that lets you race in Dirt Rally or Hot Lap modes with up to 3 other players over WiFi or 3g. The online portion works really well in my experience, always remaining smooth on my end although occasionally other racers would lag and teleport around the tracks. Overall the online high score tracking and multiplayer mode add a ton of incentive to keep playing Reckless Racing after you've earned every medal in the single player portion.
The two things that really stand out about Reckless Racing are the stunning Retina Display graphics and the fun physics system. The attention to detail in the game is incredible, with dust and dirt flying behind your vehicle's tires, tire tracks that remain on the course until the race is over, environmental objects like street signs and fences that can be destroyed, and excellent use of lighting and shadows to really bring the game to life. Driving is a blast as you drift around every turn on tracks comprised of both cement and dirt portions that both behave quite differently from one another. The tracks are designed really well, with plenty of jumps or small shortcuts to take and dangerous cliffs to fling yourself off of if you aren't careful. Racing around is just flat out fun, and it's hard not to be impressed with how beautiful everything looks while you're doing so.
Really the only thing I don't like about Reckless Racing is that it's all over too soon. The online leaderboards and multiplayer mode go a long way in lengthening the experience, but inevitably you'll have every nook and cranny of every track down pat before you know it. Owners of the iPad version get 3 additional tracks (each with a reversed version) on top of the original 5 included in the iPhone version. If you have a choice between the two, Reckless Racing HD is worth the couple of extra bucks for the added content. Player impressions in our forums are largely positive, despite being short on content. I sincerely hope that EA and Pixelbite continue to add content to the game with future updates, as the core of the game is done so well, but even as is Reckless Racing is a fun ride that is well worth taking.