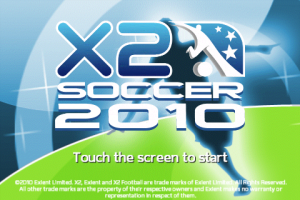 The sequel to arguably the best soccer game on the iPhone is now available, and it's even better. X2 Soccer 2010 [$6.99] brings improvements to graphics, controls, computer AI, new game modes and more teams.
X2 Soccer 2010 has over 150 club teams to choose from in 10 different leagues, plus international teams from all over the world. This includes U.S. Major League Soccer, Spanish, English, French, Italian, German leagues and more. There are a vast amount of more teams than last years version to play with.
The six game modes are Quick Match, Penalty Shootout, Training, Tournament, Dream Team, and Multiplayer. In Tournament mode, there are 30 tournaments to compete in to win and collect the cups to keep in your trophy room. In the all new Dream Team mode, players must use their skills to create the ultimate team of their own. You start out with poor quality players and work at improving them by competing in Multiplayer, Tournament and Quick Match modes for tokens. These tokens can then be used to scout and recruit quality players from across the globe, to help create the ultimate Dream Team. And Multiplayer mode is where you can play against a friend on local wifi, bluetooth connection, or in a new online option to play against people all over the world. The online option works surprisingly well, but obviously depends on your internet connect for best results. Playing online does not work over 3G or EDGE networks, so you must be connected to a wifi network to play.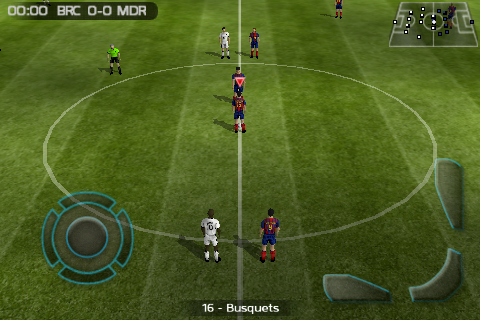 The control layout is essentially the same as X2's previous game, with a little refinement. You'll find the virtual floating joystick on the left and the three 'X2 S.M.A.R.T.' buttons in the bottom right corner. The three buttons are slightly adjusted and re-positioned, but offer the same great control system. Of all the soccer games, this layout is my favorite, rather than the traditional "A" and "B" buttons offered in the others. Each button has its own ability depending on if your attacking or defending, with options of pass, lob, cross, one-two, through ball, and shoot on attack and pressure, slide tackle, switch player, and goal keeper charge on defense. The buttons can be tapped, double tapped, or held down for the more advanced controls. When a button is pressed, a power bar appears above the player signifying the level of strength to be used. I don't find the controls to be confusing at all. They are both easy to use for beginners yet fully functional for skilled players.
The game also has enhanced defensive and offensive AI players. The AI players are much smarter now, forcing you to play smarter. If you are finding the game a little easy as you get better, you can ramp up the difficulty in the settings to easy, good, hard, or expert. You have full customization on the settings from what is displayed on the screen while playing, weather, rules, stadium, commentary, replays, favorite team, team/player names and more. There is also a crawl on the bottom of the screen with real life information coming from an RSS feed that you can edit, the default one gives you lots of great soccer information that is going on in the world.

The full 3D graphics are much improved and even more impressive than X2 Soccer 2009, which were already top notch. X2 Soccer 2010 runs super smooth while playing on my iPhone 3GS and there are also 3GS-specific optimizations that were made to accommodate the faster hardware. Some 3GS users are reporting that they are experiencing some lag in their games, but I haven't experienced any. Meanwhile, reports from other device users seem to be fine.
Overall, X2 Soccer 2010 is one of the top soccer game experiences right now on the App Store. Konami will have a tough time out doing X2 with their upcoming Pro Evolution Soccer 2010 game. You will not be disappointed with X2 Soccer 2010, if you are holding out for an enjoyable soccer game, look no further.