Way back in December 2008 we took a look at iPhone platformer Bounce On [link], which, upon landing in the App Store, helped fill a rather sparsely populated genre. At the time of its release, iPhone platformers were few and Bounce On was solid and enjoyable (and has been consistently updated all the while). After nearly a year and a half, Team Phobic has just released Bounce On 2: Drallo's Demise [App Store], a sequel that brings a notable overhaul to the original formula and is as solid in today's store as the original was at its debut.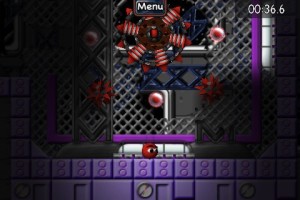 Those familiar with the original game will quickly note certain enhancements in this sequel. Most apparent is the much improved graphical engine which allows for 3D sprites, special lighting effects, and even gravity changes. The backdrop graphics that make up the various levels are more complex and more detailed than those of the original, but do have the feel of an indie (vs. big studio) production — take that for what it's worth. And the framerate of the onscreen animation stays solid throughout. Owners of more recent devices will enjoy certain 3D models having a higher polygon count and improved lighting effects, as compared to the game played on earlier hardware. And to go along with all the pixels are 21 unique musical tracks that add a bit of bounce to each play session.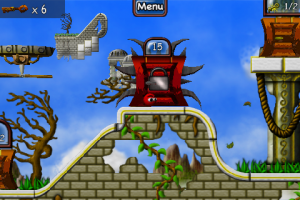 This time around, Team Phobic has taken a new approach to level-to-level navigation within the game. Bounce On 2 features three worlds in all: the Floating Ruins, the Orbital Platform, and finally Drallo's Fortress. Access to the various levels across these worlds is gained by way of a "key" system that allows a set number of doors / and levels to deliver multiple missions in each, similar to the approach used in Super Mario 64 / Galaxy. Each mission takes you along a unique path through a given level, so knocking out the mission doesn't feel repetitive as you work your way through the game's more than 100 keys of varying difficulty.
The game is played via tilt (default) or touch controls, both being easy to get used to. Play mechanics involve rolling your bouncy red ball in the desired direction (arrows help guide you to your goal), collecting gems, avoiding (or smashing) enemies with a jump, and collecting power-ups, such as Ninja (double-jump) and Parachute, to help you along the way. The shapes that make up each level — flat platforms, curved corners, angled slopes, etc. — force you to stay nimble, lest you plummet into oblivion.
See the developer's gameplay trailer for a look at the action.
Bounce On 2: Drallo's Demise succeeds in delivering highly enjoyable platform gameplay to the iPhone. The original was fun, but the sequel goes well beyond, feeling notably more "fleshed out," with a good deal more eye-candy. While there's certainly room for more quality platformers in the App Store, Bounce On 2 is among the current best.
Those reluctant to make the leap on our word alone can check out the free, lite version that was released a week back [App Store]. Gamers can expect a higher resolution iPad version from Team Phobic down the road.
App Store Link: Bounce On 2, $3.99, Bounce On 2 Lite, Free