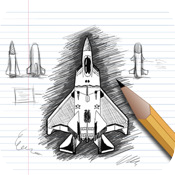 Engineous Games' Sketch Nation Shooter [AppStore] is not your typical game. In fact, it is arguable whether it is a game at all, featuring very little in terms of out-of-the-box content. Instead, Sketch Nation Shooter is a development platform for end users to explore the limits of their own imaginations, in a similar fashion to Sony's ludicrously popular Little Big Planet on the Playstation 3.
And, just like that title, Sketch Nation Shooter is designed from the ground up to facilitate the creation of an entire community of users who submit their creations and explore the work of others. It sounds like a sure-fire hit, but such an ambitious task is a first for the platform, and so we were anxious at first to see just how well the system is implemented.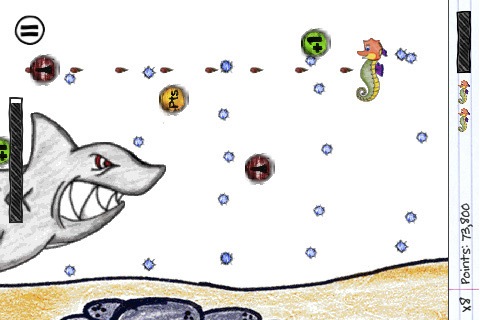 When you first launch Sketch Nation Shooter you are presented with a depiction of a writing pad and a few menu options with very little fanfare. To start with, we'll look at the 'Play' option. A fresh install of Sketch Nation Shooter will have a few developer-created levels for you to mess around with. Launching any of these will reveal a rich-looking, colorful, themed setting, which ultimately showcase what can be done with the application. Your standard fare vertical scrolling shooter is there in the form of 'Zorx Attacks' and 'Air Support 1944' (which have some very cool comic-like artwork) but there are also a few surprises, in the side-scrolling 'Under the Sea' shooter, and a top-down 'against the traffic' avoidance game, Traffic. It is clear that a little creative thinking can go a long way in Sketch Nation Shooter.
And where that creativity will be best put to work is in the 'Create' menu. When you first go to create a game, you are presented with either 'Simple Mode' or 'Advanced Mode', dictating the extent of complexity you're aiming for with your creation. This is something we really appreciated, as showing off a game quickly to your mates isn't a protracted process; 'Simple Mode' lets you create a player, add enemies, and away you go. 'Advanced Mode' is where the big boys will go to play though, as it offers the full customization suite.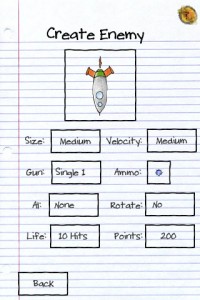 From here you can dictate player and enemy graphics, hit points, weapon effects, sizes, AI patterns and even rotation options. Graphics can be added either from your Photo Library, from a selection of pre-installed Art Packs, or by taking a photo of a page via the camera. We had a few issues where drawings with light-colored backgrounds imported from Sketch Book were not picked up (despite having thick, black borders) but overall our experience with the image recognization was a positive one. There is also a level editor, where backdrops can be imported and where obstacles, enemies and powerups can be hand-placed on each level segment (4 of which comprise an entire level). One especially neat feature is the inclusion of an 'Intro' page, which the developer levels show off as a cool way to give your levels some context through a storyboard.
All in all, whilst the creation mode is quite comprehensive, we felt it was lacking in some areas. To begin with, powerups and boss encounters are two elements set in stone that can't be toyed with as much as we'd like to. Bosses can have their HP and weapon effects changed, and can have their attack pattern selected from 8 pre-defined options. But that's it– we would have loved to have seen multi-stage boss encounters, or bosses with customizable weak-spots to make these encounters less repetitive. Similarly, powerups collected in game number only 10 and seem pretty stock-standard for the genre. Which leads to another criticism– that levels aren't really long enough to get a decent rhythm going, or to explore an interesting weapon or upgrade system to begin with. We expect to be blown away with what some users create with the platform, but it seems that user creations are largely restricted to a similarly sized and formulated level design.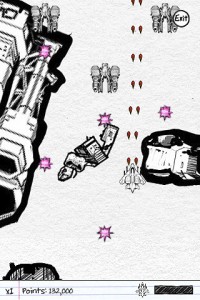 Once created, levels are submitted via Facebook and are available for all to play under the 'Download' menu option. Unfortunately, Facebook is the only means of content distribution in Sketch Nation Shooter, a fact that introduces a number of issues. Firstly is the matter of privacy, where submitting a high score unwittingly splashes your full name across the Global ladders. As we speak, the developers have recognised this as a problem and are looking at introducing a pseudonym for high scores, a feature that cannot come soon enough. But we're still not convinced that using Facebook as the solitary delivery medium is wise, as it effectively excludes those that use Facebook solely for personal correspondence, and tend to keep their gaming separate. Granted, Sketch Nation Shooter does not spam your Facebook wall with activity, but instead neatly highlights it in a separate, in-game only News Feed.
If you can get passed the Facebook requirement (without Facebook you do not have access to any user-generated content), then there is already a wealth of very cool-looking content created by fans, and it seems to be growing by the minute. One particular favorite of ours is a TouchArcade themed level that simply must be played, created by forum user Tocarina (heads up: Arn and Eli feature prominently and hilariously). On that note, the developers are doing a great job of filtering out objectional and copyrighted material, and seem to be doing well in keeping up with submissions thus far.

Sketch Nation Shooter
is easily recommended simply because it does something no other app can do– it allows you to design competent games and share them with your friends. Some creations have already shown hallmarks of genius, but the ultimate fun is in seeing what your peers are capable of creating. On the flipside, the underlying
Sketch Nation Shooter
model remains largely derivative, and could do with even more customization options to differentiate the gameplay and keep user-generated levels fresh and interesting.
We're already looking forward to not only Shooter enhancements, but to see what other plans and genres Engineous Games have in store for their very nifty Sketch Nation game development platform. Be sure to check out our forum thread too, where users are sharing their many designs, plans and submission approval notices.
App Store Link: Sketch Nation Shooter, $0.99.