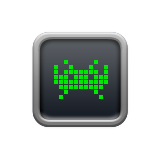 With a new year upon us, we're bringing back our monthly best game listings. Our ratings for games we reviewed in January are now in place, and we now present to you the ones that are on the top of the heap. Each game reviewed receives a 1-5 star rating relative to the other games from that month. Generally, a 3 or higher is considered a "good" rating.
Our final scores are not the product of any traditionally objective measures such as graphics or sound, but simply reflect the games we would most recommend to others.
5 Stars
Dead Spaceâ"¢, $4.99 - [Review] – [Forum Thread] – "Console quality" is a phrase that's thrown around a lot to describe portable games, and really, it's a fitting title for this iOS-exclusive version of Dead Space. Sure, we're still irked that there aren't any control configuration options, but that shouldn't stop you from picking up this game, and it hasn't stopped us from playing through it multiple times. We tend to prefer Dead Space for iPad [$9.99] over its iPhone counterpart, but both are fantastic games that should be a part of your collection. EA started 2011 off with a bang by releasing Dead Space, and if this is setting the benchmark for the quality of games we're going to see out of them for the future, this is going to be one hell of a year.
Dungeon Raid, $0.99 - [Review] – [Forum Thread] – As mentioned in our review of the game, with the number of fish in the match three sea, it takes a lot to make one that's just as fun (if not more so) than the match three staples like Bejeweled 2 and other classics. Dungeon Raid accomplishes this by distilling the Puzzle Quest formula down to its basics, and providing match three gameplay that retains its simple nature while offering a shocking amount of depth via random equipment and character upgrades. Also, there's much more to matching than just high scoring, clearing each type of block has a purpose, and the order you clear them in can mean life or death. This game has stolen hours of my time, I can't recommend it enough.
4.5 Stars
Pocket HalfPipe, $1.99 - [Review] – [Forum Thread] – This incredibly awesome skateboarding game is highly reminiscent of the halfpipe in the classic NES series Skate or Die, but with much better graphics and crazy dual stick controls that allow you to pull off all kinds of moves. The game could easily be described as basic, but it's so much fun that we don't care. The tricks you'll be able to pull off after a bit of practice are cool, and stringing a massive chain together is hugely rewarding. We'd love to see some additional depth or customization thrown in, but as it is, Pocket Halfpipe is just so much fun to play that it doesn't seem to matter.
Bug Heroes, Free - [Review] – [Forum Thread] – Much like how Dungeon Raid took typical match three gameplay and made it awesome, Bug Heroes takes the dual stick shooter to the next level. The core of the game is based around the typical dual stick shooter formula, but multiple playable characters (each with strengths and weaknesses) as well as elements of both castle and tower defense make this a game that everyone needs to check out. Just keep in mind, it will be very difficult to go back to your basic survival-mode dual stick shooter after this.
---
The rest of January game ratings can be seen in their respective rating categories (also found in the sidebar navigation): 5 Stars, 4.5 Stars, 4 Stars, 3.5 Stars, 3 Stars, and 2 Stars.
As always, we expect there will be some debate about relative scores, but keep in mind that everyone's personal ratings may vary based on individual tastes.