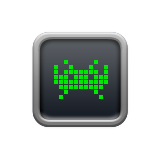 Our ratings for games we reviewed in September are now in place, and we now present to you the ones that are on the top of the heap. Each game reviewed receives a 1-5 star rating relative to the other games from that month. Generally, a 3 or higher is considered a "good" rating.
Our final scores are not the product of any traditionally objective measures such as graphics or sound, but simply reflect the games we would most recommend to others. Keep in mind, this listing is comprised of games we reviewed in September, and not necessarily games that were specifically released in September.
5 Stars
Machinarium, $5.99 - [Review] – [Forum Thread] – This game generated a heck of a lot of controversy when it was revealed that it'd only run on the iPad 2 only, which had us more than a little worried about its performance if it requires top-end hardware. It turns out, Machinarium runs fantastically, despite its Adobe Air-based innards. If you've got the hardware, don't miss this remarkably clever adventure.
Another World - 20th, $3.99 - [Review] – [Forum Thread] – It's hard to find a game on the App Store with more history behind it than Another World. Touch-based controls (as well as an optional virtual D-pad) along with both original and remastered graphics make for an outstanding port of this classic adventure game.
Tiny Heroes, Free - [Review] – [Forum Thread] – geoDefense and geoDefense Swarm cranked tower defense on the App Store up to 11, and, dare I say it, Tiny Heroes makes a great attempt to crank it to 12. Or, at least, 11 and a half. This fantasy-based tower defense title should not be missed by anyone who even vaguely fancies the genre.
King of Dragon Pass, $9.99 – [Review] – [Forum Thread] – No lie, I've spent more time playing this game than all the other games that we reviewed in September combined. If my exhaustive review wasn't clear enough, here's all you need to know: If you like simulation games, you needed King of Dragon Pass on your iPhone yesterday. I've still got my fingers crossed for an iPad version, but I'm more than happy managing my clan whenever I've got a few seconds to spare on my iPhone.
Monsters Ate My Condo, $0.99 - [Review] – [Forum Thread] – Adult Swim and Pik Pok joined forces to bring us one of the craziest matching games we've ever seen on the App Store. The game requires matching similarly colored floors while appeasing nearby color-coded monsters, each with a more ridiculous super-power than the last. Also, you can score billions if you're good. Billions!
4.5 Stars
Fling a Thing, $0.99 – [Review] – [Forum Thread] – It seems physics-based game that rely on flinging mechanics always work well on iOS devices. Fling a Thing follows this formula, and the addition of a crazy art style, excellent puzzle progression, and, well, things to fling makes it a great little game to have.
Gyro13 – Steam Copter Arcade HD, $2.99 - [Review] – [Forum Thread] – It took way too long, but developers are finally starting to utilize the Unreal Engine in some interesting ways. Gyro13 puts you in charge of a cool looking gyrocopter to rescue miners trapped inside of a shockingly dangerous mine. The graphics and sound are great, and the skill requirement makes completing objectives feel like a major accomplishment.
Where's My Water?, $1.99 – [Review] – [Forum Thread] – This super-fun liquid-centric physics game puts you in the driver seat of helping an alligator take a shower. Sure, it's hard to come up with a more ridiculous premise, but maybe that's part of this game's charm. A wacky scrolling mechanic on some levels is the only thing we have to complain about, otherwise Where's My Water is fabulous.
Orbit1, $0.99 - [Review] – The iPad is home to a ton of awesome single-device multiplayer games, and Orbit1 is one of the finest we've seen so far. Simple controls combined with incredibly fun gameplay make for the perfect game to play with friends while waiting in line, or doing anything else where you're bored and have an iPad as well as four people hanging around.
GoatUp, Free - [Review] – [Forum Thread] – Jeff Minter's Llamasoft is responsible for releasing quite a few great retro-inspired games, and GoatUp is no exception to that. It's an endless climber with a fantastic retro spin, complete with graphics to match. If you've been a fan of Minter's previous works, make sure you don't miss this one.
AeroDrift, $0.99 – [Review] – [Forum Thread] – What do the best kart racers always have? If you answered "TONS of jumps," you are correct. jAggy Race is filled with jumps and all sorts of other aerial stunts to perform in the wide array of tracks it comes loaded with.
Radballs, $0.99 – [Review] – [Forum Thread] – We fell in love with RadBalls inside of the first few seconds of the trailer, and by the time it was over we were ready to yield our first born to its creator. Oh, yeah, the game is fun as hell too. It's a music-centric matching game that even allows you to use your own tracks. Check it out.
1112 episode 03, $4.99 – [Review] – [Forum Thread] – We enjoyed ourselves through the first two episodes of 1112, and the third installment is no different. I'd start with the earlier games first, just so you're playing everything in order. Now… If the developer could start releasing more than one episode a year…
DrawRace 2, $2.99 – [Review] – [Forum Thread] – The original Draw Race was a ton of fun and Draw Race 2 is better in absolutely every way. The line drawing control mechanic is fantastic, and the menu system could potentially fool people into thinking it was a real serious business racing game.
---
The rest of the game ratings can be seen in their respective rating categories (also found in the sidebar navigation): 5 Stars, 4.5 Stars, 4 Stars, 3.5 Stars, 3 Stars, and 2 Stars.
As always, we expect there will be some debate about relative scores, but keep in mind that everyone's personal ratings may vary based on individual tastes.
For more of our favorite iOS games, check out our "Best iPhone Games" category which includes all of these monthly posts as well as other special compilations of the greatest games the App Store has to offer: