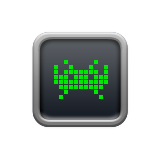 Our ratings for games we reviewed in October are now in place, and we now present to you the ones that are on the top of the heap. Each game reviewed receives a 1-5 star rating relative to the other games from that month. Generally, a 3 or higher is considered a "good" rating.
Our final scores are not the product of any traditionally objective measures such as graphics or sound, but simply reflect the games we would most recommend to others. Keep in mind, this listing is comprised of games we reviewed in October, and not necessarily games that were specifically released in October.
5 Stars
Bring Me Sandwiches!!, Free - [Review] – [Forum Thread] – Adult Swim is batting 1000 lately with fabulous iOS games, and Bring Me Sandwiches!! keeps that tradition going strong. It's a cross between the collect-everything-you-see gameplay of Katamari Damacy with a platformer game. Additionally, tons of control schemes make the game great to play no matter what your control preference might be.
Mage Gauntlet - GameClub, Free - [Review] – [Forum Thread] – Almost too many games lean on pixel art and chip tunes just because it's in style, but Mage Gauntlet draws inspiration from that era and allows it to permeate every aspect of the game. If you have any fond memories of Super Nintendo-era action RPGs, don't miss this game.
Scribblenauts Remix, $0.99 - [Review] – [Forum Thread] – Originally released on the Nintendo DS, Scribblenauts is a game that's so unique that you simply must play it. Remix combines the best elements from both of the DS games along with 10 iOS-exclusive levels. In addition, it's even universal and boasts complete iCloud save syncing support.
4.5 Stars
Modern Combat 3: Fallen Nation, $6.99 – [Review] – [Forum Thread] – Gameloft has had two solid entries in the Modern Combat series so far, and the third is somewhat expectedly the best one yet. A heavily scripted single player campaign is supplemented by online multiplayer with oodles of maps and game modes.
Fruit Ninja: Puss in Boots, $0.99 - [Review] – [Forum Thread] – Movie games are almost universally terrible, but I don't have a problem getting behind this trend of taking a great existing game and adding a layer of movie tie-in on top. It worked for Angry Birds Rio, and works just as well here. Bandito mode is a ton of fun, and would be fun regardless of the Puss in Boots tie-in.
Whale Trail, Free – [Review] – [Forum Thread] – Most games you can plot along a line graph with "gameplay" on one end and "presentation" on the other. The best games wind up somewhere in the middle, and Whale Trail definitely sits deep into the "presentation" side of things. Still, the game looks fantastic, and the incredibly vibrant graphics almost make you forget the gameplay is so simple.
Forever Drive, Free - [Review – Forum Thread] – This clever racing game, as the title suggests, allows you to drive forever in community-created tracks. It has a cool atmosphere, and a great spin on the freemium model where paying truly feels optional, something I wish we'd see a little bit more.
Dark Meadow, $1.99 - [Review] – [Forum Thread] – Atmospheric horror is a game genre that never really seems to translates to portable devices very well, but Phosphor Games did a great job of it with Dark Meadow. Set in a creepy hospital, and utilizing the Unreal Engine, the game looks and sounds great. A repetitive combat system drags down this otherwise fantastic title.
Slam Dunk King, Free – [Review] – [Forum Thread] – The best part of NBA Jam was always the ridiculous dunks, and Slam Dunk King distills that formula even further to a ultra-casual sports game that focuses solely on wicked dunks. It's even free, and similar to Forever Drive, paying feels very optional.
---
The rest of the game ratings can be seen in their respective rating categories (also found in the sidebar navigation): 5 Stars, 4.5 Stars, 4 Stars, 3.5 Stars, 3 Stars, and 2 Stars.
As always, we expect there will be some debate about relative scores, but keep in mind that everyone's personal ratings may vary based on individual tastes.
For more of our favorite iOS games, check out our "Best iPhone Games" category which includes all of these monthly posts as well as other special compilations of the greatest games the App Store has to offer: